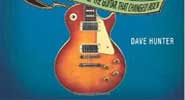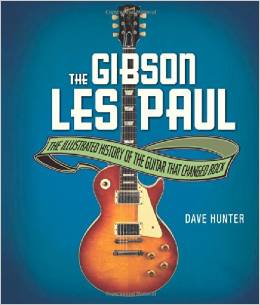 Here is a coffeetable book and then some! It's a 224-page hardcover, with 400-plus exquisite photographs chronicling the rise and fall – and rise again – of the Gibson Les Paul. All its permutations are displayed in this detailed history, along with technical information and photos of some of the most celebrated "star guitars" in history.
Author and VG contributor Dave Hunter takes the reader on a guided tour beginning with founder Orville Gibson, through the birth of the archtop, the evolution of live music, and the technology that changed with it. Pristine photographs of gorgeous instruments and the musicians who brought them to prominence offset the informative text.
Early models like the Gibson 1927 L-5, 1935 Super 400, ES-125, and ES-150 from the 1930s are displayed in glorious color. Guitarists Sam Gaillard and Charlie Christian are shown making good use of these instruments in rare photographs. And you couldn't have a book about the Les Paul without the story of the legendary jazz virtuoso, pop icon, and inventor himself.
The book gives a brief synopsis of Paul's career and search for tonal perfection, along with dozens of photographs. His tempestuous relationship with Gibson is highlighted, along with CEO Ted McCarty entering the picture, shedding light on their much-debated contributions to the first "playable" Les Paul guitar.
The evolution of the instrument is documented, from Les' solid-body prototype, to the development of various woods, and pickup models. The origin of the Standard, Custom, Junior, and TV models are also explained.
The book features a number of blues, rockabilly, and rock artists including Hubert Sumlin, Carl Perkins, and Keith Richards. There's also a comprehensive section about the guitars used during the British blues boom.
The sheer volume of Les Paul models is jaw dropping. It's guitar porn at its finest. Peter Green, Mike Bloomfield, and Mick Taylor get face time, and the SG is discussed along with the departure of Paul from Gibson.
The last quarter of the book intersperses photos and short biographies about famous Les Paul users, with company ownership transitions. The good, the bad, and the ugly are covered, including the company's near-death in the mid '80s.
The Gibson Les Paul is a visually appealing book, and a great educational tool for the novice – yet it's still substantive enough for the guitarist interested in tone woods, schematics, and pickups.
This article originally appeared in VG's October '14 issue. All copyrights are by the author and Vintage Guitar magazine. Unauthorized replication or use is strictly prohibited.