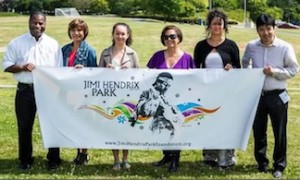 After more than three years of planning and fundraising, ground was broken last month for a  park named in honor of Jimi Hendrix. The occasion was marked with a program at the 2.5-acre site adjacent to the Northwest African American Museum, in Seattle's Central District.
"Every project endorsed by our family which bears Jimi's name is meaningful to us, but this park holds special significance," said Janie Hendrix, President and CEO of Experience Hendrix. "This  area is where Jimi grew up, where his dreams were cultivated and his creative energy awakened.  To see this place of beauty dedicated to Jimi and his artistry blossom is indescribably fulfilling.  Having been involved in each facet of the park's creation, I can honestly say that this musical garden is a fitting representation of Jimi's imagination. It is truly inspired."
Friends of Jimi Hendrix Park, under the auspices of the Jimi Hendrix Park Foundation, conducted a campaign that raised more than $1 million to finance initial construction. The plan, supported by a $500,000 grant from the Seattle Parks and Green Levy Opportunity Fund, aims to create a vibrant space that celebrates the life, music, and legend of Jimi Hendrix. 
Phase 1, designated "Little Wing," includes a  stairway and entrance at the southeast corner, paved pathways, a timeline of Jimi's life and career, landscaping, seatwall benches, ADA-accessible walkways, rainwater-filtered gardens, and a butterfly garden.  The bulk of construction is expected to occur in spring, 2015.
Donors have included Hard Rock International, Fender Musical Instruments, King Conservation District, KISW Radio, Northwest African American Museum, Nisqually Indian Tribe, Seattle Parks Foundation, Seattle Department of Neighborhoods, Parks and Green Spaces Levy Committee, and numerous private donors.
Contributions to the Foundation, a 501c3 non profit, are tax-deductible. To learn more, visit www.jimihendrixparkfoundation.org.