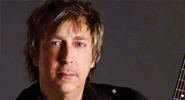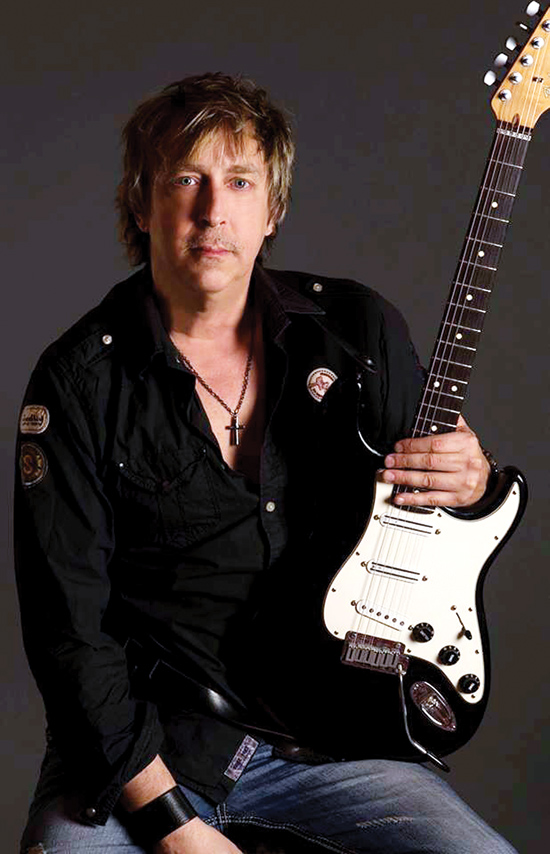 Paul Nelson is not only Johnny Winter's second guitarist, but the blues icon's musical director, producer, songwriter, and – many say – life saver. Fans who have recently seen Winter will attest to Nelson's guitar prowess and ability to complement Winter. The resulting fireworks provide some of the best shows of Winter's long career. The release of Winter's new album, Step Back, finds Nelson recording and performing alongside a list of guitar greats.
How did you get involved with Johnny?
I did a lot of session work at the Carriage House studios in Connecticut, where Johnny ended up recording a lot of his later work. I was there recording music for the XFL – the World Wrestling Foundation's venture into football – and Johnny was in doing rough demos for "I'm A Bluesman," and he heard me doing a little bluesy clip, and he said "Hey, I like your playing. Want to write me a tune? I'm looking for a slow blues." I said "Sure!" So, that night I wrote a song and had some of the session guys put it together with a singer who sounded like Johnny, made a demo, and I gave it to Johnny. He said "I'll do that one. Do you got two more?" He then asked me to play second guitar on the song, and asked, "Would you like to play on the rest of the record?" Next thing you know, I'm going on tour with him. He said, "Since you're on tour with me and I'm having trouble with my manager, do you want to manage me?" One thing led to another, and here I am.
As a player, you're obviously more trained in theory than Johnny. How does that gel with his more-organic approach?
My theory theoretically (laughs) allows me to understand all the possibilities that exist in backing him up through the theory of chord voicings, where to find the holes and to not step on him by knowing about working the register of the instrument. My experience, being a gun for hire, really helps me be a team player. At one point, I was playing for 30 bands at once.
You went to Berklee, right?
Yes, that's where I met and studied guitar with Steve [Vai].
Did you get most of your theory from him?
His lessons cost me a carton of cigarettes each. Not that he smoked that many, but every couple of weeks, that would be the fee. I think I was one of his earliest students. We went over some great stuff I would sight read out of sax books with him. My knowledge of theory came from guitarist Linc Chamberland and my other teachers – Steve Khan, Mike Stern, and Berklee, along with my own concepts, which I pass along at my Master Class clinics I do on tour.
Many who see Johnny's recent shows will be surprised by the amount of guitar interplay, and the way your guitar complements and supports what Johnny plays, almost like the Allman Brothers in some ways. Are you helping with the arrangements?
As Johnny's musical director, I work heavily with the drummer and bass player to ensure we have steady simple grooves that allow Johnny to breathe, musically.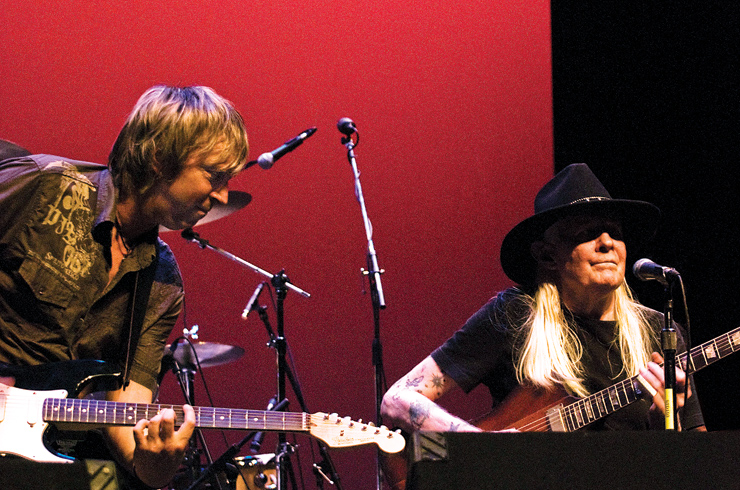 What's your favorite guitar and amp setup?
I run in stereo, meaning everything happens from my pedal board and goes to two 4×10 Fender Super amps. Because of Johnny's Gibson-y tone with the Lazer or the Firebird, I find the Strat really complements him well, though I do use the double-stacked DiMarzio pickups to add to a thicker sound. I use two distortion pedals, daisy-chained – a TubeScreamer and a Boss OD1 – I back off on the guitar's Volume control, and it goes into a stereo chorus split into two delays, short and long. Lately, I've been using this Xotic EB booster that adds a thickness to the tone. I have to complement Johnny's powerful clean sound with something a little thicker and darker. I play Fender Strats, but have recently have started using Glendora GJ2 guitars on tour, which I love
What's in the works for you?
I have a solo CD out called Look, and plans are in the works to hit the studio as soon as I'm finished playing on and producing Johnny's latest album, which is called Step Back and should drop around the new year on Megaforce/Sony. It's going to feature Eric Clapton, Joe Perry, Billy Gibbons, Mark Knopfler, Leslie West, Dr. John, Brian Setzer, David Grisman, Joe Bonamassa, and more. It's a little more rock-orientated than his Roots album. It's loaded with great performances and will continue to give Johnny his just desserts.
---
This article originally appeared in VG Febuary 2014 issue. All copyrights are by the author and Vintage Guitar magazine. Unauthorized replication or use is strictly prohibited.
---