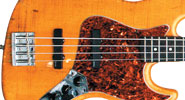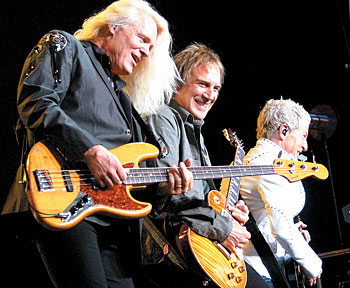 It would be an understatement to say that REO Speedwagon bassist Bruce Hall and his 1965 Fender Jazz Bass, dubbed "Butter," have been through a lot.
Born and raised in Champaign-Urbana, Illinois, Hall, who has been with the band for more than 30 years, acquired this mainstay when he was 16. In an ironic twist, the aspiring teen bought the instrument from Greg Philbin, REO's original bassist. In 1978, Hall replaced Philbin in the band.
"Greg bought her new, and had either sanded her down or had it done, which was kind of a fad back then," Hall recalled, personifying his favorite instrument in feminine terms. "I don't know what color she was originally, but he put a coat of varnish on her. It was a nice job."
In addition to the finish, the pickguard had been removed. Otherwise, the bass was stock, and served as a fine example of Fender's second-version Jazz, with its three-knob (two Volume, master Tone) layout. The bass also has a strap button on the back of the headstock, found on some '60s Jazz models.
"I played her in the bars for years before I joined REO Speedwagon," Hall noted. "One winter night, I happened to leave her in the van, and the finish cracked. I was upset when it happened, but as time went on, I thought it looked cooler. In fact, I later took her to the Fender Custom Shop – I take her down there once or twice a year – and they took pictures of her because they wanted to see if they could duplicate the look when they were relic'ing instruments."

Hall first recorded with Butter during the sessions for REO's You Can Tune a Piano But You Can't Tuna Fish, but after that album, he was introduced to other vintage basses. "[Former REO guitarist] Gary Richrath knew some guy who would bring him old Les Pauls, and the same guy started bringing me sunburst Precision Basses from the '50s," he said. "I bought two of those, and used them on the Hi Infidelity album and tour.
"I'd started leaving Butter at home because I didn't want anything to happen to her," he noted. "But now, those '50s P-Basses are at home, and Butter is back out with me."
Over the decades, Butter has been through what Hall considers appropriate modifications for a utility instrument; a repro laminated tortoiseshell pickguard has been installed, and when the original bridge "rusted out," it was replaced in 1982 with a Leo Quan Badass. What is arguably the most significant mod was the addition of EMG active pickups and circuitry, and Hall confesses to experiencing more than a bit of angst before having the work done.
"When (guitarist) Dave Amato joined the band, he turned me on to Spector basses with EMGs, and  I became accustomed to their sound," he said. "You can still get a lot of the same sounds you get with passive pickups, but having actives is like having more colors to paint with. The classic Fender sound is distinct and good for certain things – but not everything."
After the install, Hall was delighted with the result, and the control arrangement now consists of a master Volume, a pan pot, and a stacked Treble/Bass knob. The pan pot doesn't matter all that much to Hall, as he uses only the pickup closer to the neck. He even muses about an even more radical mod…
"I've been thinking about having the guys at Fender move the bridge pickup right next to the other one," he said. "That ought to sound interesting!"
Like any veteran musician, Hall understands that instruments are tools of the trade. The changes made to his '65 Jazz have enabled him to enhance his music, and his career. Butter remains his favorite bass, and likely always will. "She and I grew up together," Hall says with a smile.
---
This article originally appeared in VG December 2009 issue. All copyrights are by the author and Vintage Guitar magazine. Unauthorized replication or use is strictly prohibited.