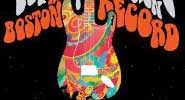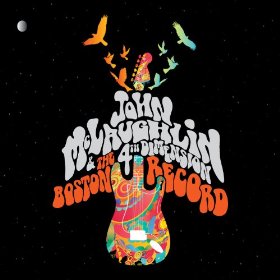 We're in a paradoxical era when many pioneers of high-volume electric music are now in their 70s, from Mick and Keef to Paul and Ringo. By the time you read this, even the eternally youthful Jeff Beck should have turned the big 7-0.
Along the same lines, 72-year-old fusioneer John McLaughlin is still burning the frets off his guitar, as captured on the new live album, The Boston Record. He's backed by the 4th Dimension, a killer band featuring Gary Husband on keyboards and drums, bassist Etienne Mbappe, and drummer Ranjit Barot. The quartet stormed the Berklee Performance Center last June and kicked out the jams. It's fun to imagine all the student guitarists in the audience walking home under a cloud of depression, knowing they just had their asses kicked by a gray-haired old man with a PRS axe.
The set rockets off with "Raju," an uptempo cooker that lets the musicians stretch out. McLaughlin's tone, as usual, is thin and incisive, just the way he likes it. Surprisingly, he doesn't use an amplifier; instead he has three floor preamps, some guitar-synth gear, and a few stompboxes to deliver his quirky sound.
Next, cue up "Little Miss Valley" to an altered blues and, under Husband's organ solo, you get a rare treat: McLaughlin lays down some sweet and funky chord work. Virtuoso Mbappe steps up next for a deadly five-string solo that should leave most bassists weeping in their tea. Finally, Johnny Mac himself steps in for clean-up duty and rips mighty blues-fusion lines, still displaying the ferocious right-hand picking chops that made him a hero more than 40 years ago.
Every track here is terrific, but fans might most appreciate the updated version of "You Know You Know," a composition from the Mahavishnu Orchestra's revolutionary Inner Mounting Flame LP of 1972. It gets a funky workout, replete with Husband's tremoloed electric piano, Billy Cobham-style drum fills, and McLaughlin's tasty lead licks.
"Senor C.S." is McLaughlin's tribute to buddy Carlos Santana. Interestingly, the guitarist goes as far as to mimic Santana's fat "woman tone" and does it extremely well – you might be fooled for a minute and think Carlos just stepped onstage. It's a gorgeous ballad, and McLaughlin's phrases are typically stunning.
Aside from being a terrific recording, the critical message the album delivers is simply this: John McLaughlin is still at the top of his game and touring his ass off. If you have never seen him live, you should make that happen, because he's one of the most important guitarists to ever walk the planet.
This article originally appeared in VG's July '14 issue. All copyrights are by the author and Vintage Guitar magazine. Unauthorized replication or use is strictly prohibited.