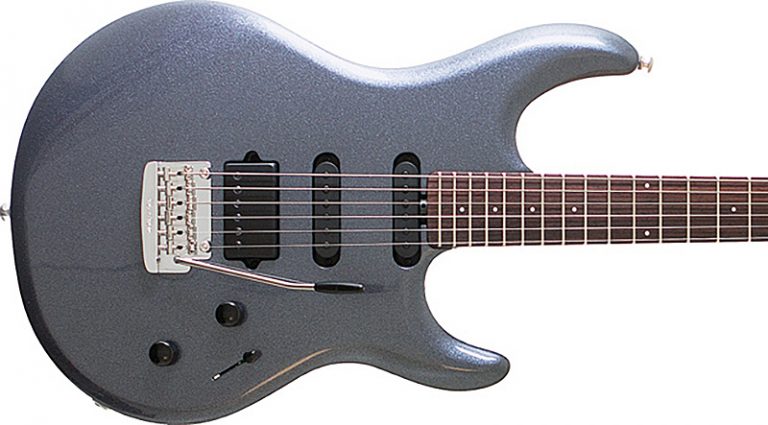 The latest model in Ernie Ball Music Man's Steve Lukather signature series was designed to answer Lukather's demand for an instrument that is simple yet versatile. The Luke3 (a.k.a. LIII), available in dual humbucker (HH) and humbucker-single-single (HSS) configurations, is a high-class workhorse that any serious player will appreciate for its playability and extensive tonal range.
Prior Luke, Luke2, and Luke BFR (Ball Family Reserve) models have avid fans, and Music Man knew better than to mess too much with basic specs and features. The LIII body is made of alder and maintains the original Luke's shape with a deep cut on the lower bout for high-fret access, and a rear contour for comfort (though the LIII is slightly larger and weighs in at about 71/2 pounds). The "roasted" maple neck, finished with a gorgeous coffee-brown gun oil and mottled with birdseye, is hand-rubbed with a wax blend that walks the line between matte and glossy. The 22-fret fingerboard is rosewood with wide fretwire sunk low in the wood. The neck has a 12″ radius and Music Man's soft V profile, which many players –especially those with smaller hands, like Lukather himself – find supremely comfortable. (Why more manufacturers can't or won't make a great slim neck like Music Man does is a head-scratcher.)
Schaller M6-IND locking tuners are split 4+2 in classic Music Man fashion. Just 57/8″ from nut to tip, the small headstock makes the neck appear shorter from playing position, but the scale length is a true 251/2″(same as a Fender Stratocaster). At the tail end is Music Man's own floating tremolo in chrome.
But that's where the LIII's similarities to earlier Luke models end. Fundamental changes to the electronics set the LIII apart and above its older brothers.
While previous Luke guitars were outfitted with active EMG pickups, the LIII has passive DiMarzios and an active preamp. The HH model features DiMarzio's custom Transition humbuckers (named for Lukather's 2013 solo album). The HSS model features a Transition bridge pickup plus two custom single-coils. A five-way blade enables cuts on the HH (bridge/combo/neck in series in positions 1/3/5, and parallel outside/inside coils in positions 2/4) and Strat-style selections on the HSS.
Combining passive pickups with an active boost gives the LIII the best of both worlds. Played clean with no boost, the tones are natural and sweet. Up and down the neck, with a pick or snapping the strings with fingers, the sound is remarkably even. The low-end response on tightly voiced chords is never muddied, and strongly struck notes on unwound strings are clear but not cutting, as if the sharpest points are rounded off. Even bridge-only settings with the Tone knob full out are punchy without being abrasive.
The LIII's preamp is activated by way of the push/push Volume pot and powered by a 9-volt battery that swings out from a small door in the back (the LIII was introduced with active boost on the tone pot rather than the Volume pot, not to mention an all-rosewood neck; Music Man made production changes in 2013 to reflect Lukather's preferences). Kicking in the preamp boosts the output by up to 12 dB. However, it's not the kind of abrupt, night-and-day surge that sends listeners to the back of the room. Rather, the change is to a bigger, broader sound rich in overtones. It's dynamite for gain control, especially when paired with a low-watt amp on the cusp of being overdriven.
Should the preamp gain be too much or too little for the player's tastes, its range can be adjusted with one of two trim pots accessed through a rear plate. The other trim adjusts the balance between single-coil and humbucker volumes so that there's no disparity when pickup modes are switched.
One more noteworthy characteristic hidden in the Luke3's wiring is the EQ on the volume pot. Normally, lowering a guitar's volume has the secondary effect of rolling off highs and mids, but on the LIII, an active buffer maintains a constant high/low mix. That takes a little getting used to – we're all accustomed to the imperfection on electrics – but it's great to be able to adjust output without having to tweak the tone pot or use a volume pedal for consistent EQ.
The Luke3 comes in an excellent hardshell case and is currently available in Black or Bodhi Blue finish, both of which look sharp against the gun-oil neck.
---
This article originally appeared in VG September 2013 issue. All copyrights are by the author and Vintage Guitar magazine. Unauthorized replication or use is strictly prohibited.
---