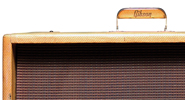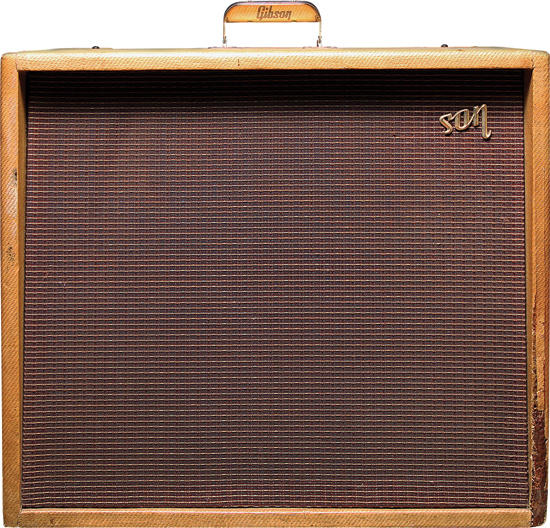 In the late '50s and early '60s, Gibson was apparently convinced the Vari-Tone switch was the way of the future, with its instant access to six different tones. But a high proportion of players who clocked serious miles on their ES-345 and 355 guitars had the switches disabled (and the guitars rewired to mono!).
As for the rendition of this tone smorgasbord on the GA-80T Vari-Tone amp of 1959 to '61, access to a range of voices makes a little more sense. Where the six-way Vari-Tone on Gibson's guitars was always in-circuit – arguably loading down and thinning out a tone that really didn't need such heavy-handed assistance (seriously, you want to cobble a bunch of caps and resistors and a couple of chokes between two PAF pickups and your output?) – there's more logic to it as applied to a preamp's EQ stage, even if it functions in roughly the same way.
Thanks to its general proportions, the tweed cabinet, and the 15″ speaker, the GA-80T of this era is another of those pieces that players point to and declare, "Yeah, Gibson's 'Fender Pro'." In truth, the amp is very different from the tweed Pro of the day, and has little in common with it other than those aforementioned elements and its dual 6L6GB output tubes. For that matter, few of Gibson's amps of the '50s and early '60s bore much resemblance to any particular Fender on the market. Thanks, in part, to its cathode-biased output tubes, its relatively diminutive output transformer, and the modest plate voltages, the GA-80T was rated at just around 25 watts, paltry by today's standards – or even late-'50s to early-'60s standards – for a 6L6-based amp. The inefficient Jensen P15P speaker didn't help matters much, either, but these same ingredients add up to a juicy, rich tone with easy-yet-elegant breakup, and for many players that means a lot more than raw decibels.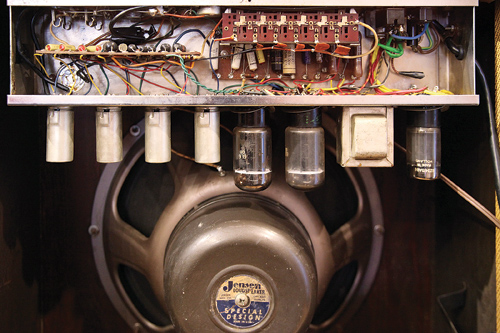 The GA-80T Vari-Tone uses a pair of 5879 pentode preamp tubes, best known in guitar circles for their appearance in Gibson's GA-40 Les Paul Amp. Here, though, they are employed quite differently. Given its high amplification factor, the 5879 (like the similar EF86) frequently serves as a lone gain stage in guitar-amplifier preamps, but the GA-80T puts another triode in front of it, using each of the halves of a 12AX7. On Channel 1, a Tone control is coupled just ahead of the Volume control, and from there the signal runs straight into the 5879. On Channel 2, the signal leaves its first gain stage via the same .022-uF coupling cap, then hits the six-button Vari-Tone Selector network, which sends it through the player's choice of five tone caps when set to buttons II through VI, or (with button I engaged) a traditional rotary Tone potentiometer, rendering it virtually identical to Channel 1 up to this stage. After the second channel's Volume pot and 5879 tube, however, it also branches into tremolo territory, throbbing to a simple circuit powered by half a 12AX7 according to where you twist the depth and frequency controls. The phase inverter is really just that, a single-triode splitter formed from half a 12AX7, but it doesn't need the driver stage that many such inverters use since the 5879s present enough oomph to keep your signal belting right along to the output.
With its initial goose from the 12AX7 and some beefy gain make-up from the 5879, the GA-80T Vari-Tone achieves a thick, meaty overdrive that starts to pay out at just short of noon on the dial, even with many single-coil-loaded guitars. When the amp is cranked, many would call it an archetypal blues tone, though there's plenty more in here, from classic rock-and-roll to jazz to whatever breed of gnarly roots-rock takes your fancy. The GZ34 rectifier lends a stoutness among other tube rectifiers, but still gives up a delectably tactile feel when pushed hard, and is one of several ingredients that help to make the Vari-Tone superbly touch-sensitive, in a manner expected of any great vintage amp.
For all the bells and whistles on Channel 2, lots of GA-80T owners will tell you they mostly stick to Channel 1, or when using Channel 2 for its tremolo, keep button I engaged for the traditional Tone control. As used in this amp, though, the Vari-Tone switching isn't radically different from the rotary "click switch" that Matchless would put into the similarly pentode-driven second channel of its C-30 series of amplifiers (which uses an EF86), and it can be a quick means of finding a good "set it and forget it" voice for that channel.

The GA-80T Vari-Tone was produced from 1959 to '61. Gibson's records show numbers declining from 282, to 181, to 131 year-to-year throughout that period. As scarce as they are, they command a little more on the vintage market than some other tweed-era Gibson amps of roughly similar specs, but are usually not priced too outrageously for what they are. Expect to pay a mere fraction of what the accompanying 1960 ES-355 will cost you, in any case. It is arguably a better-sounding and more practical amp than its even quirkier cousins of the same year, the GA-83S with stereo vibrato, or the famed angle-fronted GA-79T, but usually won't command quite the price of either. The GA-80 also distinguishes itself from the otherwise outwardly-similar GA-77 or GA-70 Country Western (both dual 6L6s, single 15″ Jensen, 25 watts) in its 12AX7-into-5879 preamp, making it a true tone-alternative in the world of vintage amps.
---
This article originally appeared in VG September 2013 issue. All copyrights are by the author and Vintage Guitar magazine. Unauthorized replication or use is strictly prohibited.
---