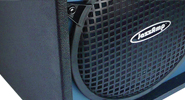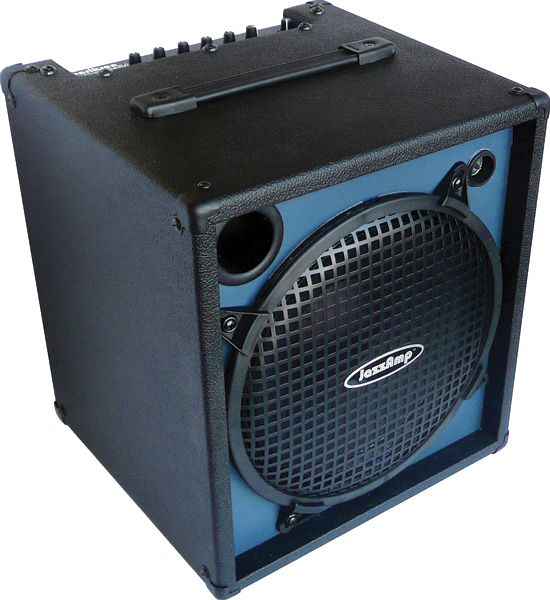 Henriksen's JazzAmp 112-ER
Price: $999 (retail)
Info: www.henriksenamps.com.
Traditionally, jazz guitarists have sought a mellow tone in which single notes exhibit a horn-like timbre. Unfortunately, this often means sacrificing chord clarity. Henriksen Amplifiers' JazzAmp series is a bid to give jazz guitarists fluid solo lines and warm, clean chordal articulation.
The JazzAmp series' flagship is the portable 112-ER (Extended Range), which has an enlarged speaker cabinet to accommodate bassists and a switchable tweeter to enhance the response of acoustic instruments. Weighing in at 31 pounds, the 112-ER is housed in a compact 14″x15″x13″ cabinet. Eleven-ply Finnish birch is covered with tolex and reinforced with metal corners. The works are mounted on a steel chassis.
The 112-ER's top-mounted controls include volume and five EQ knobs from 100 Hz to 10 kHz, each of which is "flat" at 12 o'clock. An on/off rocker switch (lighted when on), line out and input jacks, and a digital Reverb knob with accompanying slider on/off switch complete the lineup.
The back of the 112-ER has a metal heat sink, a power cable connector, and a tweeter on/off switch that's mounted close to an upper corner to minimize the risk of damage. A speaker output jack allows for an 8-ohm or greater extension speaker, increasing the basic power of the JazzAmp 112-ER from 120 watts RMS to a hefty 160 watts RMS. A fuse drawer holds a 1.5-amp slow-blow fuse and a spare.
A front view of the JazzAmp shows the Eminence APT50 tweeter mounted at the upper right, a bass port at the upper left, and a 12″ Eminence Beta-A 12 speaker mounted behind an extruded metal grille featuring the JazzAmp logo. (Henriksen also makes a BluesAmp that features the Eminence Legend 1258 speaker.)
The JazzAmp comes with a succinct but informative user manual that includes warranty information (two years) and a guitar frequency chart that is helpful for dialing in desirable sounds.
The JazzAmp 112-ER was tested at two solo jazz guitar gigs with two Wilson Nouvelle 173/8″ archtop guitars, one fitted with a DeArmond Model 1100 Adjustable Rhythm Chief and the other with a Fishman archtop transducer bridge wired through a custom Paul Webb/Fishman Powerchip preamp. With the tweeter off, the 112-ER interacted with the DeArmond single-coil suspended pickup and the big spruce and maple body to produce that legato sound beloved by jazz players for single-note lines, but with fine note-to-note definition for more pianistic chord work. The five-band EQ made it easy to achieve an eminently workable plug-and-play sound, although an EQ with sliders would have made it easier to gauge the equalization visually. Switching the tweeter on changed the sound noticeably, of course, but without any jarring treble edginess – the result was still a warm jazz guitar sound, clean and never overdriven.
Although the Fishman bridge is notoriously difficult to dial in without high-end harshness, with the help of the Powerchip to boost the frequencies for a natural sound, the JazzAmp delivered a remarkably even, "woody" sound with the pickup/preamp combination. Any boominess from the thin, X-braced sound plate was easily controlled with the EQ. Fingerstyle or with a thick plectrum, the attack was defined but not scratchy.
The 112-ER also brought out the depth of sound inherent in the rosewood and spruce construction of a Martin 000-28 Clapton signature model outfitted with an LR Baggs Element pickup. The sharp voltage-related attack spikes common to under-saddle pickups were absent, even when experimenting with the tweeter on and the EQ in what, with sliders, would have been a classic "smile" configuration. Set with a flat EQ profile, the Martin sounded a bit boxy, but with five bands of EQ available, it was easy to achieve a very natural representation of the instrument. The digital reverb control delivered a subtle response until about the 11 o'clock position, where it became a more obvious effect.
The Henriksen JazzAmp 112-ER is a thoughtfully considered package, capable of translating percussive fingerstyle techniques, advanced chord voicings, and high-octane single-note lines in a warm but clean manner that old-school tube amps are hard-pressed to deliver. It also delivers enough volume for club dates, recording sessions, and rehearsals, and the line out option makes it easy to patch into a bigger sound system when necessary. The 112-ER doesn't shoot to reproduce the visual or sonic vibe of vintage tube icons, but it's an ideal tool for players who want to express a classic jazz sensibility while enjoying the portability and dependability of modern solidstate technology.
---
This article originally appeared in VG August 2013 issue. All copyrights are by the author and Vintage Guitar magazine. Unauthorized replication or use is strictly prohibited.
---