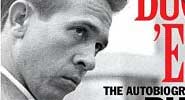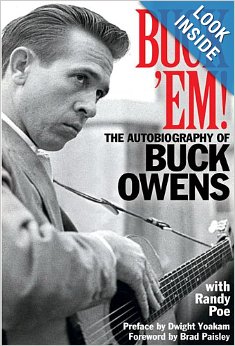 Buck Owens never minced words. I know. I interviewed him and others in his inner circle in 1992, while annotating Rhino's Buck Owens Collection box set. Detailing his scorn for Nashville's music industry, he held nothing back – although he did note that time had mellowed his views. Given Music Row politics, some involved with the project feared his barbs might undermine manager Jack McFadden's campaign to get him into the Country Music Hall of Fame. Owens, who had approval on my notes, made the final call: his remarks stayed. Four years later, he entered the Hall of Fame.
Owens talked of writing his autobiography for years; by 2000, he amassed 100 hours of taped reminiscences. With his health failing, he never selected a coauthor prior to his death in 2006. The Owens estate chose Duane Allman biographer Randy Poe.
Owens was often in hyperdrive in our conversations, his memories always sharp and incisive. In retaining that clear voice and wit, Poe adds immediacy to a narrative that starts with Owens' youthful Dust Bowl days, farm labor, picking guitar in Bakersfield, and buying his first Telecaster. Detailing his peak years, Buck recounts stories from the road, recalling recording sessions and songs right down to chart position (the companion two-CD set contains the highpoints). The origins of both his famous red, white, and blue guitars and the Crystal Palace, his Bakersfield restaurant-museum, get ample space.
While paying homage to all the Buckaroos, it's no surprise he delves deeply into his friendship and intuitive musical relationship with Tele picker and fiddler Don Rich, as well as his own breakdown after Rich died in a 1974 motorcycle accident.
At times, Owens is tough on himself, expressing regrets about his mediocre '70s Warner Bros. recordings and remaining on "Hee Haw" so long that many knew him as a comic, not a singer. There are glimpses into the business savvy that made him one of country music's wealthiest entertainers.
Along with candid, acerbic comments about Capitol Records bureaucracy, Owens heaps praise on longtime producer Ken Nelson while criticizing Nelson's blatant conflict of interest, forcing songs on Capitol acts published by a company the producer secretly co-owned. His disgust is palpable recalling the crackpot clergyman who claimed Simon & Garfunkel's "Bridge Over Troubled Water" was a drug song, undercutting the success of his own 1971 country version.
Autobiographies are selective by nature, and Buck 'Em is no different. Only occasionally does he touch on his messy marital history. There's only one significant typo, where Nashville session bassist Bob Moore's name is confused with Buck's regular session bassist Bob Morris. The overall chronology is clear and accurate. The narrative never bogs down up to the year it ends, 2000.
The stunner is an afterword covering Owens' final six years. While many heard of cardiac problems, few were aware of the root causes: clinical depression and chronic knee pain that led him to self-medicate with various prescription drugs. It seems a tragic ending, but for one thing. Hours before he died, he met Oregon tourists at the Palace who drove hours in the hope of seeing him perform. Unwell, not planning to play, he sang for an hour and a half, went home – and didn't wake up.
For Buck Owens, it was, in its own way, a fairy-tale ending.
This article originally appeared in VG's March '14 issue. All copyrights are by the author and Vintage Guitar magazine. Unauthorized replication or use is strictly prohibited.