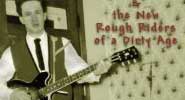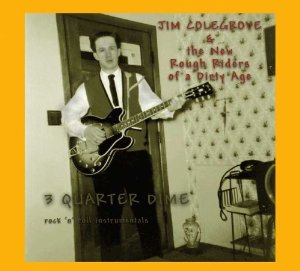 Jim Colegrove's talent is as big as his résumé is long. His session work includes albums by Todd Rundgren, John Hall, Bobby Charles, the Legendary Stardust Cowboy, and even Allen Ginsberg. Most of that was on bass (also his instrument as member of Ian & Sylvia's legendary Great Speckled Bird), but his first instrument was guitar, with his Ohio-based teen instrumental combo, Teddy and the Rough Riders.
After moving to Fort Worth, Texas, in the mid '70s, he returned to guitar playing (and singing), forming the jump blues Juke Jumpers. More recently, he's concentrated on his country quartet, Lost Country, and his Cool Groove label.
Here, he returns to the music of his youth – "when the rock and roll guitar instrumental was in its golden period."
There's more than a jigger of blues in Colegrove's rock, with Freddie King's influence mingling with echoes of Link Wray, Duane Eddy, and the Ventures. "Assisted Twister" gets its name from its chord progressions – "The Twist" in the verses and "Let's Twist Again" in the choruses.
The fact that the spooky ballad "Lost River" (which Colegrove wrote in '61 while with the Rough Riders; think "Werewolf" by the Frantics) is right at home with his recent compositions illustrates the timelessness of the genre and this outing.
This article originally appeared in VG's November. '13 issue. All copyrights are by the author and Vintage Guitar magazine. Unauthorized replication or use is strictly prohibited.