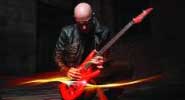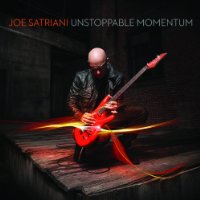 After moonlighting with the super group Chickenfoot, Joe Satriani returns to his day job as solo artist extraordinaire with this new album, continuing his galactic reign as supreme commander of instrumental rock guitar.
Unstoppable Momentum follows in the cosmic wake of Satch's last album, 2010's Black Swans and Wormhole Wizards. His band includes drummer Vinnie Colaiuta (Jeff Beck, Sting), bassist Chris Chaney (Alice In Chains), and Mike Keneally (Frank Zappa, Steve Vai) on keys. Throughout, flawless production is complemented by musicianship that is as good as it gets.
Satriani's technical mastery and fluid musicality is in full evidence throughout. The title track opens the album with what fan boys show up for – compositions that are familiar but different, complete with harmonized melodies, whammy pull-ups, and adroit Digitech Whammy Pedal usage.
While the album works all the tried-and-true compositional tools, melodic signatures, and comfy rhythmic beds of Satriani's past albums, the Beatlesque "Three Sheets To The Wind" is the departure. The song's main theme features a happy-go-lucky (cheesy) melodic line using brass, piano, and dipping whammy bar. The composition thankfully goes to other places, but the song's main motif is off-putting, and the most un-Satriani-like on the record.
The commercial single "A Door Into Summer" harkens back to the 1992 radio hit "Summer Song." It has all the signature bells and whistles you've come to expect, while the blazing guitar in "Lies And Truth" speaks to hardcore shred fans that simply want Satriani to "Go for it!"
"Shine On American Dreamer" takes us back to Flying In A Blue Dream with its predictable rock drumming and pulsating bassline to match. Non-fans might hunger for any kind of rhythmic variety aside from the mind-numbingly consistent rock grooves associated with Satriani's past work. But the choice of an understated rhythm section supports Satriani's playing and compositional style. It simply works for his style of playing.
The songs "Jumpin' In" and "Jumpin' Out" feature a back-porch boogie motif that Satriani visits from time to time à la "Satch Boogie" from Surfing With The Alien. Here, Satch journeys from earthbound bluesy concepts to skyward intergalactic note manipulation, magnificent astral textures, and the most lively and energetic drumming on the album. The two inspired tracks sound live in the studio and feature the band's tight ensemble professionalism. The band kicks ass all over the place without ever stepping on Satch's epic soloing. His guitar tones are silky, luxurious, and sheer perfection.
"Can't Go Back," "The Weight Of The World," "I'll Put a Stone In Your Cairn," and "A Celebration" are suggestive of work from past albums, but in the best possible way. His temporary obsessions and successful ideas from Crystal Planet onward all come to fruition here. Synthy atmospherics, solemn funeral dirges, techno beats, and metronomic rock drumming make way for major chord release and exaltation. Unstoppable Momentum rocks mightily with reminiscent grooves, familiar textures, and inspired band interaction. It's a top-notch Satriani record with Satch and band playing at the top of their game.
This article originally appeared in VG's September '13 issue. All copyrights are by the author and Vintage Guitar magazine. Unauthorized replication or use is strictly prohibited.