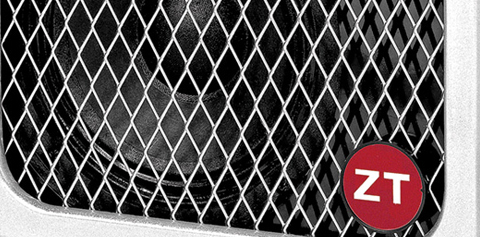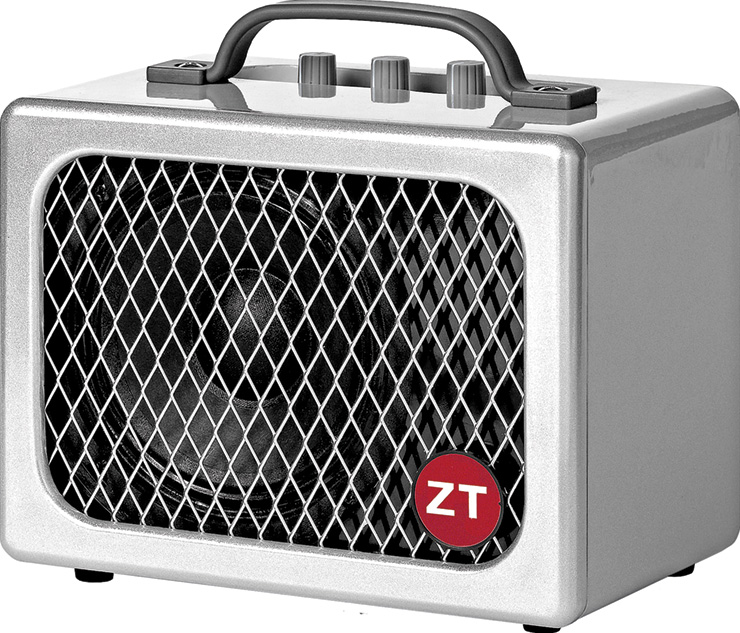 ZT Amplifiers Lunchbox Junior
Price: $149 (street)
Info: www.ztamplifiers.com.
ZT Amplifiers is known for producing compact amps that generate sounds which defy their size. Their latest, the 35-watt ZT Lunchbox Junior, is the pint-sized version of the ZT Lunchbox (though even the larger model is very conveniently sized).
The ZT Junior is about half the weight of the original Lunchbox, tipping the scale at five pounds. Physically, it resembles the lunchbox you recall from grade school. For those of you who don't remember those little food-packing means of self-expression, the ZT Junior measures 61/2″ x 73/4 " x 51/2″ – "compact," to say the least. Its build is sturdy and professional – the MDF composite housing is finished in a stylish silver metal-sparkle, while the front sports a diamond-pattern metal grille protecting the 5″ speaker. The back-panel switches are safeguarded by a protector extending from the back. It all adds up to an amp built to withstand the rigors of being ported to gig or buddy's house.
The Junior's top-mounted controls include Volume, Tone, and Gain, all of which function as implied. The back panel offers some cool features like a 1/8″ headphone/line level output for those times that call for jamming in privacy. (The output can also be used for recording.) A toggle switch allows the user to engage or disengage the speaker.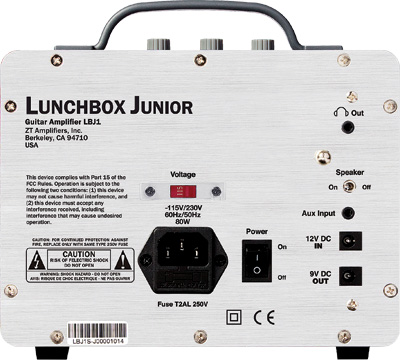 Another handy feature is a 9-volt DC output jack that can be used to power pedals and eliminate the need for wall warts or other power supplies. ZT claims this feature will power one or two pedals, but in testing it was used successfully to run a tuner pedal which in turn supplied juice to multiple 9-volt pedals on a tester pedalboard.
The Junior also runs on an optional 12-volt battery pack or can take power from a 12-volt car adapter. Topping the back panel features are a 1/8″ auxiliary input that is great for honing chops along with favorite tunes, a drum machine, or a metronome. When using the auxiliary input, the Gain function is appropriately disengaged, with only the Volume knob controlling output.

To put the Lunchbox Junior through its paces, a Fender Strat was employed to test clean sounds. With the gain set around 9 o'clock and volume at noon, the Junior produces a spanky clean tone, while transparently maintaining the sound of the guitar. With volume bumped up to around 3 o'clock, the Junior preserves its nice, clean sound while offering impressive volume. The snappish, warm tones are maintained at both subdued and loud volumes.
The amp exhibits a useful amount of touch sensitivity and relays nuances in one's playing. The interplay between the gain and volume is dynamic – rolling up the Gain knob will significantly increase volume while adding hair. For a strictly clean sound, dial the Gain down to around 9 o'clock. With the Gain knob dimed, the Junior yields a fuzz-based, slightly snarling tone, but no matter where the Gain is set, the amp renders usable "situational" tones. To be clear, the ZT Junior will not kick out medium/heavy saturated rock tones without some front-end help. Rather, it's partial to clean and vintage overdrive voicings. But, this amp takes to pedals like a champ (no pun intended). When a Gibson Les Paul was run through a pedalboard loaded with distortion/overdrive, modulation, filter, and time-based pedals and into the Junior, the amp turned out an abundance of tones with aplomb, from thumping metal chunk riffs to sustaining, searing solos to subdued chorus-laden passages, while accurately relaying each pedal's attribute. With a clean boost pedal, it's possible to coax even more volume, clean or dirty, from this little box. The amount of sound pushed from the Junior's pocket-sized speaker, all while retaining an element of warmth, is quite impressive.
---
This article originally appeared in VG May 2013 issue. All copyrights are by the author and Vintage Guitar magazine. Unauthorized replication or use is strictly prohibited.
---