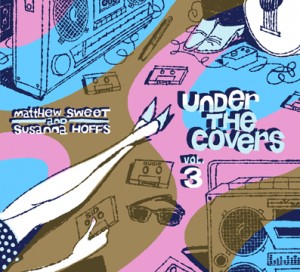 Matthew Sweet and Susanna Hoffs will release Under The Covers Vol. 3 on November 12. The continuation of their album series featuring songs by some of their favorite artists, this one is focused on tracks from the '80s by Tom Petty, the Pretenders, Echo & the Bunnymen, the Smiths, Roxy Music, the Go-Go's, the English Beat, the dB's and more.  A deluxe version on iTunes will feature three additional tracks, the Clash's "Train in Vain," Marshall Crenshaw's "You're My Favorite Waste of Time" and Prince's "I Would Die 4 U."
The album was recorded in Sweet's Lolina Green studio in Los Angeles, with Hoffs recording most of her vocals in her home studio. Playing alongside Ric Menck (drums), Dennis Taylor (guitars and some bass) and Andrew Brassell (12-string electric on two tracks) Sweet and Hoffs let their exuberance shine.
"We veer from the original arrangements on some, but for me it was also being able to look at the '80s and have a different sense of that time period," Hoffs (VG, ???) said of the effort. "As someone who was into the'60s, I had a weird resistance to what was going on during the '80s and for years beyond it. But when Matthew and I were crafting the list, we immediately gravitated to R.E.M. and all the guitar-driven indie rock and pop – that part of the '80s. So we started there and then expanded." For more, visit shoutfactory.com.