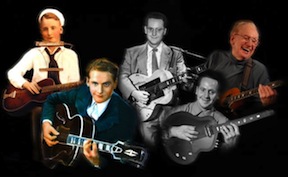 The Wisconsin-based Les Paul Foundation this week announced that it has awarded several grants. Beneficiaries include the Waukesha Education Foundation, Wilson Center, and GuitarTown Waukesha.
The Waukesha Education Foundation, which raises funds for projects and programs not typically funded by its school district's operating budget. Funding priorities include innovative and enrichment programs and recognition of outstanding achievement by students, teachers and programs.
The Wilson Center Guitar Competition & Festival features a competition for guitarists age 15 to 30, and winners receive a cash prize and will perform solo during the Center's 2013-'14 season.
GuitarTown Waukesha is displaying fiberglass guitar sculptures that are decorated by local artists. Sale of the sculptures raises funds for non-profit organizations and music and art programs in the Waukesha schools. Events begin the weekend of June 7, in honor of Les Paul's birthday.
Les Paul formed his foundation as a means to encourage young people to pursue their curiosity and innovation about music, sound and engineering. Recent grants from the Les Paul Foundation include funding to multiple music education programs and to museums that tell the Les Paul story. It has loaned an array of Paul's artifacts to the Waukesha County Museum for an upcoming exhibit on the Wizard of Waukesha. Paul was born in Waukesha. Learn more at www.lespaulfoundation.org.