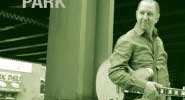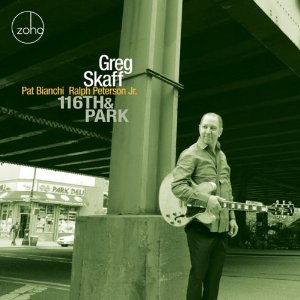 The only thing traditional about the organ trio featuring guitarist Greg Skaff, organist Pat Bianchi, and drummer Ralph Peterson Jr. is that there are three of them in the band. From there, they expand greatly on the classic combo to form what might be termed a "modern" organ trio. While some may think of funky blues as the basis for this kind of band, Skaff and company hit on many different touchstones from throughout the long and varied history of jazz.
116th & Park is a mixture of originals and songs from some of the music's standard bearers that haven't become overplayed over the years. The title cut, a composition by the guitarist, is a swinger that finds Skaff darting in and around the changes in a way that showcases his soulful side while also displaying his virtuosity on the instrument. While Bianchi solos on organ, Skaff comps beautifully underneath – like he does on pretty much the entire record.
For two of his other compositions, Skaff dons a nylon-string acoustic, an instrument one would not associate with your traditional organ trio. "Lapis" starts with mysterious chord changes and by the time the band joins, it takes on an almost flamenco feel. On "Tropicalia," Skaff again pulls out the acoustic in a song with interesting changes and a Brazilian feel.
A Latin vibe also highlights his "Serenade To A Surdo." While the Latin drive seems an odd path for an organ trio to take, it works perfectly, and when Skaff solos his imaginative playing brings it all home.
The covers start with Harold Mabern's "Beehive," which gets a manic bop treatment with Skaff and Bianchi doubling the head. It's frenetic, but Skaff's blistering solo swings hard and he has that fine, slightly distorted tone that many players in the genre used to their advantage in its early years. Like many of the cuts on the record, the Mabern tune shows off a player who is as self-assured and confident as any jazzer on the scene today.
Skaff also pays homage to a couple of the great composers. His take on Monk's "Bye-Ya" has the interesting changes we've come to love from the composer's music and is a nice mix of blues and swing. Skaff's solo captures the inherent swing, prodded along by Peterson's fine drumming. His take on Ellington's "Come Sunday" lets us in on his talents as a ballad player. He opens it alone on guitar, and his gorgeous and melodic soloing, once the band joins in, is a treat for the ears.
While the New York-based guitarist has flown under the radar for a few years, this latest release, along with his other Zoho releases, 2004's Ellington Boulevard and 2009's East Harlem Skyline, along with the wonderful Blues for Mr. T (Khaeon) from 2003, show him to be one of the best of his class.
This article originally appeared in VG's Feb. '13 issue. All copyrights are by the author and Vintage Guitar magazine. Unauthorized replication or use is strictly prohibited.