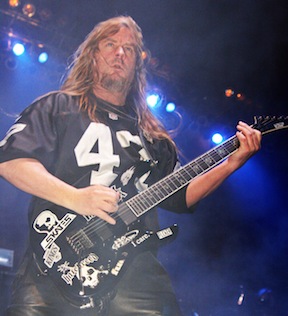 Jeff Hanneman, a founding member and co-guitarist in Slayer, died May 2 at a hospital in California. He was 49 and suffered liver failure.
Hanneman was born in Oakland in 1964, and grew up in Long Beach. As a teen, he was influenced by punk music and later adapted the genre's sound and aggressive style in crafting Slayer's music and lyrics. In 1981, he started assembling a band with drummer Dave Lombardo. While attending an audition for another band, he met fellow guitarist Kerry King, and the two discovered common musical ground. Hanneman asked King to join him and Lombardo, and soon after they recruited bassist/vocalist Tom Araya. The band's first album, Show No Mercy, was released in late 1983 on Metal Blade Records, followed by an EP and a second full-length album that each took on increasingly dark themes highlighted by complex extended  song arrangements. The band's ever-increasing popularity led to a recording contract with Def Jam, a rap/hip-hop label co-owned by producer Rick Rubin, who guided the band through shorter, thrashier songs for its 1986 album, Reign In Blood, which is widely credited for launching the band to worldwide success. Slayer has released 11 studio albums and has been nominated for five Grammy Awards for Best Metal Performance, winning in 2007 and '08.
In 2011, Hanneman was bitten by a spider and contracted nectrotizing fasciitis that forced him to refrain from traveling with the band on tour. In 2012, the band said he had recovered from the disease and was getting set to return. Earlier this year, however, King said Hanneman was still experiencing health issues and had not been able to re-join the band.