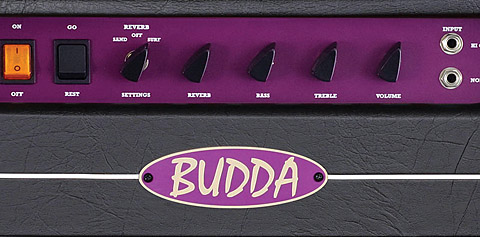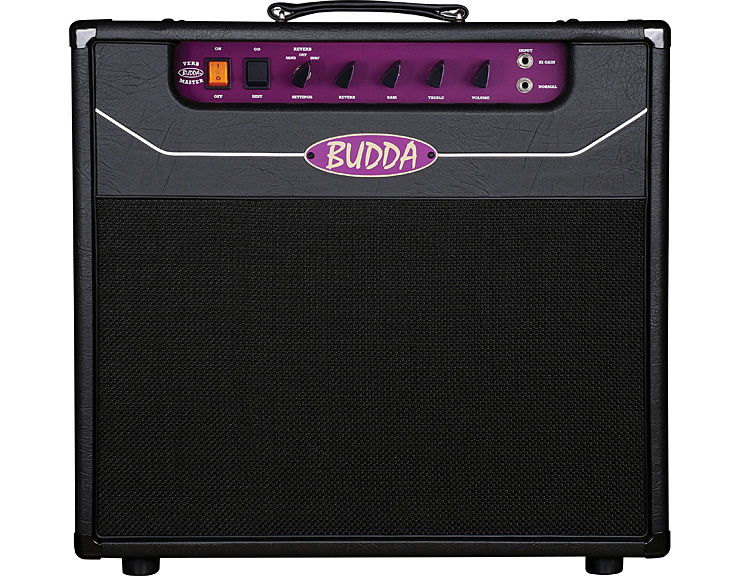 Budda Verbmaster 112
Price: $1,800 (street)
Contact: budda.com
As part of its Hand-Wired series, Budda has reissued the tube-rectified Verbmaster 1×12 combo that differs from similarly powered amps because it's a two-channel with reverb and a second (hotter) input.
The Verbmaster uses the same A/B high-gain, low-wattage circuit as Budda's Twinmaster, but with a three-spring Accutronics reverb tank and a Phat 12 speaker. Impedance is switchable for four or eight ohms, and the amp uses a 5U4 rectifier, two EL84 power tubes and three 12AX7 preamp tubes.
We tested the amp with three guitars; a Gibson '59 reissue Les Paul, a '55 Les Paul TV Special, and a '58 Fender Stratocaster, and there were two big surprises with the Verbmaster – neither having anything to do with reverb. The first revelation was the usability of the amp's Normal input. With the volume at 12 o'clock, its tone stayed relatively clean, with a nice amount of tube sag that would make it very capable of funky rhythm flavors. Things can then be dirtied up a bit by turning the knob to 3 o'clock, which adds volume sufficient to keep up with most drummers while retaining the integrity of chord notes. Even using the old Stratocaster, there's more wallop and gain than one would need for blues or Stonesy rock and roll. All three guitars sounded very punchy using this setting and even offered a liquid, B.B. King-like lead tone.
The other big surprise was the amount of overdrive delivered via the Gain input, which is made hotter by a cascading preamp design. In the lower settings, the Gain input takes over where the cranked Normal input leaves off, adding a nice harmonic crunchiness and a singing lead tone with plenty of sustain, reminiscent of early Billy Gibbons. As you turn up, gain and saturation move from the hard rock to heavy metal to pure insanity; past 4 o'clock, all three guitars started to squeal until you either turned down the guitars' Volume, or the amp's Gain was backed down a bit. No big deal, though, as there's more than enough distortion at a lower setting.
The Verbmaster's Bass, Treble and Volume controls make it easy to dial in sweet spots, clean or dirty, bright or dark. Being an open-backed cabinet, low-end response is present, but not butt-shaking. Hooked to an 8-ohm closed-back cab, however, the amp produced staggering low-end for an 18-watt amp.
The Verbmaster has great-sounding 12AT7-driven reverb. In its Sand mode, verb is understated and mellow, with less high-end response – great for bluesy stuff. The Surf setting gives a bit more presence on the high end, as well as a deeper wetness, but slightly more background noise. Both are controllable from either the faceplate or the included footswitch. Most importantly, both settings let the notes take precedence over the effect, as opposed to the effect swallowing the notes; it's a nice level of effect that will work well for stage or studio. There's also an effects loop, a feature not typically associated with low-watt amps.
For a heavy-rock player in a live setting, simply plugging into the Gain input, setting the lead tone, and rolling back the guitar's Volume will render a cleaner-but-chunky rhythm tone. Turn up the guitar's Volume and you'll have a solo tone with ample sustain and rich, creamy saturation. A blues or blues-rock player could take the same approach on the Normal input and be happy with the amount of control they have from the guitar's Volume control. Gain or Normal input, this method works great, as the Verbmaster's preamp is very responsive to your guitar's Volume pots.
The Budda Verbmaster has great clean tone, tons of gain, sweet reverb, and a lot of back-panel options.
---
This article originally appeared in VG October 2012 issue. All copyrights are by the author and Vintage Guitar magazine. Unauthorized replication or use is strictly prohibited.
---