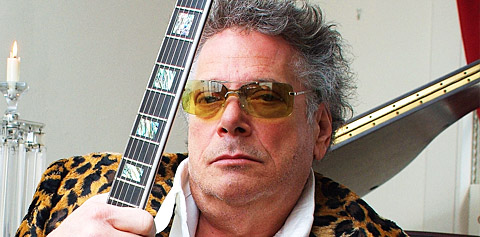 In deciding who to hit up to play on his new album, Unusual Suspects, Leslie West put a lot of thought into his musical and personal connections. And he's justifiably proud of the recruits; decades-long friend Steve Lukather, Billy Gibbons, Slash, Zakk Wylde, who affectionately refers to West as "Dad," and labelmate Joe Bonamassa, who so dug the West, Bruce and Laing version of the Willie Dixon/Eddie Boyd blues standard "Third Degree" that he asked West to cut it again for Unusual Suspects.
"These guys don't show up to play on just anybody's albums," West notes. "They're all stars in their own right and fantastic players – each with their own sound and style."
What's the deeper story behind the crew you lined up to make the new album?
Well, when I signed with Mascot's label, Provogue Records, they wanted me to play with Buddy Guy. I don't even know Buddy Guy. I thought, "I wouldn't know where to begin." Then he mentioned some other guys. But I had in my own head who I would like to play with. Slash was one, but I didn't know how that was gonna come about. Funny enough, my wife one day said to me, "You got a message on Facebook from a guy named Peter Merluzzi, who says he's Slash's tour manager. He gave me a phone number and e-mail – says Slash has been a fan of yours for years. He wants you to call him back." I asked her, "Do you think it's bulls**t?" And she said, "What do you have to lose?" So I e-mailed him, and he told me Slash was playing New York and wanted me to stop down and watch. But I had just undergone surgery on my leg, so I couldn't go. I was really disappointed. But I wrote back, and said, "I'm working on a track called 'Mud Flap Mama,' and I'd love to have him play solos with me." I sent him the track, and about a week later, Peter sent an e-mail saying, "He loves the track."
So, I was going to L.A. for the N.A.M.M. show last January, and to do some recording. We rented a studio in Hollywood, a couple of blocks from where Slash was working. I'm sitting there, and I feel a tap on my shoulder. I turn around and Slash says, "Here I am." No roadies, no entourage, just him and his guitar. It was incredible. The way he played on the track… I mean, his guitar sounded like a harmonica! After the session, I gave him one of my Dean signature guitars. He was thrilled.
So that worked out, and the other things seemed to fall in place, too. I've known Zakk for years, and knew I wanted him to play on "Nothin's Changed" – a frantic song that would go with the way Zakk plays and the unfrantic way I play. I thought it would sound good.
How did you connect with Joe Bonamassa?
I played on one of his early albums – a track called "If Heartaches Were Nickels," with Greg Allman. So I told Joe, "I'm doing an album and I'd love to jam with you." So, one of his favorite tracks of all time is West, Bruce, and Laing's "Third Degree." He said, "If you ever want to re-cut it, I'm in." I said, "Consider it done." So I had Kenny Aronoff on drums on the whole album, we cut the track and went right to the studio again. The two of us sat in the control room, and played opposite each other – amps in the band room.
And the Reverend Billy Gibbons?
Billy was friends with my producer, Fabrizio, but I knew Billy from when ZZ Top did their first tour. I even knew his parents.
So, all these things seemed to work out… Then Lukather came to the studio one day, to see Zakk. I said, "Listen man, on this track there's a boogie part that I cannot play. You could play it." He played it on acoustic, and it made the whole track, right off the bat! It's so subtle, but man, he plays it so smooth and evenly.
A lot of people ask, "How did you know which guy should play on what?" Well, it just seemed to fit, you know? I didn't have to think too much about it. It just worked out.
How did the players play into the album's title?
I called it Unusual Suspects because it's… You know when you're doing an album and the label wants you to get guys? You get this guy, you get that guy. Let's get this guy to play organ, let's get this guy to play piano, let's get this guy… I just wanted four or five really great guitarists who, in their own right, stood up like an eagle on the top of a mountain, you know?
What stood out in your mind in the process, watching those guys play?
Seeing how easygoing Slash was. He walked in wearing a baseball cap and a shirt that says "guitar zero" on it! And the way he played – right on my tail. And Bonamassa, too; I'm running the session during "Third Degree" and at the end of the session, I said, "You're playing so f***in' fast but you don't miss a note!" You know some guys play really fast, but they're sloppy, but he's so clear and clean, and he's a guitar geek. He looks like he's about 20 still. I really enjoyed the whole experience. I did all the pre-production here in New Jersey, then flew out to L.A. twice to finish the recording. And Fabrizio Grossi, the producer, even came here once to finalize the last couple of mixes.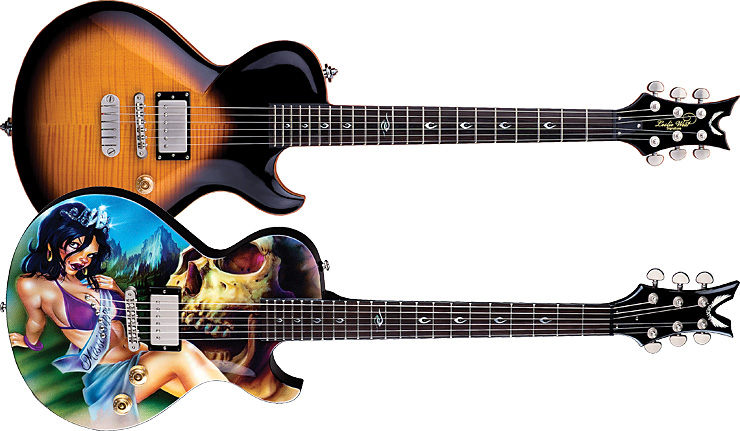 The Dean Leslie West Standard and Signature guitars (top) have mahogany bodies and necks, maple tops, ebony fretboards, and use the DMT Leslie West "Mountain of Tone" pickup. The Leslie West Mississippi Queen model has a mahogany body and neck, rosewood fretboard, and custom graphics.
When you were a kid, you lived in the same building as Waddy Wachtel?
Yeah, I just got off the phone with Waddy (laughs)! We grew up in Forest Hills; he lived on one side of the building, I lived on the other. After two years, we met. He was so talented; he played drums with my band, the Vagrants, until we found a drummer. I remember, as soon as the Beatles would come out with a new song, like "I Feel Fine" or "Ticket to Ride," he would figure it out so fast that in the time it took me to go down my elevator, go to his side of the building, go up in that elevator, he knew the song already! 'Cuz he'd been listening on the radio, I think WABC, where they were, "First to play the new Beatles song!" And he learned it so fast.
I remember he bought a Rickenbacker 12-string after George Harrison started playing one, and he had sold me his Les Paul Junior. In fact, he just today told me, "You know, it's really funny. When I first moved out to L.A., I didn't have any money and we were in the studio recording, Steve Stills had this Les Paul that I liked. I didn't have any money, so I called my father." And I remember his father – he was a real business guy, you know, with a suit and tie. And he said "Dad, you gotta lend me some money." He says, "For what?" He says, "There's a guitar I gotta get." He says, "Whadya mean, a guitar?" "It's a Les Paul." His dad says, "You have a Les Paul." He says, "No, I don't. I sold it to Les." His father asked, "What did you sell it to him for? (laughs)"
I swear, less than an hour ago, we talked about it because he's doing something with Kenny Aronoff. But Bob – that's his real name – taught me every lick the Beatles had, and he was playing Beach Boy stuff. I don't know how he figured this stuff out so fast. Some guys have the gift. Even when he was taking guitar lessons, the teacher said to him one day, "You're not reading this stuff, you're playing by ear." And he says, "Yeah, I hear it and I can play it."
So, the Junior he sold you was the one you used in the Mountain days?
No, I'm not that smart (laughs)! The lead singer of my group, Vagrants… I sold it to him, and he spray-painted it white because, I'm sorry, but the sunburst finish on it was all scarred up and it had scratches on it. And I wanted a nice shiny… so I figured, "I'll sell it to the lead singer of the Vagrants." And he painted it white – ruined the damn thing! And of course I wish I had it now…
Do you know where it is?
No idea. The reason I started playing a Les Paul Junior was, when we started the group, I had a Hagstrom, and it wouldn't stay in tune. So Felix Pappalardi one day says to me, "There's a guy downtown, Matt Umanov. He works on guitars, and he's got this Gibson Les Paul he got from Clapton and in place of where it would say 'Gibson' on the head in mother of pearl it says 'Clapton,' but it was cracked. Let's go down there and if it's ready, get that."
So I go down there, and Matt doesn't know where that guitar is. He lost it, probably somewhere in his vault! So he says, "I'll tell you what. I'll give you this one until I find it," and he gave me a Les Paul Junior.
With a TV finish or sunburst finish?
It was the sunburst. But the pickup was so powerful. It just happened to be the right guitar at the right time. And then, all the English groups, when they came over – Mott the Hoople, Martin Barre with Jethro Tull – we're all friends, we all toured together. They said, "Wow! Where'd you get that?" I said, "Felix gave it to me. But, you know if you go to a pawn shop you can buy one for a hundred bucks." So while we're on tour in Texas, that's all Mick Ralphs would do, was go to all the pawn shops and buy up all the Les Paul Juniors.
I used to call it a tree with a microphone on it. It was the most basic guitar made. I think it was probably the cheapest Gibson.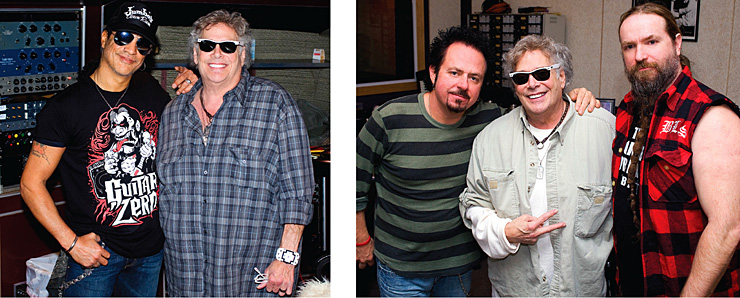 Do you still have the original one?
No, I gave it to Pete Townshend when they were doing Who's Next. I used it in the studio and I gave it to him. I saw his brother years later and he told me that Pete had a flood at this house and all his guitars were damaged.
What other music and guitarists caught your ear when you were a kid?
The funny thing is, people say that I play a lot of blues. I didn't know one blues guy! All I knew was The Who, the Stones, the Beatles. That was my schooling. The John Mayall Bluesbreakers [with Eric Clapton] album, I must have listened to that 3,000 times! I'd listen to that tone, wondering, "What amp is he using?" So I went into Manny's Music and saw they had Marshall amps – the first store in New York to have Marshalls. All I knew was that it was an English amp and [Jim Marshall] used to work for Vox… The first Marshall I got was a 50-watt head and an 8×12 cabinet, which really had the best sound of all, but just didn't have a lot of power. So later on, I would slave it through a 100-watt head. I just couldn't get over the sound of it.
To this day, tone is the most important thing to me, besides being in tune. I don't play that fast, I only use two fingers, really, on my left hand, to do all the fingering. I never learned how to use the pinky, I never learned how to use all the fingers like a real pro does. So I had to teach myself, and because I couldn't play that fast, I wanted to make sure the notes really rang true. I didn't want it to sound like a mosquito, like a fuzztone, I didn't want it to sound like I was just driving the s**t out of it. I wanted to feel the air from the speakers – you see air being moved and you see that speaker moving… When I'm on stage and first plug in, and I feel a rush of air in my balls… That's when I know my guitar is sounding good!
But the tone was the most important thing, getting a really great tone that I can listen back to six months or a year later and say, "That really sounds great."
Did the Les Paul Junior become your favorite because of the way it sounded through a Marshall?
You know, when I first started, I didn't use a Marshall. Our management got us a deal with Sunn and I wasn't so thrilled with that – I didn't like their guitar head. What happened was, we were playing the first gig for Mountain at the Fillmore West in San Francisco, and they said they would deliver the amps from the airport. Well, the boxes arrived, and I'm expecting to open up these Marshalls. But instead, I see these Sunns, and not only that, they sent me a P.A. head and two 4×12 cabinets, and it had these two other things that you put on top of the speakers that looked like air conditioning louvers, for the highs. It was a small P.A. So I was stuck playing with Albert King and Johnny Winter using these amps that I'd never played before. But, it had four mic inputs and a master volume. So I plugged into one of the mic inputs, got a good sound out of that, then turned the Volume to maybe five or six. It was really funny because you could turn the Bass all the way up and you got more treble. If you turned the Treble all the way up, you got more bass. I remember Albert King, he used to use these Acoustic amps. Well, his amp blew, so he wondered if he could use my amp. I said, "Yeah, but I don't know how they work." I had just gotten them. So he had to play out of them and he was having a terrible time because it certainly wasn't his sound.
But those Sunns were the beginning of my sound. I used them on Mountain Climbing. On the first solo album, Mountain, I used Marshall, but after that it was Sunn. Then, the guy from Sunn said, "I'm going to get them to make a guitar amp." I said, "You don't have to. Just take the guts of this head, make a new box that says 'guitar head' or something." They already had it, it was such a great-sounding amp.
Most of the time, a P.A. head is gonna be very clean-sounding…
It was clean, but the thing is, the mic inputs distort when you turn them all the way up. There's your drive. If I was in mic channel one and wanted it clean, you put the Volume at two or three. But I would crank that sucker up to get to the volume I wanted. So it wasn't that it was a dirty amp – I made it dirty. I'm sure that wasn't their intention, I mean imagine somebody's voice coming out of that!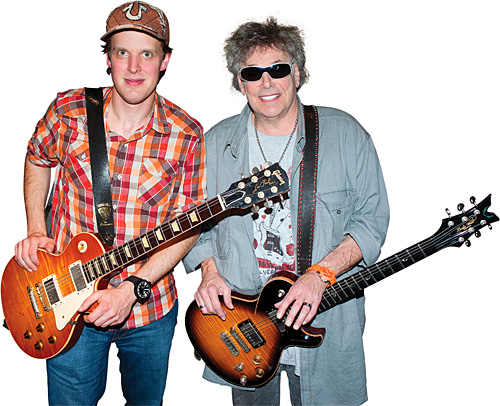 What's your current rig?
I'm using Dean guitars now – I have four different models – and I use Blackstar amps. The Deans were great because years ago somebody would say, "Why don't you have your own guitars?" I'd say, "You know, it sort of would look funny, putting my name on a guitar." What, are you gonna have the Leslie West Les Paul Junior? It's already a Les Paul! So when Dean came to me and said they'd like to do a guitar, I said, "Well, I want it to be a one-pickup, and I want the V of the neck to be shaped like my hand, and it slots so perfectly. And it has a little cutaway on the top. It looks like, I guess a updated version or like Ferrari made a Les Paul Junior. I play all different ones – there's the USA Custom, the limited edition, a 40th Anniversary they did with a big headstock with my logo on the bottom of the body, it looks like a peace sign, but it's really an LW logo. And then there's an import, and I use them all because they all sound great. And we just came up with the Mississippi Queen model.
I'm thrilled because it took a long time for me to say, "Okay, I have my own guitar." I waited for like 40 years!
I remember, it debuted at one of the summer N.A.M.M. shows in Austin. So I went down and the president of Dean, Elliot Rubinson, gave me a guitar. So here I am, playing my signature model, and I'm so f***in' proud. And right across the aisle from Dean is Gibson. So a guy walks over while I'm holding the guitar, and says, "You know, we were thinking of making a Leslie West signature model." I said, "Well, when? You had 40 years!" Timing is everything, you know (laughs)? But it is what it is.
When I'm testing a new amp rig, I like to hook it up in my garage, which has cement walls that make it so dry and loud, I can really tell if the amp is performing. Anybody can go into a studio or a great room and plug in an amp and have it sound great – like when you go to a N.A.M.M. show and plug in a guitar on that big floor. You don't really know if the amp's good. You imagine it sounds good because you want it to. But I put my amps through an acid test every time I get the opportunity. I turn them on just by themselves, no pedals, no nothin'. Just to hear the amp sound and what can I do to make them sound better. Not so much the volume, it's the tone.
You're planning a tour, right?
Yeah, with Uli John Roth and Michael Schenker. I'd just gotten out of the hospital [Ed. Note: West, who is diabetic, underwent surgery in June to remove his right leg above the knee after complications.] and I had to consider all of the things that go into a tour, plus how I'll get around. I'll probably sit down when I play, but I'll be on a riser. I can play in a chair really well, and I don't think I'll be confident enough walking with a prosthetic – it's not just snap on and go! I don't want to worry about my balance while I've got to play and perform and sing. Maybe in a year or so I'll be used to it.
---
This article originally appeared in the December, 2011, issue of VG. All copyrights are by the author and Vintage Guitar magazine. Unauthorized replication or use is strictly prohibited.
---
---