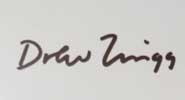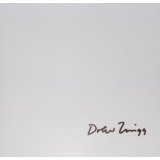 Drew Zingg isn't exactly a household name, but he should become one to all guitarists. Best known for stints with Steely Dan, Donald Fagen's New York Rock and Soul Revue, and Boz Scaggs, he's a complete guitarist. And he's gone a unique route with this record, working with producer George Walker Petit and a group of friends and admirers who all contributed money and session time to make it happen.
The band is comprised of Zingg's buddies, and they're no bunch of stiffs. George Whitty plays keyboards and does the bulk of the arranging. Will Lee is masterful on bass, and Vinnie Colaiuta is the perfect drummer to translate all the various styles that are present on the record. Throw in a few guest vocals from the likes of Scaggs and Mike McDonald and you've got a pretty good crowd.
But the real beauty of all these great players is that the record comes off as a true band's record. The players feed off each other like musicians who have been playing together for years.
All that said, the star is Zingg. He straddles that line between rock and roll, blues, soul, and jazz, dipping his toes in elements of every style while remaining an incredibly soulful player.
For the most part, Zingg's tone is pure, blistering Gibson ES-335. It's a hot sound – clean, but always on the verge of melting. His chops are unquestionable. On "One-Off," a subtle jazz-fusion vibe gives way to bursts of notes from Zingg that belie the fact that it's just a simple tune based on a simple riff. Throughout the song he solos without ever repeating ideas. Just for kicks his last solo features the only heavy dose of wah-wah pedal on the record.
Funk is never far away. "Downstream," with a vocal from Whitty, is slinky, bluesy funk with a soaring solo. "Cactus" features chunky bursts of notes over the funk while the rhythm section cooks. "Tennessee Street" is a groove piece that showcases Zingg's ability to play around some simple chord changes but still make it sound truly musical. It also highlights his precise bends, an important part of his playing.
The Commodores' "Easy" gets a soulful gospel feel with the kind of fine vocal you expect from McDonald. Zingg's solo is melodic and expressive, displaying imagination and soul. Scaggs' contribution comes in the jazzy ballad "Save Your Love for Me" that finds Zingg dancing around the chord changes with tasty fills and a lovely solo.
Being released in conjunction with the CD is a DVD that is an interesting production, letting you in on how the group was put together and how the money was raised to make the CD. Video clips include an acoustic jam between Zingg and producer Petit that shows just how good Zingg is. Another nice snippet shows the band jamming on "Cissy Strut." It's the perfect way to display the incredible chemistry between the musicians.
Everything about this album is near-perfect; a guitarist of incredible skill matched with like-minded musicians and great songs played with soul and imagination.
This article originally appeared in VG's Jan. '13 issue. All copyrights are by the author and Vintage Guitar magazine. Unauthorized replication or use is strictly prohibited.