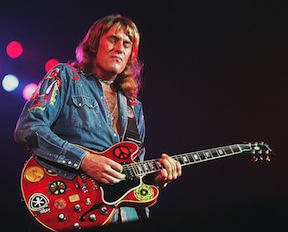 Alvin Lee, co-founder and guitarist with the '60s blues-rock band Ten Years After, passed away March 6. He was 68 and died from complications of what his website calls "a routine surgical procedure."
Lee was born Graham Alvin Barnes in Nottingham, England, and began playing guitar at age 13, inspired by his father's love of the blues; the elder Barnes often played 78-rpm records featuring Lonnie Johnson, Ralph Wills, Lead Belly, and Big Bill Broonzy (whom Lee's parents brought to their home following a local gig when he was 12 years old). As he learned to play, Lee focused on the styles of players ranging from Django Reinhardt to Tal Farlow. Barney Kessel to Chet Atkins, and Chuck Berry to Merle Travis.
Three years after first picking up the guitar, he and friend Leo Lyons formed what would eventually become Ten Years After. The band gigged around England, then Germany, following in the footsteps of the Beatles at various clubs. In 1967, the band signed a recording contract and the resultant self-titled album was picked up by radio stations in California's San Francisco Bay area, where concert promoter Bill Graham heard it, and invited the band to tour the U.S. beginning in '68. The next year, the band was invited to play the Woodstock festival, where it concluded its set with an 11-minute jam on "I'm Going Home." The track was made part of the subsequent film and soundtrack, its frenetic guitar arrangement gave Lee status as a guitar hero and made the band rock stars.
In the early '70s, Ten Years After jumped labels to Columbia Records, which pushed the band to a more pop-oriented sound. Though the approach yielded a hit with "I'd Love to Change the World," Alvin was discontent, preferring the play blues-rock. He thus departed the band and set about on a solo/collaborative career that saw him work with an array of artists including George Harrison, Ronnie Wood, Mick Fleetwood, Rory Gallagher, Bo Diddley, Peter Frampton, John Mayall, Scotty Moore, Mick Taylor, and many others.
Over the course of his career with Ten Years After and as a solo performer/collaborator, Lee played on more than 20 albums. His most recent, Still on the Road to Freedom, was released in September of 2012. He is survived by his wife and two daughters.
Lee and TYA were featured in VG's "Classic Concerts" column in May, 2002, (http://www.vintageguitar.com/13528/ten-years-after/) and his 2004 album, Alvin Lee in Tennessee, was featured in "Hit List" that September (http://www.vintageguitar.com/13533/rockabill-lee/).