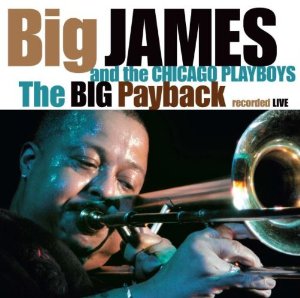 With a frenetic, funky solo and smooth dependable rhythm on this disc's first cut, co-producer James Montgomery's "The Blues Will Never Die," Mike "Money" Wheeler demonstrates right off the bat how he earned his nickname. Wheeler is obviously influenced by Ernie Isley, whose mixed rep has him sometimes dismissed as derivative – an ersatz Hendrix who over-relied on effects. Well, if effects dependency is a musical crime, then expect the Edge to be tossed into Reading Gaol any day now. And who'll escape the ax if guitarists can't "borrow" from their six-string predecessors?
Wheeler, though, is expertly versatile, mixing bits from Hendrix and others with sweet Albert King-type strains to intro "All your Love," a sweaty bit of funk to which he also contributes an eye-popping solo. On the slow blues "That's Why I'm Crying," he's simultaneously forceful and tuneful and straight up lethal. Singer/trombonist Big James Montgomery gives his all too, blues shouting for all he's worth with intensity and passion.
Produced by Montgomery and Jerry Del Giudice, the disc comes from a live recording at the Lionel Hampton Jazz Club in the Meridien Hotel in Paris, France. Something romantic and cool about the very name of the venue makes it easy to imagine that the excitement of playing such a club in such a location would make the band as "up" as possible, and they most definitely are.
The tunes range from a first-class treatment of James Brown's "Big Payback" and a price-of-admission take on George Clinton's "I'll Stay" to a spectacularly funked up "Smoke On The Water." It's a masterfully executed set that will make you wish you'd been there when it was laid down.
This article originally appeared in VG's June '12 issue. All copyrights are by the author and Vintage Guitar magazine. Unauthorized replication or use is strictly prohibited.