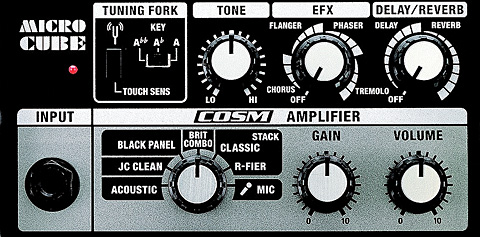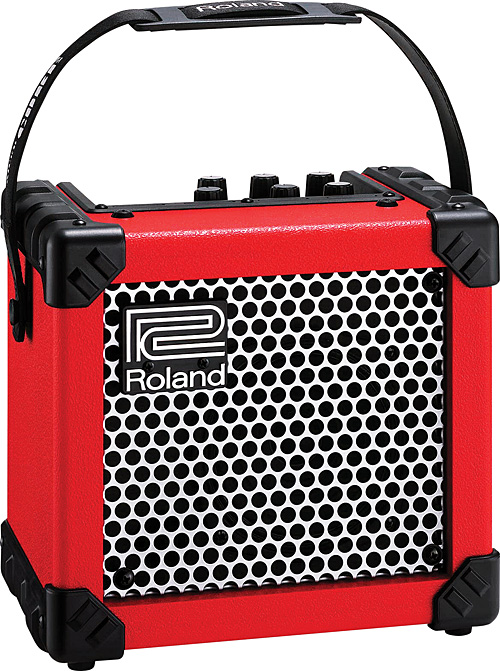 Roland Micro Cube
Price: $130 (street)
Info: www.rolandus.com.
Every once in a while you have to pinch yourself and thank your lucky stars to be a guitarist in the 21st century. The Roland Micro Cube is a good illustration of this phenomenon; a dinky, portable amp that runs on AA batteries, it weighs just over seven pounds and measures less than 10″ x 10″ x 7″. But why such jubilation? Let's find out.
We all remember the venerable Pignose from 40 years ago – a simple one-knob mini amp that virtually invented the portable-amp category. Today, Roland takes the concept of the portable amp and adds oodles of features that would have been unimaginable all those decades ago. For basic specs, the Micro Cube is a two-watt amp with a 5″ speaker that runs on six AA batteries (20-hour life span) or the supplied AC adapter. To make things interesting, the designers also put in DSP effects and a few of Roland's noted COSM amp models. There's also a digital tuning fork that provides an audible A, Ab or G note through the speaker for tuning, as well as line in/out jacks (including headphone outs), and a cute little carrying strap. The amp also has heavy-duty plastic corner guards and a metal grill, giving it something of a military vibe, but also plenty of toughness for bringing it outdoors to jam. The Micro Cube is available in black, red or white finishes, but again, given its Army-radio feel, an olive-green or camouflage finish might be a cool idea down the road (think "Combat!" or "Rat Patrol").
For amp models, Roland provides you with seven sonic choices, including Acoustic, JC Clean (for a Roland JC-120 sound), Black Panel, Brit Combo, Classic Stack, R-fier, and Mic. As you might guess, these presets go from clean-and-sweet to progressively dirtier degrees of overdrive and crunch. For effects, you'll find an EFX knob offering your choice of chorus, flanger, phaser, and tremolo, while the Delay/Reverb knob lets you set the amount of each of those effects. The Micro Cube's top panel is completed with Gain and Volume controls, letting you set the amount of grit you want.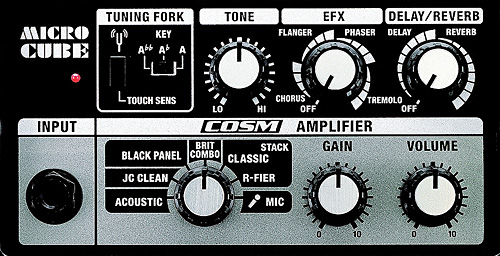 The amp emulations, in particular, are a blast. An acoustic/electric guitar sounds really good through the Micro Cube – almost shockingly so, especially when you dial in some sweet chorus and reverb. On the other end of the spectrum, the R-fier heavy-metal crunch is too much fun in an amp of this size – you can easily do a full Metallica set while sitting on the beach and that's not an overstatement. Or dial down to Brit Stack for a medley of Kiss or Zep favorites while camping or hiking. Then again, there's a line-out jack, so if you're playing a real gig, go ahead and send that output to the P.A. and you'll be in business.
At the end of the day, the Roland Micro Cube is a small miracle of 21st-century gear technology. With so many features in such a tiny package, the Micro Cube will make any guitarist glad to be a living, breathing picker.
---
This article originally appeared in VG November 2012 issue. All copyrights are by the author and Vintage Guitar magazine. Unauthorized replication or use is strictly prohibited.
---