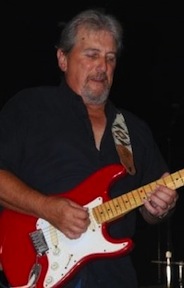 Dan Toler, former guitarist for the Allman Brothers Band, Gregg Allman Band, and Dickey Betts' Great Southern, died February 25. He was 65 and had been battling amyotrophic lateral sclerosis (ALS), also known as Lou Gehrig's disease.
Toler started playing guitar at age 12, influenced by Johnny Smith, Chet Atkins, Lonnie Mack, and others. His first band, Bill Lakes and the Playboys, focused on R&B and blues, and in 1969 he joined The Melting Pot Band, which recorded for Capricorn. After members of that band left to join Betts' group, Toler was also recruited. In '79, he joined the re-formed Allman Brothers Band and recorded three albums with it. After it disbanded in '82, Toler joined Gregg Allman's band, which in '86 recorded the hit single "I'm No Angel."
In 2002, Toler re-joined Great Southern, then focused on various solo projects. In 2011, he announced that he had been diagnosed with ALS.