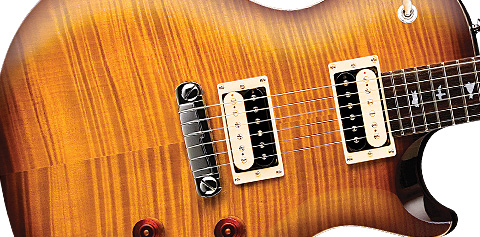 PRS SE 245 Single Cut
Price: $650 (street).
Info: prsguitars.com
Pick up the PRS SE 245 and turn it around a few times. After blinking repeatedly at its finish, you may have trouble believing this is a mid-priced guitar.
A single-cutaway from the company's Korean-built SE line, its intent, of course, is to provide entry-level/intermediate players a chance to play a PRS without the investment required to get into one of the company's U.S.-made instruments.
But does the SE offer the same overall quality? We recently set to find out.
Sporting many standard PRS features – mahogany body and one-piece neck, 22-fret rosewood fingerboard, bird inlays, a pair of PRS zebra-stripe humbuckers, and a simple, elegant wraparound tailpiece. The body is extra thick, much like a Les Paul, but not all that heavy. Also notable is the chrome hardware and a pair of Volume and Tone knobs (the Volume knobs are in the two row, which takes a minute to get used to, but makes sense).
There are a few differences between the SE and U.S.-made PRS single-cuts. As its name implies, the SE 245 has a 241/2″ neck scale, unlike the usual 25″ scale that Paul Smith made famous. And while a half inch may not seem like much, it gives the guitar a different feel compared to upscale PRS models. Also, the neck on the SE is substantially fatter than its upscale brother, more like a beefy '50s Les Paul Junior. It's reasonably comfortable to play, but presents a key difference in feel.
As we alluded to earlier, the finish on our review SE was stunning. From even a few inches away, you couldn't tell the 245 apart from a three-grand PRS, though the top on this guitar is a veneer (glued atop another maple slab, except on opaque models) rather than a 1/4″ piece of maple. And the back has that famous purply-brown stain. Workmanship and finish are shockingly good.
Another hint this isn't an American PRS is that the neck needed a minor bridge adjustment to fix a fretted-out note. Once done, the guitar rocked like a hurricane.
Plugged into a high-end tube combo, the SE 245 handled the paces well, churning out big, fat notes from blues to hard rock. Upping the gain brought in more chunkiness, covering the range from Mountain to Iron Maiden to Avenged Sevenfold. At some points, the 245's deep body provided tones almost too fat, practically forcing the use the middle pickup position to get that best-of-both-worlds tone. Cleaned up, the guitar was very good, as well, finding all sorts of interesting sounds from total clean to just-slightly dirty. Sonically, there's nothing to complain about.
It's hard to argue the SE 245 is anything but impressive. Veneer top or not, its finish and construction are beautiful, all the moreso when you consider the bird inlays. The only caveats are the different scale length and larger neck, but that's a personal taste – your mileage may vary.
---
This article originally appeared in VG December 2012 issue. All copyrights are by the author and Vintage Guitar magazine. Unauthorized replication or use is strictly prohibited.
---