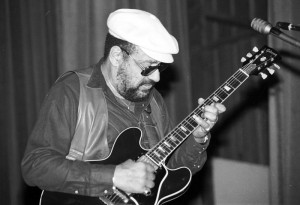 Renowned session guitarist Mickey Baker died November 27 in France. He was 87. Baker played on thousands of songs in the 1950s, including "Mama, He Treats Your Daughter Mean" by Ruth Brown, "Money Honey" by Clyde McPhatter and the Drifters, "It's Gonna Work Out Fine" by Ike and Tina Turner, and "Shake, Rattle and Roll" by "Big Joe" Turner.
As a boy, Baker wanted to become a jazzman like saxophonist Charlie Parker, but only had enough money to buy a guitar at the local pawn shop. He took lessons while teaching himself to play, and started recording sessions after meeting Pee Wee Crayton. In Tony Russell's book The Blues – From Robert Johnson to Robert Cray, Baker described the meeting as something of a revelation. "I asked Pee Wee, 'You mean you can make money playing that stuff on guitar?' Here he was driving a big white Eldorado and had a huge bus for his band. So I started bending strings. I was starving to death, and the blues was just a financial thing for me then."
Baker later did sessions with The Drifters, Ray Charles, Louis Jordan, Coleman Hawkins, and others. Inspired by Les Paul and Mary Ford, in the mid '50s he formed the pop duo Mickey & Sylvia with one of his guitar students, Sylvia Robinson. In '56. they scored a hit single with "Love Is Strange," in which he initiated a spoken exchange by saying, "Sylvia… How you call your lover boy?" and she responded, "C'mere, lover boy!" The song was was made popular again in 1987 when it was lip-synched by Patrick Swayze and Jennifer Grey during a scene in the film Dirty Dancing.
Though he did little recording after moving to France in the '60s, Bakers' method book, The Complete Course in Jazz Guitar, is an oft-cited instructional manual. In 1999, Baker received a Pioneer Award from the Rhythm and Blues Foundation. In 2003, he was listed at #53 on Rolling Stone's "100 Greatest Guitarists of All Time."