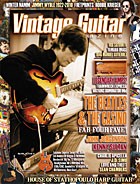 FEATURES
The Beatles' Casinos
Of all the guitars made famous by the Beatles, the only one that John, Paul, and George had in common was the Epiphone Casino. Each owned one and used it for countless recordings and performances. By Andy Babiuk
'66 Epiphone Casino
In the Epiphone line of the '60s, the Casino occupied middle ground in appearance and electronics, ranking below the Sheraton, Riviera, and even the Crestwood Custom. But thanks to the Beatles, it is probably the best-known of all Gibson-made Epi models. By George Gruhn and Walter Carter
The House of Stathopoulo Harp Guitar
Surreal Missing Link
One of the rarest Epiphone instruments lends a glimpse into a transitional era prior to the formation of what would become one of the most recognizable names in guitar history. By Paul Fox
Trainwreck Express "Nancy"
Amps bearing the Trainwreck brand have long been among the most desirable. And after the passing of Ken Fischer they've been fixed to an even higher standard by the laws of supply and demand. This one, dubbed "Nancy," was built by Fischer in 1986. By Dave Hunter
Kenny Sultan
Left-Coast Blues Machine
A blues-guitar authority, as a kid he hit L.A. blues clubs to watch T-Bone Walker and Doc Watson. A guitarist by age 12, he spent his youth and adolescence enamored with the form, and today purveys it as half of an acclaimed duo. By Preston Gratiot
The Yamaha Image
Whether you say "acoustic" or "electric," Yamaha is never the first name that leaps to mind among guitar aficionados. Nevertheless, it has historically offered wonderful designs, innovative features, and exceptional quality. One Yamaha that answers all these encomiums is the Image. By Michael Wright
The Vox Saturn IV
In the mid 1960s, Vox was buoyed by endorsers such as the Beatles and Paul Revere & the Raiders. The company signed deals with almost every popular band; even one-hit-wonders such as Music Machine ("Talk Talk") brandished Vox guitars like the Saturn IV. By Willie G. Moseley
DEPARTMENTS
Vintage Guitar Price Guide
Builder Profile
TogaMan
Upcoming Events
Vintage Guitar Classified Ads
Dealer Directory
Readers Gallery
FIRST FRET
Reader Mail
News and Notes
Musician's Hall of Fame Closes, New Music by Beck and Frampton, Deke's Guitar Geek Fest, In Memoriam, more!
John Jorgenson's Gypsy Jazz Orchestra
By Michael Dregni
Charlie Apicella
Ain't That a Groove?
By John Heidt
Ask Zac
By Zac Childs
J.D. Simo
Young Tele King on Broadway
By Zac Childs
Winter NAMM '10
By Preston Gratiot
Jimmy Wyble
1922-2010
By Jim Carlton
Love and Theft
Doing Time
By Will Kelly
Sean Chambers
The Tampa-Texas Connection
By Willie G. Moseley
COLUMNS
The (Way) Back Beat
$100, 50 Years Ago, Part II
By Peter S. Kohman
Q&A With George Gruhn
Guitars with Guts
1846 Manuel Gutiérrez
By R.E. Bruné
Fretprints
Robbie Krieger
By Wolf Marshall
Acousticville
Every Decade Or So…
By Steven Stone
TECH
Talkin' Amps…
Sleeper Amps: The Watkins Dominator MkI
By David Jung
DAn's Guitar Rx
New Bridge For an Epi Texan
By Dan Erlewine
Shop of Hard Knocks
Resurrecting a "SuperStrat"
By Will Kelly
REVIEWS
The VG Hit List
CD, DVD, and Book Reviews: Sweet Mikey C, Debbie Davies, Oz Noy, Muriel Anderson, Bob Seger, Richard Bennett, The Modern Era of the Les Paul Legacy, more!
Check This Action
What Would Django Do?
By Dan Forte
Vintage Guitar Gear Reviews
Godin 5th Avenue CW Kingpin II/Richmond Dorchester, Big Tex '53 Blackguard, Boedigheimer BB-1/Boutique, Epiphone Emperor Swingster, WGS G10A/G10C, Danelectro '59 Original DC, Bilt Relevator, More!
Gearin' Up!
The latest cool new stuff!