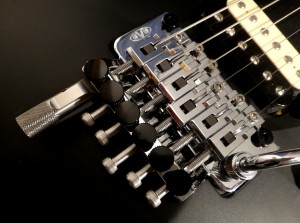 The EVH-D-Tuna company's new Ti D-Tuna is machined from high-grade titanium. Manufactured in the U.S., the Titanium D-Tuna allows the player to move their low E to D on the fly even if their guitar has a locking vibrato. The D-Tuna has been standard equipment on Van Halen's personal guitars as well as signature series locking-vibrato-equipped guitars since the early '90s.
"It couldn't be easier to install," Edward Van Halen. "You remove the string-locking screw from the low E saddle on the bridge and replace it with one of the two D-Tuna locking screws provided, the spring assembly and the D-Tuna. And that's just about all there is to it."
For more, visit dtuna.com.