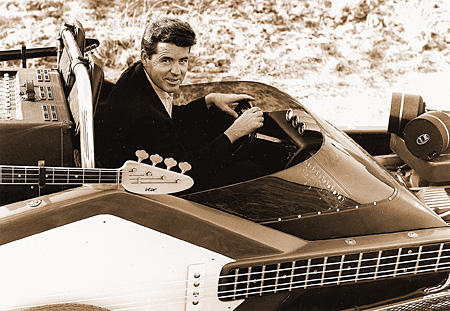 Taking a cue from the burgeoning world of television, in 1951, Leo Fender married the name "Telecaster" to his new electric-solidbody guitar.
Originally dubbed "Broadcaster" (which infringed on a Gretsch trademark), after being given a new name, the Telecaster became a new guitar for a new age of popular music. At the time, country, jazz, pop, and blues were reaching new levels of post-war stature, but the music was generally getting louder and faster, and guitarists needed to keep pace. The Tele's design helped alleviate feedback issues hollowbody players were experiencing, plus they provided a whole lotta neck for guitarists to delve into the instrument's hitherto-unexplored upper ranges. In modern parlance, Leo Fender's new invention screamed "game on."
To mark the Telecaster's 60th anniversary, Vintage Guitar is taking a voyage back through the decades, spotlighting the guitar's top players, songs, solos and, of course, its elegantly twangin' tones. Naturally, this includes the entire Tele universe, including any and all "nocasters," Esquires, G&L ASATs, and just about any weird-ass mod, copy, and permutation in-between.
Twang Begins
The 1950s was an incredible era for guitar music, not just because of fresh technical innovations (like the Tele, Strat, Precision Bass, Les Paul, humbuckers, and bigger, better tube amps), but also for the great players that came in their wake.
One would be hard-pressed to name the first great Telecaster player, but perhaps it was Jimmy Bryant. Part of the flourishing country scene in Southern California, he had the speed and melodic sense of a nimble jazz musician. In 1950, Leo Fender got one of his new Broadcasters into Bryant's hands and the effort paid off, as you can hear on many of his recordings with partner/steel-guitarist Speedy West; cue up "Bryant's Boogie," "The Night Rider," and "Frettin' Fingers" to hear Bryant saw up the neck of his Tele with runs that effortlessly mixed country, jazz, and blues. Today, Bryant's playing isn't as well-known as it should be, but to those in the know, he's right there with Merle Travis and Chet Atkins as one of the best country guitarists of all time. And if you don't believe, ask some of his fans, such as Albert Lee or Scotty Anderson.
Another '50s Tele hero was Muddy Waters, greatest of the Chicago bluesman. Armed with a Telecaster, Muddy recorded many definitive electric-blues songs, including "(I'm Your) Hoochie Coochie Man," "Walking in the Park," and "Rolling Stone." His high-volume, two-guitar band also created the blueprint for later rock bands like the Rolling Stones, Yardbirds, and Aerosmith, and he often laced his performances with raw, Delta-rooted slide licks. Waters may not have been the most proficient slide guitarist of his day (having fairly stiff competition from Elmore James, Robert Nighthawk, and Earl Hooker), but if you consider the sum total of his songs, attitude, and that mighty voice, Muddy's guitar work adds up to the stuff of legend.
As rock and roll burst into the '50s pop scene, a new generation of guitarists joined the fray. Among rock's important first wave was James Burton, who played with pop idols Ricky Nelson and Elvis Presley, as well as Merle Haggard and Emmylou Harris. Along with his "chicken pickin'" technique, Burton's key innovation was replacing the wound G string with a lighter banjo string, allowing him to bend notes like a pedal-steel player, as on "Corn Pickin'," from 1967. And thanks to Burton's weekly appearance with Ricky Nelson on the popular "Adventures of Ozzie and Harriet" television show, the Fender Telecaster was seen by millions of viewers each week and became firmly ensconced in the guitar-playing public's mindset. Considering this media coup, you can argue that Burton is the man who really put the word "tele" in Telecaster!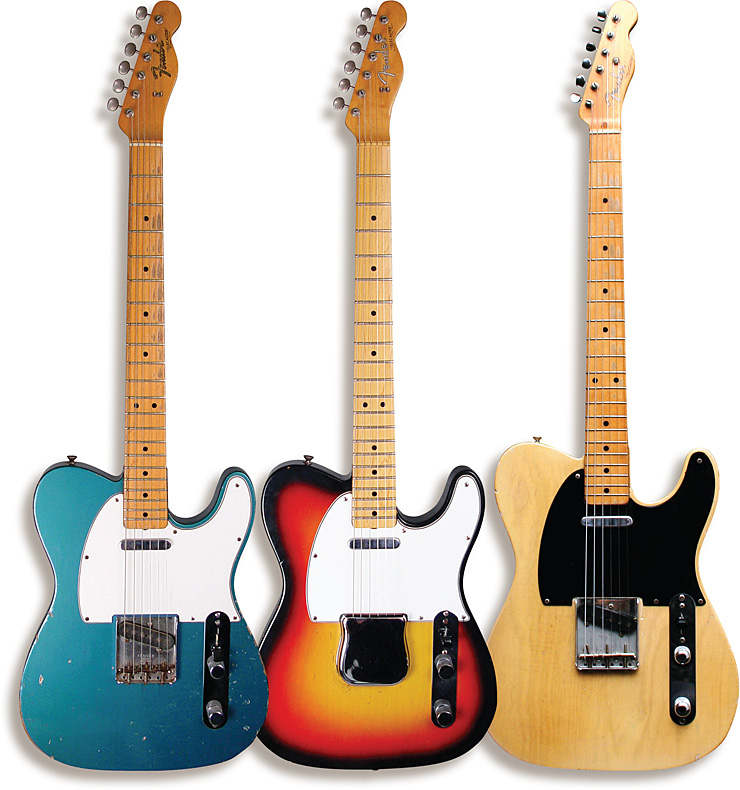 Telexplosion
It's a common misstep among rock fans to equate "the '60s" with Jimi Hendrix, Woodstock, and psychedelia – ostensibly, the second half of that decade. In reality, however, its first half was nearly as strong – an era when blues, surf, jazz, and country guitar flourished and produced terrific music. Let's start in 1962, with "Frosty," the Tele-fueled hit from Texas blues ace Albert Collins. A driving instrumental with a cool riff and brilliant, stinging leads, "Frosty" is a Telecaster feast for the ears. Even cooler is the way you can hear Collins' fingerstyle attack as he pulls and snaps the strings for emphasis, and his masterful wrist vibrato. From the same era, check out Robbie Robertson's highly innovative Tele work with singer Ronnie Hawkins, such as on "Who Do You Love" and "Come Love." Years before Clapton, Bloomfield, and Beck, here was a skinny white kid playing the heck out of dirty electric blues.
Another Tele giant of this period was Steve Cropper, of Booker T. & the MGs. Not a flashy soloist, Cropper was arguably the first white guitarist to emphasize "groove" and the importance of the rhythm guitarist to supporting the beat. Using a Telecaster, Cropper was an expert at little spot licks and chords that added flavor, such as on Sam & Dave's "Soul Man" and "Hold On, I'm Coming," or Otis Redding's "(Sittin' on the) Dock of the Bay." But for guitarists, it's hard to resist the MGs' 1962 instrumental "Green Onions," which Cropper imbued with brief, tart blues licks and chord slashes. In fact, his sense of economy influenced another great rhythm player, the Who's Pete Townshend, who himself grabbed a black Tele-style Schecter from 1979 to '82.
It's impossible to talk about '60s guitar without getting into country music. The early '60s were boom years for vocal-oriented Nashville artists, but out west in Bakersfield, a number of musicians were hot on putting the "western" in country and western music, concocting a sound that was leaner and edgier than its genteel cousin from Tennessee. If you're looking for cool Telecaster teams from California, look no further than the singer/guitarist duos of Buck Owens and Don Rich, along with Merle Haggard and Roy Nichols. For Rich's tough Tele twangin', cue Owens hits like "Buckaroo," "Love's Gonna Live Here," and "Act Naturally." For Nichols, try Haggard tracks like "Branded Man" and the Strangers instrumental "Blue Rock." And don't forget Johnny Cash's Tele man, Luther Perkins, who perfected the boom-chicka guitar rhythm in country music.
Later in the decade, bluegrass flatpicking hero Clarence White grabbed a Telecaster and joined the Byrds in time for 1968's seminal Sweetheart of the Rodeo, the album credited with launching the country-rock genre. To top things off, he co-invented the B-bender, a device that mechanical raised the pitch of the B string to imitate the sound of a pedal-steel guitar.
The Tele in Swingin' London
In 1965, the British pop scene was deep into the Beat scene, but the Yardbirds began crafting a sound that bridged pop, electric blues, and even World music in an uncanny way. In June of that year, the band scored a hit with "Heart Full of Soul," a 45-r.p.m. single showcasing their 21-year-old guitarist, Jeff Beck. Armed with a '54 Fender Esquire and a fuzztone, Beck added a new dimension not only to Tele tone, but rock guitar as a whole. He also used the Esquire on unequivocal Brit-rock classics like "I'm a Man" and "Train Kept A-Rollin'."
Joining Beck on guitar in '66 was Jimmy Page, who switched from bass to add his own Tele musings to the increasingly heavy Yardbirds. In the fall of '68, Page formed Led Zeppelin and, after the January '69 release of its debut album, effectively launched the era of hard rock and heavy metal. Though Page is better known for his Les Paul/Marshall rig, the first Zep album is all Telecaster, as Page rips through "Communication Breakdown," "Dazed and Confused," and "Babe, I'm Gonna Leave You" on his dragon-painted Fender. In 1971, Page again grabbed his Telecaster, this time for perhaps the most famous guitar solo of the entire decade, "Stairway to Heaven."
Keith Richards of the Rolling Stones has been a loyal Tele user for decades, often tuning them to open-G for his trademark chord riffs (and leaving the low E string off, playing it as a five-string). And within the trippy, psychedelic universe, its quintessential Tele player was the late, great Syd Barrett of Pink Floyd. Using an Esquire and a Binson Echorec, Barrett painted brave new soundscapes in Brit-psych epics like "Interstellar Overdrive" and "Astronomy Domine."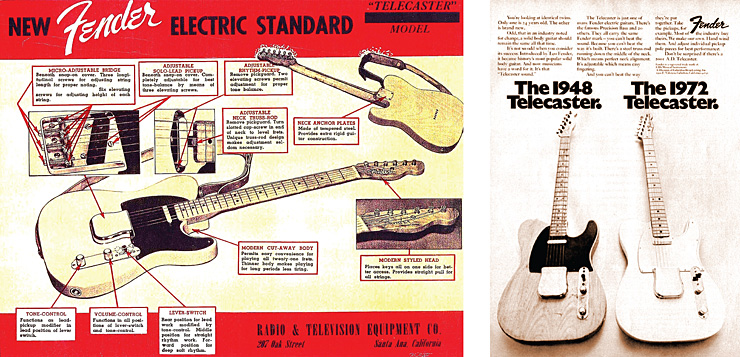 Deep Sonic Exploration
By the beginning of the '70s, the Telecaster had begun to lose some of its appeal as FM rock proliferated and heavier guitarists wanted either humbucking-fitted guitars to handle the high volumes, or Stratocasters to help get their Jimi on. But the guitar still found its way into the hands of some of the era's top players. A quick scan of the '70s rock universe finds Telecasters in the hands of everyone from Rick Parfitt and Francis Rossi of Status Quo, to punk and New Wave players such as Joe Strummer of the Clash and Andy Summers of the Police. The Tele also reached greater visibility in the hands of Bruce Springsteen, who posed with a Tele on his hip for the cover of Born to Run. The Boss also played the bejesus out of one on "Badlands" and other rock-rejuvenating cuts. And, of course, the country cats were rockin' their Teles, too, from session giant Reggie Young to the king of "outlaw" country music, Waylon Jennings. Some things never go out of style.
During the "me decade," the Telecaster assumed a new persona in the hands of jazz-rock players who began to see it as a bridge instrument between the two genres (thanks, perhaps, to Tele-picking jazzers like Ed Bickert and Ted Greene, as well as the introduction of the humbucker-fitted Telecaster Deluxe in '72). Within the fusion camp, you can find Denny Dias of Steely Dan (dig his dizzying Tele licks in the first solo to "Bodhissatva"), and the formidable Terry Kath of Chicago.
Diving deeper into the jazz-fusion world, Jeff Beck grabbed his "TeleGib" – a humbucker-loaded Tele built by Seymour Duncan – for his epic solo in "Cause We've Ended as Lovers." And from 1977 to '83, Steve Morse of the Dixie Dregs fried listeners' ears with speedy runs on his "Frankenstein" Telecaster. This plank was modded with an ungodly array of single-coil and humbucker pickups, plus a hex pickup to run an early guitar synthesizer. Certainly, this was not your father's twangy Telecaster.
If one had to award one player a "Telecaster MVP" for the entire decade, it might be a toss-up between Roy Buchanan and Albert Lee. Buchanan was a guitarist who traversed rock, blues, country and jazz with ease, using volume swells and masterful blues bends to make his Tele "talk" like no one before him. His landmark 1972 performance on "The Messiah Will Come Again" was so powerful it made Jeff Beck dedicate his epic "Cause We've Ended as Lovers" to him and Gary Moore to reverently cover the song decades later. Buchanan broke more new ground in '77 by teaming with fusion bassist Stanley Clarke for the barnburning Loading Zone, its cover sporting a photo of Roy sitting in a bar with his beloved '53 Telecaster (named "Nancy") laying on the table next to a tall, cool beer. Buchanan made another Tele-rific gesture by covering "Green Onions" on the record, soloing alongside fellow Tele master Steve Cropper.
Albert Lee, meanwhile, gained notoriety playing in Emmylou Harris' seminal Hot Band and backing Eric Clapton for several years. But if you had to pick one track that sums up Albert's scarifying Tele work, it's "Country Boy" from his '79 solo album, Hiding. This legendary recording includes an outro solo featuring Lee blazing up and down the neck of his Tele. Although a speedy player by nature, Lee broke fresh ground by sync'ing his echo unit to the beat to create fast, repeating 16th-note runs in a sound now referred to as "cascading echo."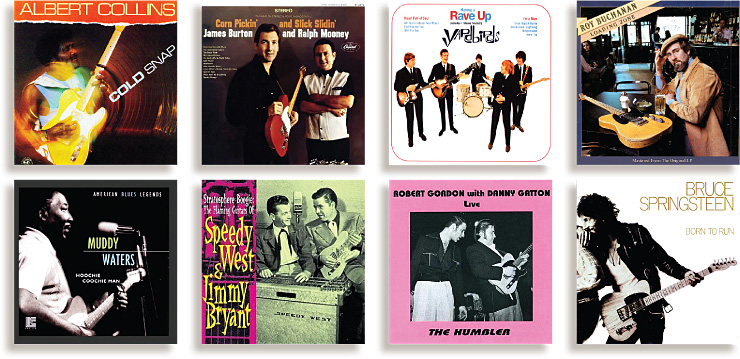 Roots Rediscovery
While the '80s is best known for MTV, electronic dance beats, and a return to frothy pop, the decade also saw a significant "roots revival" in rock, blues, and country music. In hindsight, this may have saved the Telecaster from obscurity. The roots mania continued into the '90s, part of a sound and gear revival that saw venerable Tele, Stratocaster, and Les Paul models reissued vigorously while vintage prices soared.
Not that all '80s pop was bad. Stars like Prince and Chrissie Hynde of the Pretenders put the Tele (or Tele-shaped guitar) in front of millions of video-gawking teenagers, thanks to the rise of cable TV. And though known more as a pop/funk star, Prince is, in fact, a badass guitar player, something he quickly proved on the tracks "Let's Get Crazy" and the title cut from his smash 1984 album and movie, Purple Rain. You could even find Tele-style guitars in the fusion world, thanks to Bill Frissell and Mike Stern, the latter of whom uses a humbucker-loaded Yamaha Pacifica to display his ferocious jazz-rock chops
On the roots-rock side of the coin, Danny Gatton emerged from the shadows of rumor and myth to prove himself the King Kong of contemporary Telecaster players. Like Buchanan, Danny could jump between genres effortlessly, playing a blues lick next to a jazz figure, all on top of a rockabilly run in a mere matter of seconds. Getting his start with rockabilly revivalist Robert Gordon, Gatton blew minds with his blinding technique and extreme stagemanship (such as playing slide onstage with a full beer bottle and then soloing through a damp towel on the neck). Check out his breakthrough album 88 Elmira Street to hear some of Danny Gatton's fretboard mastery, but connoisseurs will steer you toward the fabled live album, The Humbler, for his best Tele wrangling.
Over in Nashville, a new, back-to-roots country style emerged in the '80s, pushing the Telecaster back into the realm of hipness. Certainly, there were dozens (if not hundreds) of Tele aces in that town, but Marty Stuart represented a new breed of country star who was not only a singer and frontman, but a sizzling lead player. And 25 years after the days of Hank Garland and Grady Martin, hot Nashville session players re-emerged as guitar heroes in their own right; among this '80s/'90s crowd, the name Brent Mason reigns supreme. A dazzling virtuoso (often sawing it up on a custom Valley Arts guitar), Mason played on smash records by Alan Jackson, George Strait, Chet Atkins, and Clint Black, among zillions of others, imbuing all with his jaw-dropping style and technique.
Following Gatton's suicide in 1994, the Telecaster could have back-slipped into obscurity, but, thanks to three red-hot players in L.A., the axe received another few years in the limelight. This trio – Will Ray, Jerry Donahue, and John Jorgenson – is better known as the Hellecasters, and its debut album, The Return of the Hellecasters, grabbed the guitar community by the ears and treated it to one of best albums of the decade. Part of the band's magic was the melding of Ray's driving country-jazz style with Jorgenson's rock, twang and jazz sensibilities and Donahue's fret-defying fingerstyle approach. For a few years, they comprised the most exciting guitar band on the planet.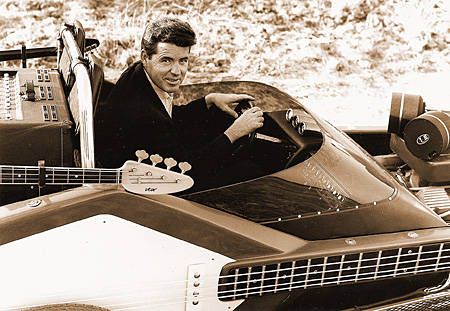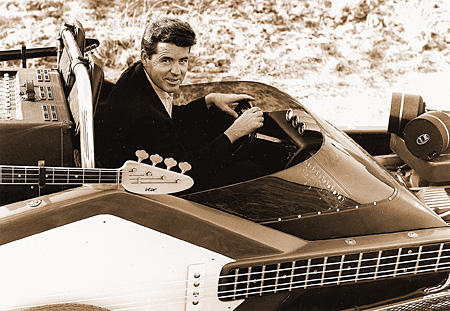 Twangin' in the 21st Century
Sixty years on, the Telecaster is alive and well. Fender is still producing reams of them and, in the '90s, opened up a new arena by introducing popular Mexico-made models. Today, there are even lower-end Asian models from Squier, creating a spectrum of Telecaster models from under $200 to "anything you can dream" models from the Fender Custom Shop. This doesn't include the numerous Tele-inspired guitars created by other companies, including Leo Fender's later companies, G&L and Music Man.
As for guitarists, there are Tele pickers just about everywhere you look these days, from alt-rockers like Johnny Greenwood and Thom Yorke of Radiohead, to modern blues, country, and roots rockers like Jonny Lang, Brad Paisley, G.E. Smith, Johnny Hiland, Greg Koch, and Redd Volkaert.
After walking through this pantheon of great guitarists, we must ask, "Why is this one electric guitar so enduring?"
One obvious answer is that Leo Fender nailed the solidbody concept right out of the gate. While the Stratocaster and Les Paul offered important refinements a few years later, the Telecaster's shape, tone, and vibe were dead-on from its inception 60 years ago. Furthermore, the Tele is the definitive "plank," an exercise in design simplicity that never gets tired. It's a piece of sculpted ash or alder (or, early on, even pine), fitted with a maple neck and a pair of modest-powered pickups. But this combination creates heavenly tones that range from sharp and twangy to round and jazzy. It's that simple – and that good.
So while Leo himself has been gone for nearly 30 years, let's all take a moment to express quiet appreciation for his wondrous invention – an amazing tone-tool that, for many of us, has become our best six-string buddy. Thanks, Leo!
---
Special thanks to Rick Allen, Dan Forte, Rich Kienzle, and Jas Obrecht for their insights and suggestions.
We don't have room to rave about every deadly Tele slinger out there. Fortunately, though, you can help remedy that – surf over to VG's Facebook page and tell us about your absolute favorite Tele twanger!
---
This article originally appeared in VG December 2011 issue. All copyrights are by the author and Vintage Guitar magazine. Unauthorized replication or use is strictly prohibited.
---
---
---