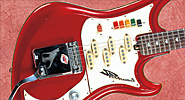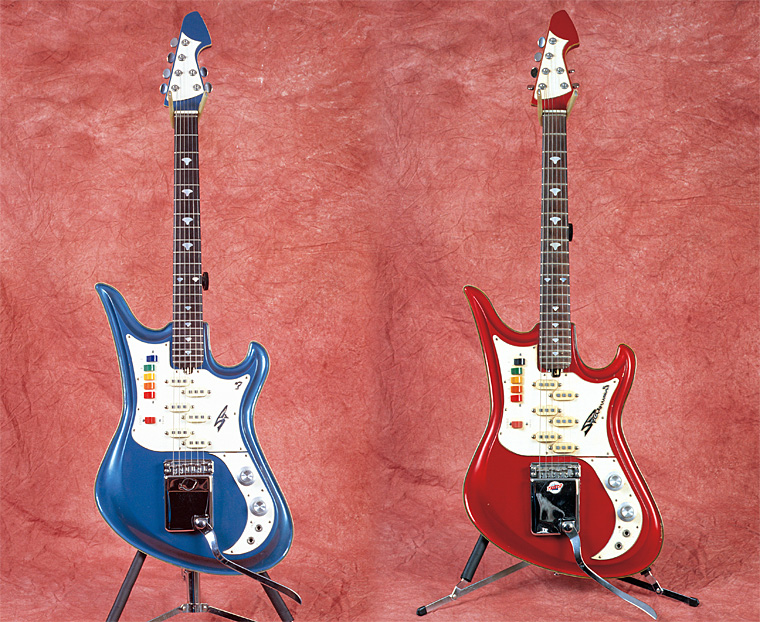 Joining playful mid-'60s cultural icons such as the Ford Mustang, NBC's "The Monkees," the Beatles' "Nowhere Man" and Cassius Clay, the Teisco Del Rey Spectrum 5 was the high-water mark of original Japanese design from the era. It's also one of the most sought-after import guitars – with good reason.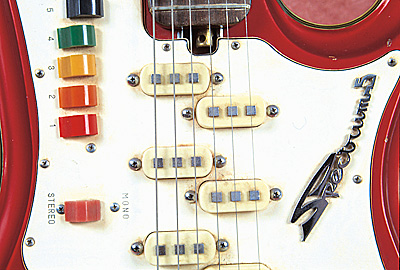 Debuting circa 1966 and lasting only a few years, the Spectrum 5 was the top of the line for the Tokyo Electronics Company in the psychedelic late '60s, when suppliers could not keep up with demand for guitars.
The Spectrum 5 was a part of a larger Spectrum series that shared the same elegant styling; however, it's the 5 that's special.
As the '66 Teisco Del Rey catalog boasts, the Spectrum 5 "has unique features which no other guitar in the world can match." While the mahogany body with Mosrite-inspired German-carve edge, the seven layer, hand-rubbed lacquer finish, and Kay-influenced fretboard inlays were standard for the Spectrum series, the staggered pickups with stereo/mono output and a five-ply ebony neck were unique to the 5. The four-and-two tuner arrangement on the headstock was used on other Teiscos, but the plastic faceplate adds a tasteful touch. Some Spectrums had natural-faced headstocks, others had matching colors. The vibrato had an integral bridge that moved with the assembly to eliminate friction and wear on the strings.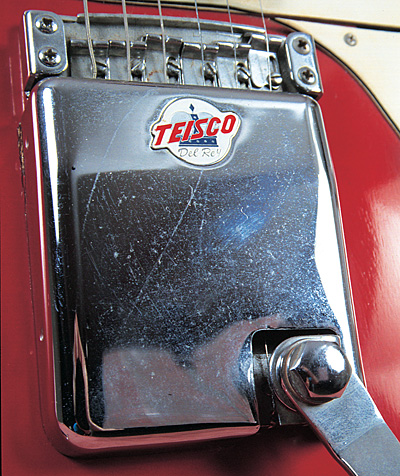 The name of this guitar derived from the switches' ability to produce five tonal colors – a "spectrum of sound" – which could be used alone or in any combination. For stereo output – bass through one channel, treble through the other – two jacks were used.
As lovely as the Spectrum 5 was, it hardly caught on. In '66, at least in the United States – the world's dominant guitar market – anything "made in Japan" carried a negative connotation no matter how well-executed. There are photographs of Nils Lofgren playing one of these, and the intrepid David Lindley plays a Spectrum 4 (with four pickups, typical Japanese vibrato, and mono-only output).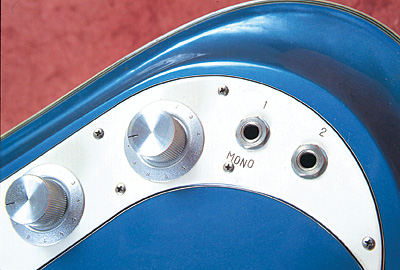 The Spectrum 5 – along with a few other collectible guitars like the Yamaha SG series – reflect the end of the first era of Japanese guitar making. As the '70s dawned, the emphasis shifted to copying successful American instruments and consolidating market share.
---
This article originally appeared in Vintage Guitar Classics No. 1 issue. All copyrights are by the author and Vintage Guitar magazine. Unauthorized replication or use is strictly prohibited.
---