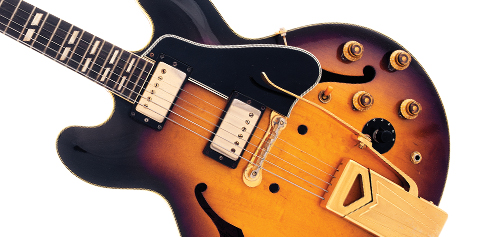 There are guitars, there are great guitars, there are great historic guitars and there are great historic guitars bearing deep provenance. And then there are guitars of such immense mystique, provenance, and cultural significance they are transcendent, shattering ceilings set by previous standards.
Two such instruments were crafted by Gibson at the height of its "golden age" and delivered to an iconic guitarist named Hank Garland. Today, some 53 years later, they continue to reverberate and mesmerize in the soundtrack of Americana.
Hank "Sugarfoot" Garland is a legendary figure in pop, country, jazz and rock and roll. Had he not been sidelined and disabled by a tragic auto accident in 1961, he surely would have been heralded as a leading voice and innovator in country and jazz, with the likes of Merle Travis and Chet Atkins or Tal Farlow and Barney Kessel. As an elite member of the Nashville A-Team, his studio credentials are voluminous and include names like Elvis Presley, Roy Orbison, Jerry Lee Lewis, the Everly Brothers, as well as Patsy Cline, Don Gibson, Bobby Helms ("Jingle Bell Rock"), Marty Robbins, and Atkins. Garland is credited with bringing the electric guitar to the Grand Ole Opry and with making the first jazz album in country-bound Nashville. He has been called "God's finest work" and was acknowledged as a musical and electronics genius.
In addition to his professional and sociological accomplishments, Garland was a forward-thinking instrument designer who was key in the development of the first thinline electric, the Gibson Byrdland (its name combined his surname along with that of co-designer Billy Byrd) of 1955. Garland's namesake artist guitar was essentially a thin (21/4″) version of the hollow L-5CES archtop electric with a shorter neck (231/2″ scale). The history of Gibson's "Thin" models necessarily began there. But that's another story.
In 1958, Garland took delivery of two custom Gibson semi-solid electrics. They were ostensibly thinline "brothers" – the prototype ES-345 with Stereo and Vari-tone circuitry and a one-of-a-kind six-string bass dubbed the EB-6. Both have a sunburst finish, dual PAF humbucking pickups, and bodies measuring 16″ wide by 19″ long by 13/4″ deep. Garland received the 345 first, as he was involved in troubleshooting the electronics in early versions of the guitar. The EB-6 was built and sent to him later in the year. He used both instruments extensively before they were formally issued in 1959.
Garland's ES-345 is the prototype and shares features that would become standard in the early production model; gold-plated hardware, one-piece mahogany neck, rosewood fretboard with split parallelogram inlays, an 8″ pickguard, Tune-O-Matic bridge, and factory stop tailpiece. Garland subsequently modified his 345 with a gold-plated Gibson "sideways Vibrola" tailpiece (supplied with the guitar) and substituted a gold-plated Bigsby bridge-saddle unit for the original Tune-O-Matic. The holes for the original stop tail were plugged, testifying to his personal experimentation with the instrument. Normally, factory-ordered Gibson semi-solids with vibrato tailpieces of this period were fitted with a black plastic cover plaque covering the stop tailpiece holes and bearing the words "Custom Made."
The 345 was Gibson's first stereo instrument, a revolutionary idea the company pioneered in the '50s and brought to market with the stock ES-345TD of '59, and later as an option with the ES-355TD-SV and custom orders. Gibson provided a special color-coded y-cord to feed stereo amps (like the Gibson GA-88S or GA-79RVT). Hank's guitar came with an instruction sheet explaining the operation of the Vari-tone circuit and how to use the stereo output with Gibson stereo amplifiers, multi-channel amps, and mono applications. It was shipped in a deluxe black Lifton case with plush yellow lining.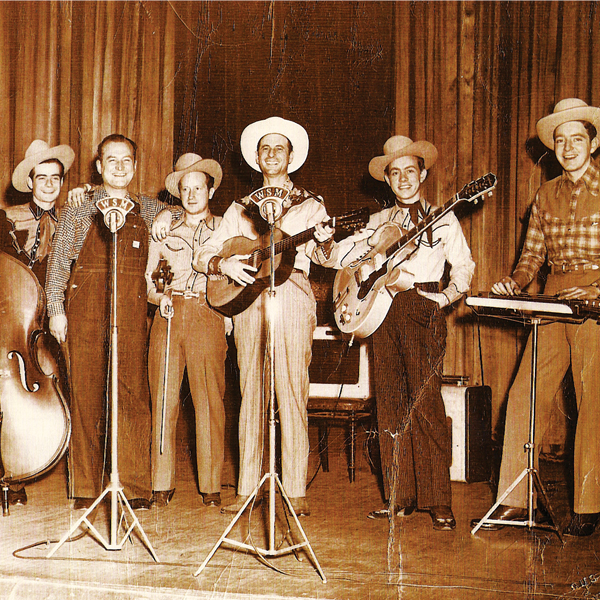 The ES-345 was also the first guitar to be factory-equipped with Vari-tone circuitry. The prototype has an unusual black knob and ring for the Vari-tone rotary switch, different from the typical gold-and-black chicken-head knob on later models; the selector knob has serrated edges as well as a chickenhead pointer, and the ring is black with six white numbers for the positions of the rotary switch, all features that attest to its prototype status.
Garland often ran his 345 into an Ecco-Fonic model 109 echo unit then into two amplifiers or separate channels of a stereo amp for special effects. The tape has not been changed since Garland stopped using it in 1961. Experts speculate it probably contains precious recordings of Hank's echo guitar parts from his sessions on hits like "I Fall to Pieces" and others – truly the ghost in the machine!
The EB-6 is the direct sibling of his ES-345 and is a true bass guitar, clearly intended for a guitar player. It was produced hastily and has a 345 body with a different neck, hardware, and electronics. This contention is supported by the fact the body has a plugged hole where the Vari-tone knob would be on a 345. The pickguard is the standard "long guard" used on '50s dot-neck 335s and the earliest 345s of the period. It has guitar-style Kluson tuning keys with plastic tulip-shaped buttons.
The control layout mirrors the arrangement found on the 335 and 345; two humbucking guitar pickups with two Volume and two Tone controls and a three-position toggle in the standard Gibson configuration. This is quite different from the production EB-6 of 1960-'61, which was equipped with only one pickup, one Volume and one Tone control, and a pushbutton tone-change switch that alternated between a bass and baritone sound. Moreover, the location of the controls and bridge is slightly different, most likely to accommodate the additional bridge pickup. Hank specified placement of the pickups, which are spaced farther apart (8″) than other comparable six-string basses. Unlike the production EB-6, the neck pickup is reversed, with polepieces facing the bridge.
Garland's EB-6 has a longer one-piece mahogany neck and a longer version of the dot-inlaid fretboard of 1958-'62 ES-335s. It has an offset scale length; 311/2″ on the sixth string and 303/4″ on the first, owing to the compensating angled bar bridge on the tailpiece. The fingerboard measures 211/4″ in length and is 13/4″ wide at the nut, 21/4″ at the end of the fingerboard. The headstock has an inlaid crown motif like Gibson's ES-335, 345, 350, 175, 295, L-4, and later EB models.
Unlike the later EB-6, Garland's was made with a bound 20-fret rosewood fretboard. However, it sported the combination bar bridge/tailpiece with adjustable string damper found on the early-'60s SG-style EB-6 and EB-3, making it an unusual hybrid. Moreover, Hank's EB-6 was fitted with two '50s-style amber bonnet knobs on the volume pots and two '60s-style gold-capped knobs (with "Tone" written in the inserts) on the tone pots. The EB-6 was shipped with a leather gig bag, as standard hardshell cases of these dimensions were not yet available.
Garland played the 345 on countless hits from 1958 through '61. It's known to be one of his favorite guitars, owing to the many sounds he obtained from the instrument, and can be heard on virtually every Elvis Presley recording date of that period, including the Blue Hawaii and Follow That Dream movie soundtracks, as well as hits by other artists including "I Fall To Pieces" (Patsy Cline), "Where The Boys Are" (Connie Francis), "Apache" (Sonny James), "Just Because" (Patti Page), and many others. It's the guitar featured prominently in fills and the solo of the Everly Brothers' "Bye Bye Blackbird." Hank also used it (before its modification with a vibrato) when he appeared on TV shows like "The Faron Young Show," where he played his signature instrumental "Sugarfoot Rag."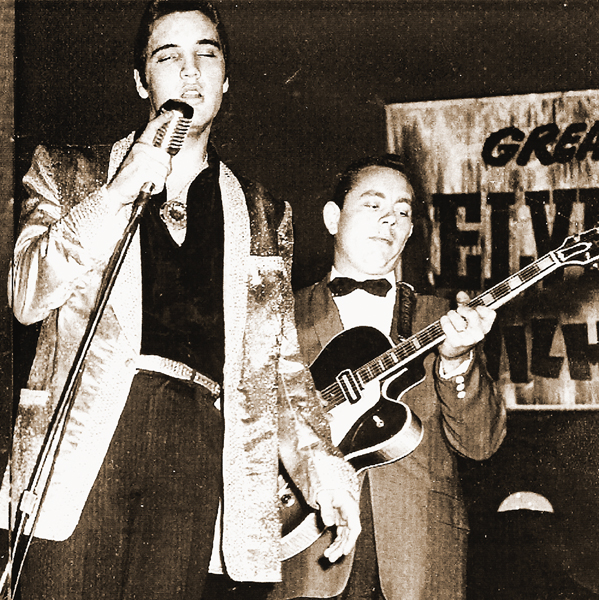 Garland used the EB-6 for specific bass lines on various recording sessions, the most famous of which are Elvis' "I Got Stung," "Stuck On You," and "Fame and Fortune." He also employed it to complement the standard upright bass parts on other recordings.
---
This article originally appeared in VG September 2011 issue. All copyrights are by the author and Vintage Guitar magazine. Unauthorized replication or use is strictly prohibited.
---