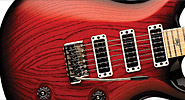 PRS 25th Anniversary Swamp Ash Special NF
Price: $3,908 (retail)/$2,329 (street)
Contact: PRSguitars.com.
The PRS 25th Anniversary Swamp Ash Special NF is a guitar that attempts to thread many needles: depending on your pickup and amp selections, it can cover most tonal bases between Fender and Gibson, and then some. And that's just for starters.
The Swamp Ash Special (SAS) is unusual in many ways. Unlike PRS' more typical mahogany bodies with maple tops, this guitar uses swamp ash, a tonewood from swampy regions of the South. It's a light, vibey material that was used on many classic Fenders of the '50s and is still used widely. Another interesting feature, at least for PRS, is the bolt-on maple neck, again, bringing to mind Leo's classic archetype. The axe also has 22 frets, a figured-maple fingerboard with 25″ scale, cool "shadow bird" inlays, a vibrato bridge, and PRS' 14:1 Phase II locking tuners. For pickups, there are three PRS 57/08 Narrowfield pickups – the "NF" in the guitar's name. Finally, the finish on our review model is called Scarlet Smokeburst, which lets the grain of the swamp ash show through nicely.
The neck profile is the PRS Standard shape, which feels a little beefier than the company's Wide Fat neck, and the guitar was set up to PRS's high standards of playability. The SAS' bridge works well and the controls are fine, but the pickup selector is located on the far side of the Volume knob, and it might take a while getting used to locating it with your pinky, especially if you normally play a Strat, which has its selector closer to the natural sweep of the picking hand.
How does it sound? Plugged into a few tube amps and a digital simulator, the Swamp Ash Special took the curves like a pro. Once a player knows how to quickly access its many tones, the guitar could go to just about any gig. You can play clean or dirty, from twang-spankin' country to raunchy blues, to serious hard rock – the SAS screams thanks to the Narrowfield pickups. You can derive surprisingly accurate sounds of a Strat, Tele, or a Gibson fitted with P-90s or mini-humbuckers. There are even some full humbucker-ish sounds, too, especially on the "woman tone" side of things (i.e., either neck pickup on, or else the bridge pickup with tone knob half rolled off). The kicker is that the Narrowfield pickups are humbuckers, and are therefore extremely quiet. Tone-wise, the SAS can go from Jimi to Eric to Angus without issue or obnoxious hum. There aren't many guitars that can do that.
For the gigging or recording guitarist who requires versatility, it's easy to recommend the Swamp Ash Special NF. You have to play it to understand its flexibility and broad tonal personality, but after a run with the Narrowfields, you may never go back to traditional humbuckers or single-coils.
---
This article originally appeared in VG July 2010 issue. All copyrights are by the author and Vintage Guitar magazine. Unauthorized replication or use is strictly prohibited.
---