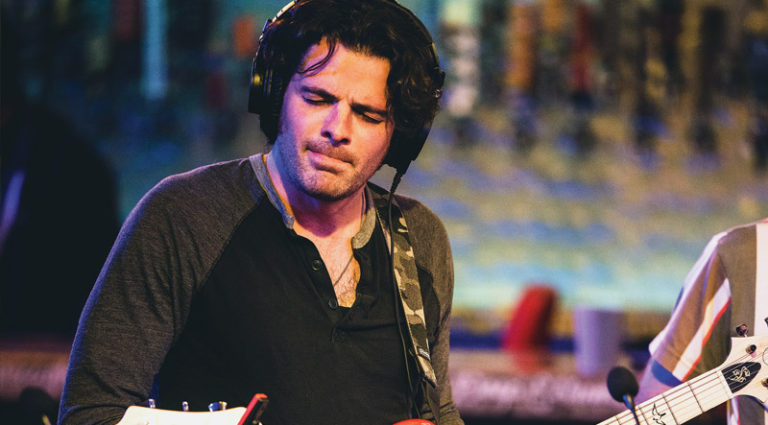 Snarky Puppy's Empire Central was recorded in front of a live audience and pays homage to the city of Dallas. Deep within the bowels of the band's sophisticatedly funky 19-piece jazz ensemble, Mark Lettieri is one of three stellar guitarists, distinguishing himself with his melodic thumbprint and a host of textures. He shared his secret sauce with VG.
With three guitarists, how do the guys in Snarky Puppy decide who plays what?
Often, there will be enough parts where everyone can choose one and learn that. It might not be a part that was written for guitar, but everyone tries to learn as much of the arrangement as possible in the event the guitar needs to play what the keyboard is playing, or what the horns are playing. Other times, we have to come up with our own stuff. We yield to each other's strengths. We're all good friends and respect one another, so no one approaches it with any ego. It's nice being in a band with guitar players that don't sound like you (laughs) but who are all super-capable geniuses trusted to do what they do well. Then you can do what you do, and it works out great.
What are your strengths as a guitar trio?
Rock, funk, and soul are my biggest influences, so I try to bring that. We all come from a rock background, but Bob Lanzetti has been getting into a lot of country music lately and bringing that vibe with some of his tones. Chris McQueen is into sound effects and a very angular way of approaching things, but he's also a brilliant jazz player who blends those ideas. It's an interesting melting pot. Each of us can play what the other guy plays, but it just doesn't sound the same. Anyone who writes a tune for the band can get exactly what they want from at least one of us (laughs).
How did the song "Trinity" develop?
It's hard for me to write for Snarky Puppy; I'd come in with tunes that were over-composed because I was worried all these instrumentalists wouldn't have enough to do. When it came time to record that song, I thought "I'm just going to write something I think sounds cool." I had the initial 7/8 guitar arpeggio on my phone and didn't know what to do with it until we had the task of writing stuff that signified our time in Texas. I grew up in California, but I've been living in Texas for 20 years. King's X and ZZ Top are two of my favorite bands, and I love East Texas gospel artists, so I wondered if I could create a song that encompassed all the stuff I've gathered from being here. The parts almost wrote themselves, and the band brought the arrangement to life.
PRS built a signature guitar for you.
Yes, the PRS Fiore takes inspiration from the Strat-style guitars I've had over the years. It has an ash body, maple neck, 251/2″ scale, and a 10″ radius. It's inching toward perfecting the S-S-H setup; the pickup switching does quite a few unique things combining pickups.
I wanted a guitar that was a Swiss Army Knife but sounded good in all positions, rather than, "It does a lot of things, but I only use three sounds (laughs)." I use all the sounds on the Fiore. It was a dream come true to design a guitar with PRS, whose people are amazing at what they do.
You also have a thing for baritone guitars.
It was a studio tool that naturally progressed to become an instrument of funk. When I pick up a guitar, I try to be funky. I picked up a baritone guitar and played what I would normally play on a regular guitar. I was playing a Minneapolis groove and thought, "Wow, this is a different kind of language I don't think I've heard explored much." It became an extension of my compositional personality. It forces me to write in a way where the rhythm, the groove, and the riff exist as the hook, maybe more so than a traditional melody. There are melodies, but the meat is drawn from the groove and the riff.
As a guitar instructor, what's your core belief?
I try to get people not to deny their ear. Before you look at a tab or a video, try to figure something out by ear. You're not going to get it right the first time, but if and when you do get it, you'll probably find a unique and cool way of doing it in your own language. I'm a firm believer in video lessons but don't deny your ear. It'll only make you a better musician.
---
This article originally appeared in VG's November 2022 issue. All copyrights are by the author and Vintage Guitar magazine. Unauthorized replication or use is strictly prohibited.