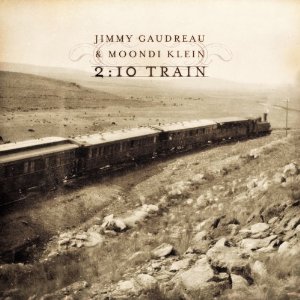 Jimmy Gaudreau and Moondi Klein have been playing together for more than 10 years. They first met when T. Michael Coleman, Mike Auldridge, and Klein asked Gaudreau to join them in Chesapeake. When the group disbanded in the late '90s, Gaudreau and Klein got together occasionally to play concerts in D.C., where they both live. 2:10 Train is an outgrowth of this collaboration.
Stylistically, 2:10 Train is a throwback to the old-time string-band duets of the 1930s and '40s. The lead vocals are combinations of solo and harmony singing with a strong emphasis on the tenor parts. Gaudreau and Klein's voices meld together as well as any true brother act. Their similar vocal timbres and seemingly innate sense of each other's vocal rhythms and phrasing sound as if they've played together all their lives. This uncanny simpatico extends into their instrumental work. Their rendition of the old chestnut "Arkansas Traveler" sounds as spontaneous as if it was freshly penned. Most of the material is covers, though Gaudreau and Klein's unadorned style hones it to its purest essence.
Recorded by Stuart Martin at Stonebridge Studios in Leesberg, Virgina, and mastered by David Glasser at Airshow Mastering in Boulder, Colorado, this disk sounds as natural as the proverbial cool mountain stream and relaxed as a well-worn baseball cap. The recording captures all the subtleties of Guadreau's hybrid mandolin style and Klien's smooth flatpicking. One guitar and one mandolin and two voices; do you really need anything more to make great music? Nope.
---
This article originally appeared in VG's Jul. '08 issue.  All copyrights are by the author and Vintage Guitar magazine.  Unauthorized replication or use is strictly prohibited.
---