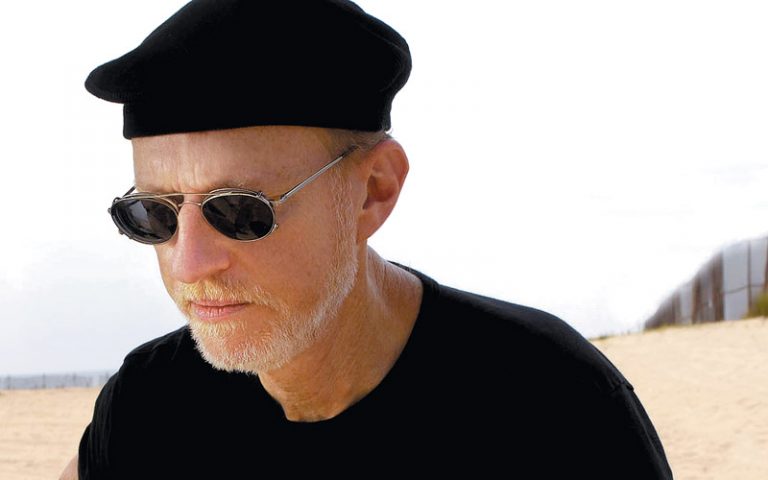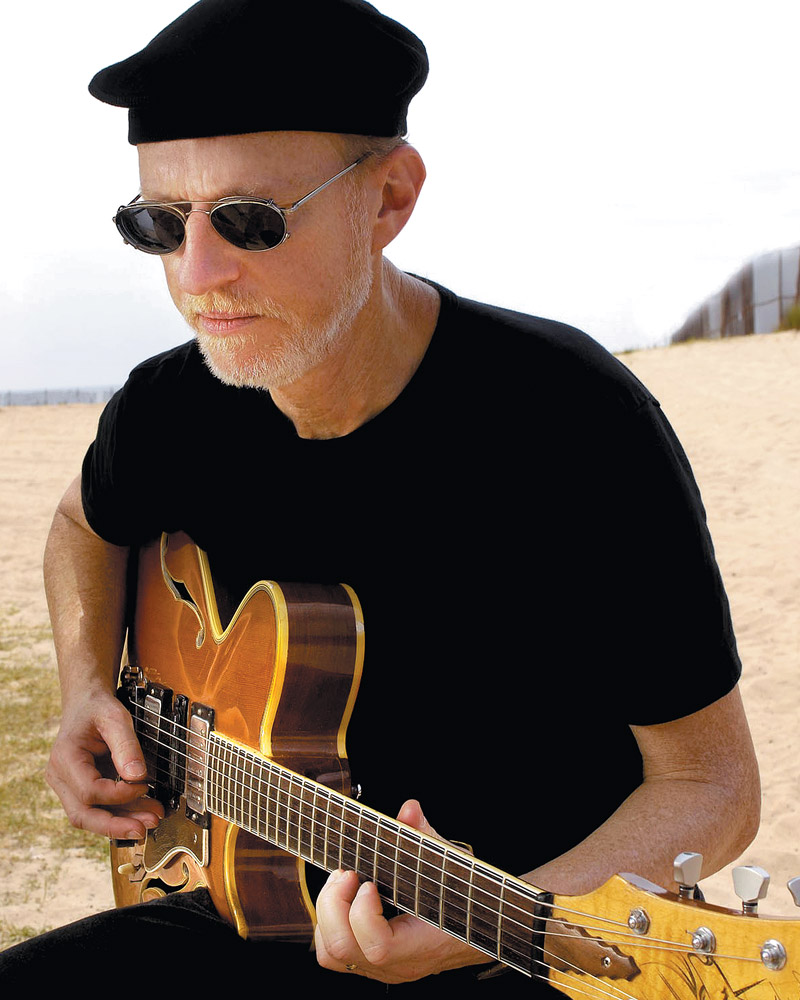 Bob Devos says the idea for his new record, Shifting Sands, was pretty basic. "I wanted to record something that takes the organ trio or quartet sound into the future. Give it more of a 21st-century sound, not just re-create the old sound." Devos knows a bit about bands that mix the organ and the guitar, having played with most of the giants of the B-3, and his history dates all the way back to the early '70s.
He spent most of his early days learning songs from older brothers' R&B records, and took lessons at a local music store while he was diving into his brothers' stash of Chuck Berry, B.B. King, and Ray Charles. The jazz bug bit him when the organist in a high-school R&B band had him listen to some of the music in his collection. "He had some Jimmy Smith records with Kenny Burrell and Grady Tate, and I started to check that out. From there, I listened to Wes Montgomery records, and that took things up a notch."
Devos cites Montgomery, Jim Hall, and Grant Green as his three favorites, but adds that he listened to everybody.
His first jazz gigs happened after he took lessons with Harry Leahy, a teacher who played with saxophonist Phil Woods. Leahy was taking lessons from famed Philly teacher Dennis Sandole and recommended Devos to Sandole. In turn, Sandole sent him to play with the Trudy Pitts and Mr. C trio.
"I caught on right at the end of the chitlin' circuit," Devos recalls. "There were so many places to play. It doesn't exist anymore, but it was a great place to learn."
Devos' musical journey since then found him playing with legends like Jimmy McGriff and Hank Crawford, Richard "Groove" Holmes and Sonny Stitt (a stint he now refers to as "a helluva be-bop lesson"), Jack McDuff, Dr. Lonnie Smith, Joey DeFrancesco, and two stints with Charles Earland. Devos says the Earland bands were fantastic and it was also the saxophonist-turned-organist who pushed him into the solo recording field.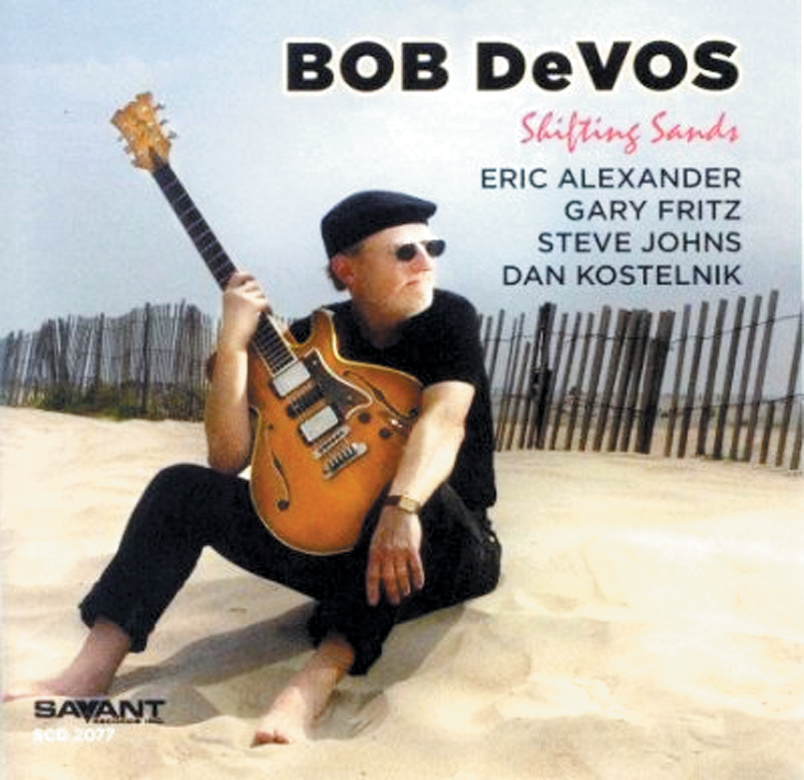 "One day, Charles called and started telling me about another recording that we were doing, and he was going on about the music. Somewhere in the middle of the conversation, I realized that he was talking about my record, and that he was talking about how he was going to produce it! So I thought, 'What the heck.' It was one of the last records Charles did before he died, so I feel really fortunate that we did get to do that together."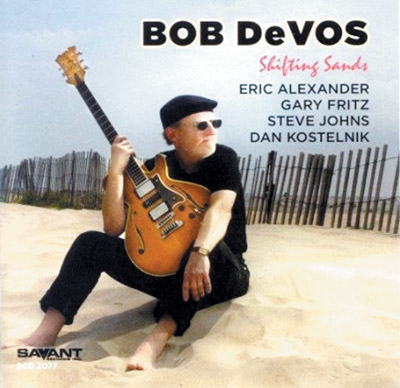 Devos has since released two other solo records, including the new one, Shifting Sands, with Eric Alexander on sax, Steve Johns on drums, and Dan Kostelnik on B-3. "I met Dan a couple of years ago. We played a gig and he said, 'I know all your tunes and have all your records.' And he did. We played a few gigs around New York and started recording with Steve."
Devos' main guitar, shown prominently on the cover of the new CD, was hand-made for him by Robert Engel, from Stanford, Connecticut. "He was working as a carpenter, building a studio for a friend of mine. He had built a couple of solidbody guitars at the time, but he started to talk to me, telling me he liked my playing, and said he wanted to build me a guitar. I told him I have three favorite guitars: a 1962 Gibson Super 400; a '61 Strat; and an Ibanez 335-style guitar. I asked him if he could combine that in one guitar, and he just shook his head, thought about it for a minute, and said, 'Okay, let's do it!' It's about the size of a 335, but a little thicker and with a longer scale, which is what I wanted." Devos uses the guitar for pretty much everything these days, but also grabs a newer Gibson L-5 for quieter gigs. The guitar also made the trip to the beach with him for the cover of Shifting Sands. "The photographer said we need lots of sand, so I found myself being dragged out to Coney Island on a 100-degree day, standing on the beach. I'm not much on beachwear, and you'll notice I'm dressed in black."
VG played a big part in Devos' knowledge of amps. "I read a lot of columns by Dan Torres and Dave Funk, back in the day. I bought their books and started ripping my old Fenders apart, then buying more of them to rip apart! I wanted my amp to sound good for jazz. To be frank, a lot of jazz players don't really care how their amp sounds. Dan Torres had a lot of tips on how to get a cleaner jazz sound, so I learned a lot from him." Devos says all of the reading and rebuilding resulted in what he now calls his main amp. "It's a former Fender silverface Deluxe Reverb, but it's completely rebuilt. The only remaining parts are the chassis and cabinet and the on/off switch." He has three other amps ripped apart in his basement, and he continues to work on them.
Devos' generation might be one of the last to learn like he did. But while looking to the future with his composing and playing, he can't help but look to the past. "Guys don't have that in-the-bandstand training I got. It's been replaced by college education. That's great, the great players will still emerge, but it just doesn't have any soul." – John Heidt
---
This article originally appeared in VG's April 2007 issue. All copyrights are by the author and Vintage Guitar magazine. Unauthorized replication or use is strictly prohibited.
---