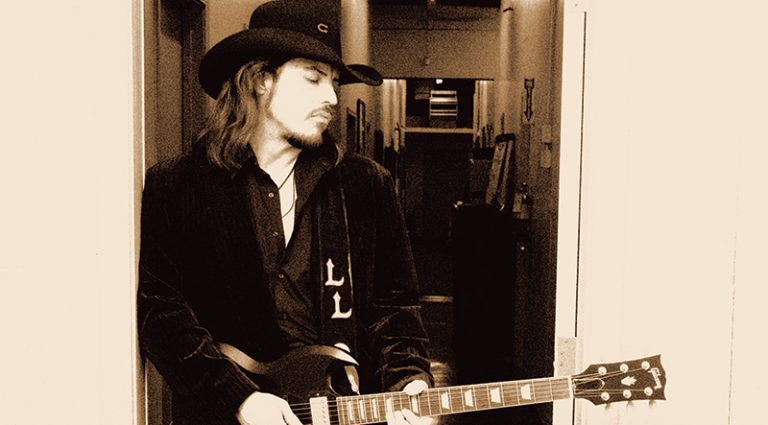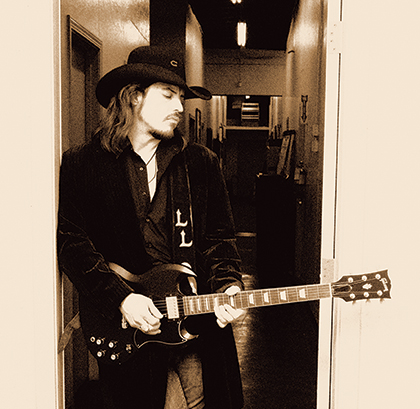 Lance Lopez is a guitar-slinging blues machine that burns like Texas hot sauce in August. He has scorched the festival circuit for years with an enviable body of work and inspired musicianship. His latest project brings together bassist/producer Fabrizio Grossi, drummer Kenny Aronoff, and Billy Gibbons. The band is called Supersonic Blues Machine and the name of the album is West Of Flushing, South Of Frisco. It's packed with rootsy compositions, stellar playing, and some of the finest guitarists in blues.
How did this all come together?
Fabrizio Grossi and I have mutual friends in Europe; I'd been touring there like crazy. A lot of cats there were saying, "You guys need to hook up and work together. He's a killer producer and engineer." They kept going on about it and after touring slowed down, I reached out to Fabrizio.
When I got out to L.A., we started recording. I had written some songs and Fabrizio and I started working on them. We blocked out two or three days and, lo and behold, the next day, Billy Gibbons called Fabrizio about working on a project. Billy asked, "What are you doing?" He said, "I'm working with this cat, Lance Lopez." Billy was like, "What?! I've known Lance since he was a kid!"; I've known Billy since I was 15. Billy said, "You guys should form a band. Let's do something and I'll be on it." So that's what we did.
How did the songs come together?
"Running Whiskey" was a track Billy had been working on for the La Futura album with ZZ Top. It was never finalized. We had other songs from Nashville that we took and made our own. It was easy for me because I spend so much time writing, producing, and doing everything on my own for my solo albums. This was a freeing opportunity to sit back, play guitar, and sing. I could play and sing on great songs that I'd gathered from great writers from Nashville, New York, and L.A.
West Of Flushing, South Of Frisco has a lot of variety.
I wanted to work with great songwriters. For me it's usually balls-to-the-wall ripping. I'm used to playing Texas roadhouses for four hours of straight shredding. So it was nice to be in a band with great songs as opposed to me standing in front of a trio all night.
How did Kenny Aronoff become attached to the project?
I met him through Fabrizio. They worked with Steve Lukather and did the Leslie West record together. When Billy said "Put something together," the first person Fabrizio thought of was Kenny. He loved the tracks that we'd been working on.
The album has guests Robben Ford, Warren Haynes, Eric Gales, Chris Duarte, and Walter Trout. What's your response to what they brought to the record?
I'm in absolute awe of everything! I would cut several guitar solos to choose from, then leave holes for them. With Warren, I played a Stratocaster because nine times out of 10, he'll be playing a Les Paul. I wanted something to contrast the track. "Remedy" has that smooth, creamy, Les-Paul-neck-pickup sound. I needed something that didn't sound identical.
With Robben Ford, we knew he was going to have epic God-like tone (laughs). What are you gonna do there? Eric Gales and Chris Duarte and I have been friends for a long time. We've recorded together so many times that we know how to play together and make it work. We played Stratocasters. Billy, Chris, and Eric and I go back 20-plus years. We're long-term friends. That was the great thing about having them on this album. Chris is such a big guitar hero here in Texas that there was no way not to have him on the record.
You and Billy Gibbons have great chemistry on "Running Whiskey."
I'm playing rhythm and singing all the backgrounds. Billy and Tal Wilkenfeld wrote the song. Billy is playing all the leads and I'm using a Fender Esquire through a Deluxe and playing a Keith Richards/Ronnie Wood style. Billy played an SG through a big, hot-rodded Marshall.
Any shows to support the record?
We're going to have as many guests from the record as we can. We'll have some dates and prep to go to Europe. We'll be doing some playing and really growing as a band with our guests. Aside from that, I'll be out with my own trio, playing blues festivals and clubs. I'll be doing the same thing I've been doing – beating down roadhouses here in Texas (laughs).
---
This article originally appeared in VG August 2016 issue. All copyrights are by the author and Vintage Guitar magazine. Unauthorized replication or use is strictly prohibited.
---