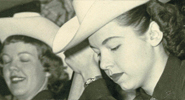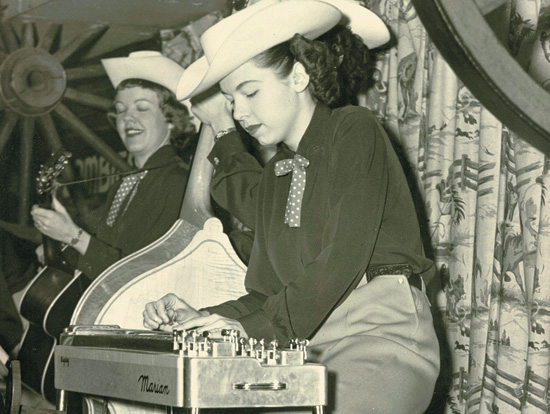 There are very few, If any, women mentioned amidst the often discussed legends of the steel guitar, but Marian Hall is one to remember.
Marian was part of the West Coast wave of artists and musicians who brought their own sounds and styles to the vital musical movement of country, jazz and swing in the '50s and early '60s. Her varied career as both sideman and bandleader launched her into the center of it all.
Perched on a stool behind her Bigsby steel, Marian adds her classic "smooth and smokin'" style to the house band of Tex Ritter's "Ranch Party" television show, as well as those by Spade Cooley and Tex Williams.
Under contract with Columbia Records, as well as the Sage & Sand label, she recorded with artists too numerous to mention in one article, and somewhere in between it all was also a wife and mother. This was an era where the woman's place was in the home, not out lugging a steel guitar around and jamming with the likes of Joe Maphis and Merle Travis.
From 1954 to 1958 Marian was a member of the house band for the "Town Hall Party" and "Ranch Party" TV shows. Other members were Joe Maphis and Merle Travis, guitars; Buddy Dooley, bass; Pee Wee Adams, drums; Jimmy Pruett, piano; Fiddlin' Kate and Billy Hill, fiddles; and Ray Cline, accordion. "Town Hall Party," broadcast locally, eventually led to a nationally syndicated version, "Ranch Party." Hosted by Tex Ritter, it featured appearances by the country and rockabilly stars of the day, including Patsy Cline, Johnny Cash, the Collins Kids, Ray Price, Carl Perkins, Jim Reeves, and many others.

Filming both shows added up to seven days a week, 16 hours a day, and "Ranch Party" had no live audience. Fake audience shots and applause tracks were dropped in; each performance was saved; and the shows were spliced together later for the full effect of a variety show.
In the late 1950s Hall joined fiddler/bandleader Spade Cooley, a huge western swing star on the West Coast, with hits like "Shame On You," "Detour," and "Oklahoma Stomp." Marian played in Spade's all-female orchestra and then his regular group. Cooley became infamous when he murdered his wife in 1961. He was sentenced to life in prison and died in 1969.
After leaving Cooley's band, Marian went to work for Tex Williams, doing local and regional work and "Country Style USA," a radio transcription show for the Army. A former vocalist with Cooley, Williams formed his own outfit, the Texas Caravan, and had hits like "Smoke! Smoke! Smoke! (That Cigarette)." Marian played with Tex for about three years, and worked on his TV show – including the period she was pregnant with her second child. She says, "It was some of the most fun and challenging music of my career."
In the late '60s, Marian worked for Doyle O'Dell, and in the early '70s performed with a western review at fairs and rodeos. The show featured stars of popular western television series appearing in character, such as Doug McClure from "The Virginian" and cast members from "Bonanza" and "Gunsmoke." She was also a bandleader for Disneyland, holding court at the Tomorrowland theatre and as a featured performer in Disney's amazing annual Christmas parades.
In 1985, Marian did her last show, with the Frontiersman Family, which featured her sister Joanie, her Saddle Sweetheart partner from the very beginning.
I got to meet Marian in the late '90s when I was in California performing with Asleep At The Wheel. She and her husband, Larry Landers, came to our hotel before the show, and as they walked across the parking lot, I immediately recognized Marian and her mega-watt smile from seeing her in the film clips of "Ranch Party." At that moment, it seemed as if she had climbed out of the black-and-white world of a 1958 television show and into that parking lot.
She's a warm, wonderful, and brilliant person, and I thank her for taking the time to share some of her story here. At the end of our interview, when I asked her if she had any advice for steel players who are just beginning, she concluded, "Be passionate about it, just love it, and dive in and be brave enough to try different things." Marian Hall is obviously a person who followed her own advice, and is truly among the legends and pioneers of the steel guitar.

Vintage Guitar: Where did you grow up, and when did you start playing?
Marian Hall: I'm a native-born Californian; I was born in downtown Los Angeles, and have always lived in California. I started playing when I was about eight or nine. My mom sent me to a little music store down the street, and a Hawaiian man there taught me how to play on the six-string lap guitar. He showed me how to hold the bar, do vibrato, and play some Hawaiian songs. I don't even remember what my tuning was, probably a 6th tuning of some kind.
Before all of that, at the age of three, I was tap-dancing in shows. By the age of 12, my sister Joanie and I had our own act, the Saddle Sweethearts. Oh Lord! Joanie played standard guitar, I had an Oahu lap steel with "mother-of-pearl" finish and matching amp, and we both sang. We did shows on "pioneer television," back when the makeup was orange and the director was also the janitor that swept up at the end of the day. There were TV antennas on about every fourth house then.
What was your first "real" club gig like? Were you playing a different steel at that point?
Well, when Joanie decided she'd had enough of the Saddle Sweethearts and went off on her own, I gave some serious thought to everything, especially about what would be the very best guitar to get. I found out it was a Bigsby, and my folks bought me a 1952 Double-8.
I still really didn't know very much about really playing the steel at that point, and then I got my first job, which, thank goodness, was in Alaska! I was 17 with a fake ID; they paid the bill for me to fly there, and they had to keep me there for two weeks until the accordion player could show up. It was an all-girl band, and we played in a small club up behind the bar about five or six nights a week. There was rhythm guitar, bass, fiddle, and me, and, believe me, those girls played much better than I did – which wouldn't have taken much! I remember having to look at the chord sheet for "San Antonio Rose." I don't know how I got the gall to do it, but I did. It was an excruciating experience in a way, like being thrown into the deep end of a pool. You learn to swim or you drown. But by the time I got back to California, I was capable of holding down a job in a typical bar or club.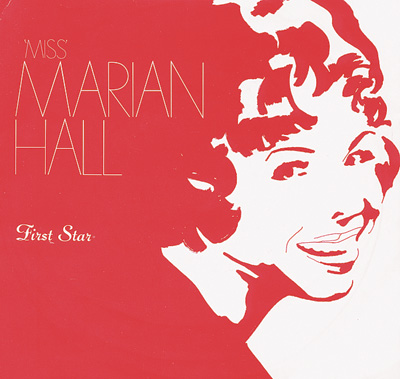 What kind of gigs did you do when you got back?
I went to work for Wayne West in Norwalk, up behind a bar in a club again. The thing that impressed Wayne about me was that I didn't play all over the top of him. He had a very classical voice and sang things like "Old Man River." I always figured that you play so that the singer sounds good, and not play everything that you do – so he really liked that.
I was only with Wayne for a few weeks, because I had made another commitment to work for a club bandleader by the name of Tex Wallace. Wayne offered me a raise to stay; scale at that time was $12 a night, and he offered me $13. That was a big deal at that time, when the union was strong. Take-home pay was about $52 for playing six nights a week, but I didn't care; I loved it. Every band I was in taught me a lot.
How did you get the job for both "Town Hall Party" and "Ranch Party"?
I got a call to sub for the steel player for "Town Hall Party." Noel Boggs was up for the job too, but I got it! I didn't even politic for it; I just went in and did my normal thing of playing to the singer.
What was a typical rehearsal for "Ranch Party" like? There are great moments with you and Joe Maphis playing twin parts, sounding like you'd spent a lot of time on them.
You'd get a script printed out with the song order and the keys. We'd talk through who would take the intro and turnaround and things like that, but we usually just did a few quick run-throughs. A lot of it was really on the fly.
Let's talk about your steels and how you got into using pedals.
When I got the 1952 Bigsby D-8, I used E6th and A6th. Even before hearing Bud Isaccs' famous pedal intro on "Slowly" (by Webb Pierce), I had some idea to experiment. I had Paul Bigsby put a hand lever on the side of my steel; it changed the A6th to an E13, and that was my way of getting three necks out of two. After finally hearing Bud and figuring out the intervals, I had two regular pedals put on the E6th to change it to E13, and got rid of the hand lever on the A6 neck. In 1958, I got another Bigsby, but I wish I knew what happened to the one I got rid of. The new one had 10 strings on one neck and eight on the other, but I had that neck converted to a leaning pad, and stuck with the 10 strings in E6th. I eventually ended up with six pedals, but no knee levers.
What was Paul Bigsby's shop like?
Paul's house was in the industrial area of Downey, California. His shop was in a garage that was attached to his house, and it was sort of nondescript and plain. There were two wooden benches – one with a blanket and the usual assortment of tools and things – and his clients' photos on the wall. He had a piece of cardboard hanging up that had months and a name next to the month for each client; that's how long he'd take to make each steel. He didn't keep records, so that was his way of keeping track.
Describe his steels. They had such an identifiable tone.
They had a birdseye maple body, with your name engraved on the front, and the end pieces were cast aluminum, as were his volume pedals and later the vibrato bars. Paul had, at one time, been a patternmaker by trade, and cast aluminum was the material he was used to working with – that's why he used it.
Paul used to race motorcycles when he was young, and was obviously very good at it and loved it. He had glass cabinets just full of racing trophies and pictures. Supposedly, he met Merle Travis at one of those races, and it was Merle who got him to build his first guitar. Merle designed the idea on a napkin – the idea of having a solidbody electric guitar with all the tuning gears on just the one side of the headstock – but Leo Fender got hold of the idea too, and ran with it.
What type of amp and volume pedal did you use?
I have a Bigsby volume pedal, and the tread is all worn away on the lower right-hand corner! They have that left-to-right movement for the bass and treble and "wah" attack. They're great.
My favorite amp was my Standel, which I got in 1954; why I ended up getting rid of it, I don't know. They were touchy, like a Jaguar car, and you had to change the tubes a lot, but I loved it. Nothing ever sounded the same after I got rid of it. I used a Fender Reverb tank with it, and I played with a thumbpick and three fingerpicks. You can get four solid notes like that, the root, third, fifth and sixth for example. I liked being able to get different intervals, like moving the third up an octave higher. I really recommend wearing three fingerpicks if you want to get interesting chords.
When did you work with Spade Cooley?
The Spade Cooley television show happened towards the end of "Ranch Party," around 1958. The only existing remnants of it, as far as I know, are on Kinescope, because it was a local program. It was a very intriguing show; there was a huge all-female orchestra with a horn section, harp, percussion, just everything. I didn't read music very well, but I knew the arrangements by ear, so they'd tell me which intros to play and things like that.
I think it ran for about a season, and when it ended, Spade asked me to be part of his regular band for a daily local TV show on KXLA, and I felt good about that. I worked with him on that show up until the unfortunate time that he killed his wife.
What was he like to work with?
He was fine, but he was very nervous. He'd get very tense before a show, but he wasn't hard on the people around him. It was just that he, personally, was very uptight. He was always very gracious, which ran against the idea that he could beat his wife to death.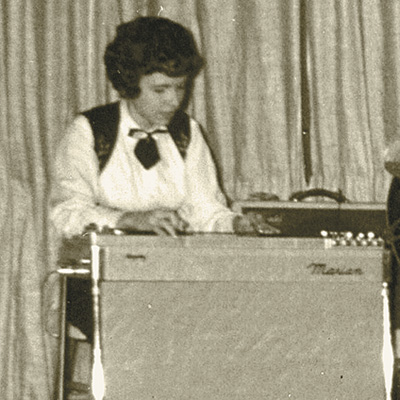 MARIAN'S SETUP
Marian's tuning is an E6th, with a high G# added at the top and a low E added at the bottom, she says, "To get more range." Pedal 1 is the "Bud Isaacs"' adaptation. Pedal 2 yields a B6 or G#m7. Pedal 3 creates an Em6 or a B-5. Pedal 4 is a 7th, 9th or 13th, depending on how many strings are played. Pedal 5 is Marian's invention, executed by Paul Bigsby; it is used in combination with Pedal 4 and interferes with half of #4's function, raising the E to F (instead of F#) while the C# still goes to D – for a diminished chord. Pedal 6 yields an Amaj7.
While you were in Tex Williams' band, how were you able to deal with working and being pregnant on TV at that time?
When I found out I was pregnant, I told them so they could get a replacement, but they never found anybody they wanted. I put a full-faced board of birdseye maple on the front of my steel, for dignity's sake, and called it my "console guitar," and remained on the show up until my due date.
Billy Armstrong was the bandleader, and a fabulous musician. I wish I knew where he was now. He finally said to me, "Go home, you're making me nervous!" I did, and gave birth to my son, Bill, three weeks later.
The style of music obviously took a turn in the '60s and '70s. Did you ever use any different guitars or effects?
Well, the combos of bands were getting smaller, so I was always trying to come up with ways to sound different and fill out the sound of the bands. I don't know what possessed me, but I always wanted to play through sound-altering things. I guess I was like Chet Atkins in a way; he always said he "didn't know you couldn't do that." He tried everything. I used to haul a Leslie around with me; my favorite sound with that was an early-'70s single release I did called "First Star Tonight." The other effects I used over time were a wah pedal, a Dr. Q pedal [envelope filter] and probably a few other things.
Who were some of the artists you recorded with when you were under contract with Columbia?
There were a lot. I have boxes of 45s and LPs that I'd love to get converted to CDs. Some of the artists were Gene Autry and Rosemary Clooney, Johnny Bond, the Collins Kids, Rose and Joe Maphis, Tex Ritter, the Town Hall Party Band, and Merle Travis. Merle was my favorite; he was brilliant. I think the one thing that people may not know about him was that he was a genius. I also recorded with Freddie Hart on a couple of his hits for Capitol, like "Drink Up And Go Home" and "Canada To Tennessee." On the Sage & Sand label, some of the recordings I did were with Eddie Dean, Hal Southern, and my sister Joanie.
Did you do much writing?
Around 1972 to '75, I was recording vocals and writing songs. Glenn Campbell recorded two songs I had written. I was at the session. But they were never released, and I didn't pursue it any further. I met Glenn when I was working for Disneyland and he was a guest star there.
Who are some of the steel players you admire, and who influenced you the most?
I think Jerry Byrd is exceptional; he had more innate ability than anyone on the six-string steel. Joaquin Murphy was amazing, and I like Buddy Emmons, too. I admire anybody who's "first in line" with things.
As far as influences, I actually fashioned a lot of what I played after standard guitar players. Dicky Phillips was one; he played with Tex Williams. He would play with the guitar in his lap in regular tuning, and would mash his fingers down to make the chords. I also loved Jimmy Wyble's playing. He worked with Bob Wills for a bit, then Red Norvo, and a lot of others.
What has occupied you since your last show with the Frontiersman Family in '85?
In the '70s, I lucked out and invested in properties in California, and now that takes care of me. I also want to say how grateful I am that I got to earn a living playing steel guitar. It was a wonderful life, and I'm glad I got to do it.
---
This article originally appeared in VG's September '04 issue. All copyrights are by the author and Vintage Guitar magazine. Unauthorized replication or use is strictly prohibited.
---