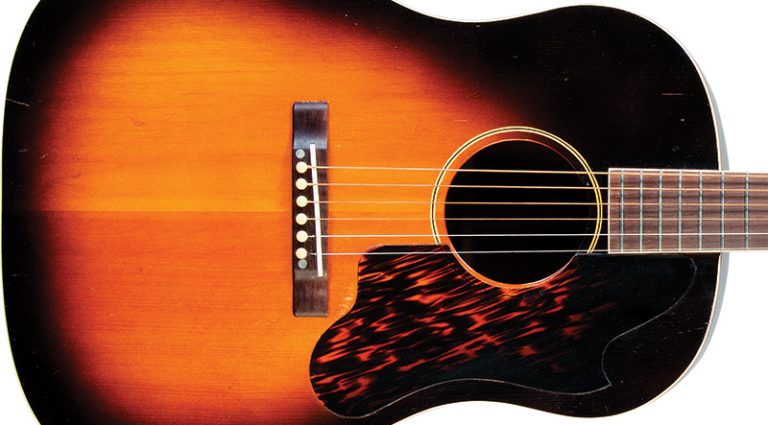 During the Great Depression, Gibson's survival hinged on making stringed instruments for Montgomery Ward.
The agreement between Gibson and Montgomery Ward dates to 1929 and was the work of marketing and sales manager Frank Briggs Campbell, who was brought aboard in '25, in the wake of the commercial failure of the Master Model line.
Before his arrival, sales were largely dependent on "teacher-agents," a paradigm Campbell altered by developing a network of dealers with storefront. His tenure at Gibson was short, but successful, and in '31 he departed on good terms and moved to Elkhart, Indiana, to work as sales manager for a band-instrument company.
The first Montgomery Ward instruments supplied by Gibson were banjos under the Recording King and Studio King brands. They were similar in quality to Mastertones except they lacked a truss rod in the neck (Gibson reserved that feature for their own brand). Guitars followed in the 1930 Fall-Winter catalog with the flat-top Recording King #807 making its premiere as an imitation of the Gibson Nick Lucas model. Because Gibson's records have been lost, we can only estimate production, but between 1929 and '31, only about 175 banjos were shipped to Montgomery Ward. The number of model #807 guitars is unknown, but they are sufficiently rare as to infer not many were produced. All of these instruments were on the expensive side – banjos sold for $75 to $100, the guitar for $45. Comparable Gibson-branded instruments had retail prices of $100 to $200 for banjos, $125 for the guitar.
By 1931, a cascade of bank failures and unemployment was shredding the economy, and the Gibson-built portion of the Montgomery Ward line had deteriorated to one model of banjo and one guitar. In January of '32, Gibson laid off 25 percent of it workforce in the first of several purges which culminated in a low point of 67 employees in the spring of '34. With declining sales and reduced production, Gibson was headed for bankruptcy, or worse. Even the introduction of Kel Kroydon wooden toys in '32 and Kalamazoo budget-branded instruments in '33 was not enough to restore the company's financial footing.
Then, in mid '34, the number of instruments built for Montgomery Ward increased dramatically; someone at Gibson resurrected the Montgomery Ward lifeline based on the less-expensive Kalamazoo-type models. Montgomery Ward's 1934-'35 Fall-Winter catalog listed five Gibson-built instruments including two banjos, two flat-top guitars, and a mandolin, with every instrument in the $10-$25 price range. As a result, in 1935, Gibson shipped almost 1,000 instruments – 12 percent of Gibson's output – to nine Montgomery Ward locations around the country. Archtop guitars and an additional mandolin were added in the spring of '36, followed by an archtop electric guitar in September (it didn't appear in a catalog until the 1937-'38 Fall-Winter edition). Lap steels joined in '39.
By that point, Montgomery Ward consistently purchased more Gibson product than the next four largest stores combined – and none of the instruments carried the Gibson name on their pegheads.
Gibson scholar Andre Duchossoir has pointed out that interest in selling electric Spanish guitars expressed by companies like Montgomery Ward and Spiegel may have been the reason Gibson produced one at all. Gibson had been in serious development of a pickup for lap steels since 1935, but, after creating its first bar-magnet version, failed to follow through with a Spanish-neck in which to use it; its first production batch of electric Spanish guitars for Montgomery Ward (model #1270) was followed quickly by the first production batch of Gibson ES-150s.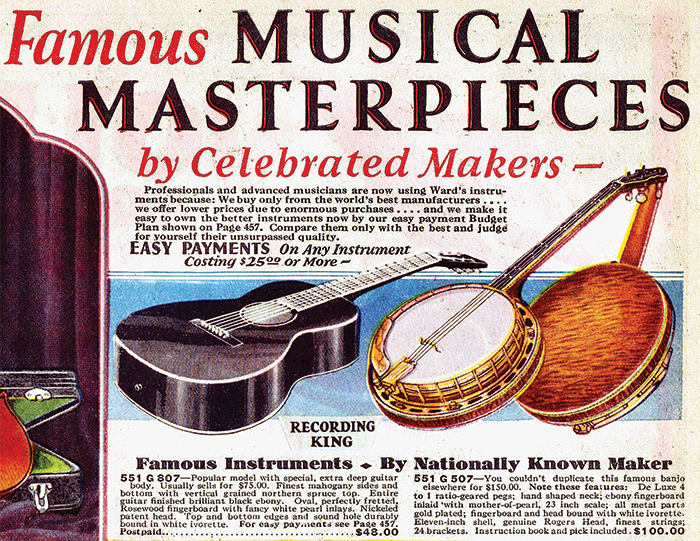 Today, it remains unknown who exactly revived the deal with Montgomery Ward in 1934. It may well have been the work of charismatic Gibson salesman Clarence Havenga or general manager Guy Hart. The familiarity of assistant manager Neil Abrams with the Kalamazoo lines may have dictated a role for him, as well. Whoever was responsible brought a volume of business that turned the tide and without which the company might not survived, wiping from our reality iconic Gibson guitars including the Les Paul, ES-335, Flying V, Explorer, and numerous others. By 1937, Gibson employed more than 200 people – nearly three times the size of the workforce five years earlier.
Montgomery Ward also sold instruments made by Regal and Kay; guitars, mandolins, and ukuleles from Martin listed in the 1931-'32 Fall-Winter catalog carry Martin and Regal brand names. Copywriters for the text gave hints such as "sells under the maker's name for $100" and "famous instruments – by a nationally known maker." Some copy even mentioned "Montgomery Ward Supreme Monel Wound Strings."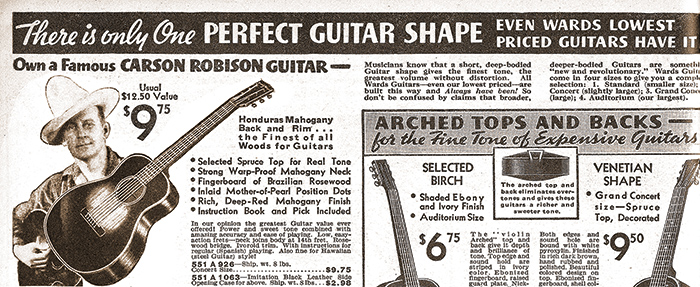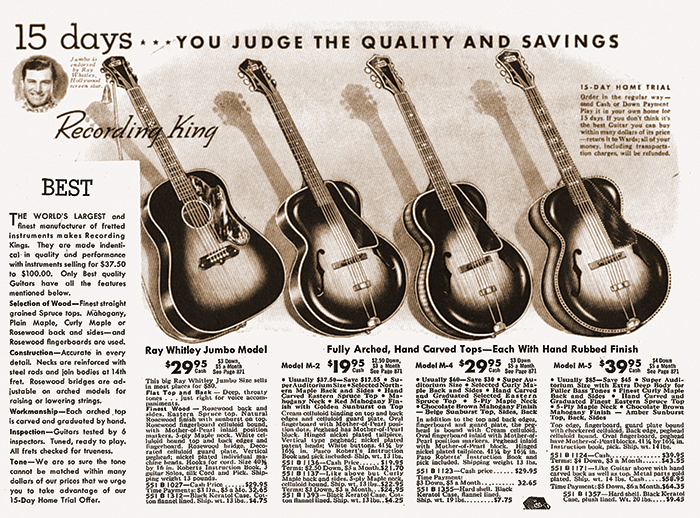 Gibson did a number of artist signature models for Montgomery Ward beginning with a Carson Robison flat-top that debuted in 1933 based on the Kalamazoo KG-11. In '36, the Robison was given a grand-concert body and in '37 was available set up for Hawaiian playing. Other musicians had signature models, as well; cowboy singer Ray Whitley's model began shipping in '38 with a Jumbo-style flat-top body, X-bracing, and rosewood back and sides. A similar instrument with mahogany back and sides followed in '39. Gibson built banjos and guitars for Montgomery Ward using the name of performer Charles McNeil along with lap steels with a Roy Smeck endorsement.
The deletion of Gibson's patented truss-rod system was not the only physical difference between Gibson-branded instruments and those built for Montgomery Ward. The pegheads on guitars and mandolins were simplified, as well. Inlay patterns used on Montgomery Ward instruments were unique or variations, as were stain colors.
Gibson's relationship with Montgomery Ward ended in 1941. The 1940 Spring-Summer catalog included seven Gibson-built instruments while the 1941-'42 Fall-Winter catalog shows none. The reason is unclear, though Gibson's dedication to wartime production may have played a role. The sale of Gibson to Chicago Musical Instrument (CMI) after World War II likely precluded the renewal of off-brand production. Other builders, however, continued to supply instruments for the catalog.
Because most of the instruments made by Gibson for Montgomery Ward during the Great Depression were budget-line, quality sometimes suffered. But, they held together a workforce of skilled labor, trained new workers, and allowed the company to continue in the post-war period.
---
This article originally appeared in VG August 2016 issue. All copyrights are by the author and Vintage Guitar magazine. Unauthorized replication or use is strictly prohibited.
---