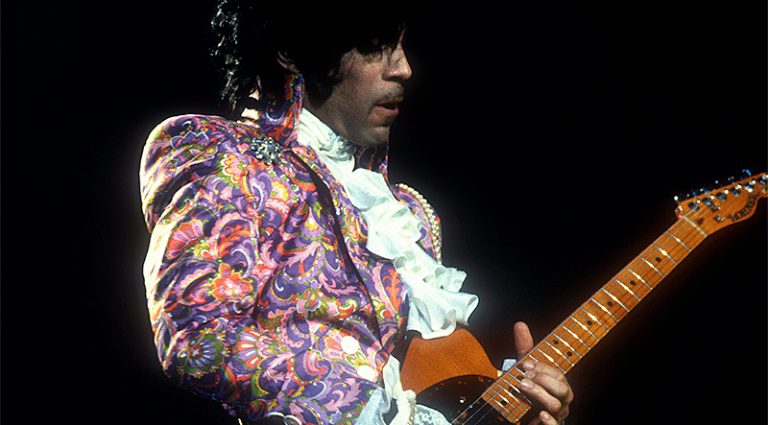 If he'd never picked up a guitar, Prince would still have been a groundbreaking musical revolutionary. His emergence on the music scene in 1978 was jarring, even for the most youthful and open-minded music consumers.
For You, released that year, and Prince, which went platinum in '79, kicked off a string of successes and a fresh style of music that came to be called the "Minneapolis sound," while his three subsequent records – Dirty Mind, Controversy, and 1999 – continued his new funk and introduced his persona to the world. It was a look, a sound, and a stylistic juggernaut baited with sexuality and theatrical provocation backed with the life-affirming syncopations of Sly Stone, George Clinton, and James Brown. He was his own producer, multi-instrumentalist, and freakishly prolific songwriter; today, one could make a strong argument that he shares space on the imaginary Mount Rushmore Of Music alongside Stevie Wonder, Paul McCartney, Duke Ellington, and Miles Davis.

"I've always thought Prince's real gift was his unique outlook on songwriting. There's no denying he was a fine player on a number of instruments, including guitar and bass. But, while he was perfecting his playing, if not exactly breaking new ground, he used those skills to make unique songs. Who else in the '80s would have released a record like 'When Doves Cry' with no bass line and guitar serving as a sledgehammer interspersed with minimalist funk? While his rock soloing is indeed impressive, it's always been the funk licks that hit me. Lines from 'I Wanna Be Your Lover' and '1999' helped redefine funk guitar. And, like his rock playing, it wasn't to show off, but in service to the song. In my mind, that should be Prince's musical legacy – grace and humbleness that say it's about the song."
– John Heidt, VG Contributor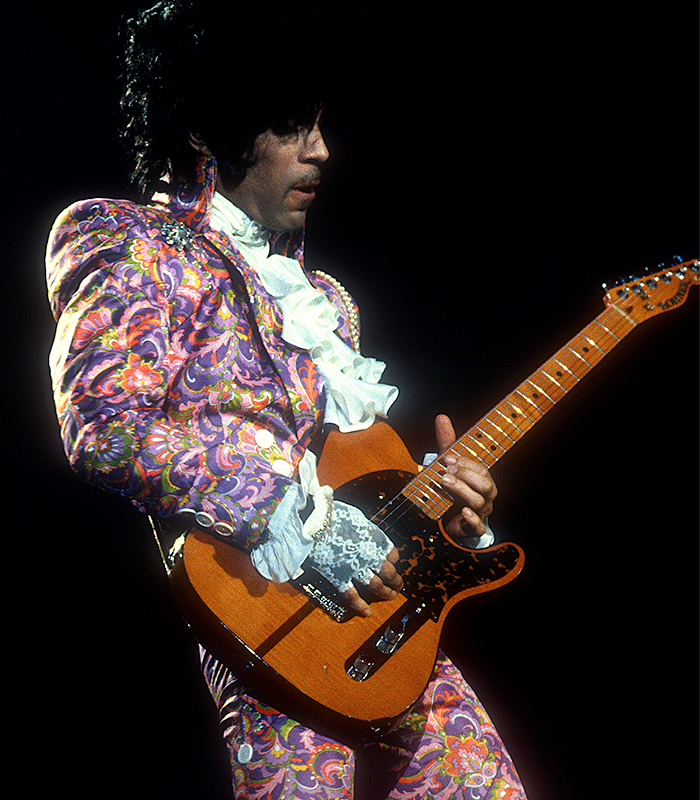 Prince died April 21 at Paisley Park, his home/studio in suburban Minneapolis. He was 57 years old. Born Prince Rogers Nelson on June 7, 1958, he emerged a prodigy who reimagined funk, rock, gospel, R&B, and pop, and fought tenaciously against dodgy corporate music industry practices. He wrote Top 10 hits like "Little Red Corvette," "When Doves Cry," "Kiss," "U Got The Look," and "Raspberry Beret." Dirty Mind, 1999, and Sign O' The Times were full-blown concept albums, while 1984's Purple Rain earned him an Academy Award.
Several other pop acts reaped the benefits of his talent; Chaka Khan went to #3 on the Billboard charts with "I Feel For You," the Bangles hit #2 with "Manic Monday," and Sinead O'Conner went to #1 with "Nothing Compares 2 U." Cyndi Lauper covered "When You Were Mine," and "The Glamorous Life" was written for Sheila E. He shared co-writing credit with Madonna on "Love Song," Stevie Nicks on "Stand Back," and collaborated with Miles Davis.

"Prince could peel off a barrage of Hendrix-inspired blues/rock licks and then get into the deepest, baddest, and most spacious funk rhythm groove this side of James Brown and Sly Stone. Or, he could cruise weightlessly on a magic carpet with the ambitions of a '60s experimentalist. Just check out 'Let's Go Crazy,' 'Purple Rain,' or 'U Got the Look' for examples of his prowess on the electric guitar. Then take a listen to 'Alphabet Street' with its mix of Motown rhythm figures, layered psychedelic guitar fills, late-Miles-Davis horn riffs, and techno-pop synth washes. Follow that with a taste of his rap-rock-techno-hip-hop amalgam in 'Gett Off.' And, of course, the T-Rex-meets-Robert-Palmer glam rock allusions in 'Cream.'''
– Wolf Marshall, VG Contributor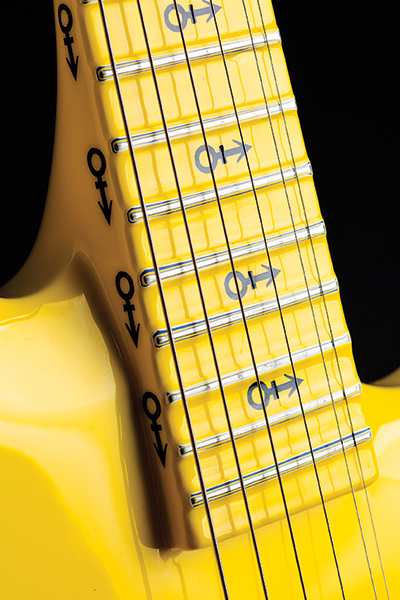 He produced 39 albums in 37 years, not including live discs, compilations, side projects, and material released under alternate band names. He was hyper-prolific and controlled every aspect of his music. Though his creative output was staggering, he also showed the world how to be an artist. Prince celebrated his uniqueness and spirituality. He flaunted it without self-consciousness, and switched directions on a dime, inspired by the changing world around him.
Prince admired women. He wrote music for them, worshipped them in his songs, and made them an integral part of his many bands. He also challenged the ideas of what it means to be a man. Though short in stature and facing derision about his image, he gracefully sidestepped the barbs and thrived while others lock-stepped into conformity. He showed the world that people of color are as diverse as their Caucasian counterparts, and encouraged musicians to educate themselves to break free of restricting stereotypes. He led by example; be yourself, follow your muse, work hard, and funk – heavily.
He altered the sound of black music as well as popular music, and influenced contemporary songwriting around the world. Recording studios were, under his guidance, musical instruments unto themselves, hosting his fearless explorations via everything from lo-fi drum machine masterpieces to elaborate multi-tracked compositions with large bands. The Beatles had George Martin, Michael Jackson had Quincy Jones, Springsteen had Jon Landau; Prince did it all by himself.
He disliked the internet, and learned how to wield it better than any other musician when it came to selling his catalog. He was one of the first to sell an entire album online, and aggressively controlled his music, angering a generation who thought music should be given away. But his stance was firm; there is no such thing as a free lunch, and he thought enough of his music to demand that it help him earn a living.

"Prince was rightfully praised for his music, but underrated as a guitarist. Maybe not as pioneering as Hendrix, but his passion and sheer musicality were similar. I've never seen any musician anywhere get a crowd dancing like him. After Purple Rain came out, Prince rented the St. Paul Civic Center in the autumn of 1984 to rehearse for the upcoming tour. Tickets were easy to get, and cheap. Watching him run through his show – with various stops, starts, and repeats – was not only thrilling to a guy raised mostly on Bob Dylan and such folk-rock fare, but the ease with which he wailed on guitar was otherworldly. I remember him playing an extended coda to 'Let's Go Crazy' that would've made Jimi proud. Talk about inspiring."
– Michael Dregni, VG Contributor

Prince's live shows displayed a perfectionist's polish and precision. Like the great band leaders of the past – Count Basie, Cab Calloway, Ike Turner, Duke Ellington – the musicians he chose had a unified but distinct flair that served as a key influence on many artists. He was a songwriting conduit who used many instruments to convey ideas. The songs came first, while the tools were there merely to execute the sounds he heard. Whether it was guitar, keyboard, bass, or a mixing console, they were only a means to an end and never an end in itself. Still, it needs to be stated clearly – Prince played the hell out of the guitar! Unlike most guitarists, he was never confined by its physical and sonic parameters. He played with an imagination that allowed him to create a cliché'-free vocabulary. He was melodic, clever, and his lines were catchy, producing an inimitable rhythm and lead style. And, he played for his fans or anyone who paid attention, not for "achievement guitarists."
Groove, swagger, and inspired ideas have always been the hallmark of great rock-guitar playing. Prince had that. He could channel Hendrix, Santana, and Jimmy Nolen, then sing a ballad a la Marvin Gaye with an acoustic guitar that would melt your soul. To focus on his guitar playing, however, does him a disservice. Was Prince more technically adept than your local top-tier bar-band guitarist? Maybe, maybe not. But, is your bar-band player capable of authoring a sound that alters pop music? Which carries more weight?
Though a superb multi-instrumentalist, Prince had a fondness for the guitar. His most recognized was a Mad Cat/Hohner from the early '70s built by a Japanese factory called Morris H.S. Anderson, which later sold the rights to the German company Hohner. The Tele knock-off was responsible for some of the distinct guitar tones on Prince's first six albums. Other high-profile guitars included a custom Schecter Habibe, his custom Cloud made by David Rusan, a custom-painted Vox HDC-77, an Ibanez George Benson model, a Taylor 612CE Custom, and a Fender SSH Strat with a Floyd Rose vibrato.
Prince integrated his love of jazz on albums like The Rainbow Children and Musicology, and later returned to his rock roots with his all-female backed 3rdEyeGirl album Plectrumelectrum. His final albums, HitnRun Phase One and HitnRun Phase Two, saw him a return to his patented funk and soul stylings, bringing him full circle.

"In the mid '80s, you really didn't have to buy a Prince album; just turn on the radio and there he was, jamming on 'Let's Go Crazy,' "Purple Rain,' or '1999.' I always keyed on his guitar solos, notably because his leads possessed a raw, unbridled passion that sat in stark opposition to the slick dance-pop. Like Hendrix or Santana, Prince had the ability to just let it rip, in the very best sense. His breaks were thrilling, as many of us were reminded when he played the 2007 Super Bowl. Those halftime shows are usually cruel parodies of rock and roll, but on that night, Prince kicked America's ass. His guitar work was electrifying, full of screaming bends and nasty, out-of-tune whammy jerks – the stuff of real rock and roll. As the years roll by, people will talk more about Prince's six-string chops. Sure, he was a beloved singer, performer, and songwriter, but the man was a smokin' hot guitarist, too. That will become part of the legend."
– Pete Prown, VG Contributor
Disciples will remember him as a musical genius and philanthropist who donated millions of dollars to a number of humanitarian causes. He paid James Brown drummer Clyde Stubblefield's medical bills when he was diagnosed with bladder cancer.
Casual fans may not be aware of his altruism, but are very aware of his inspired guitar solo during the tribute to George Harrison at 2004's Rock And Roll Hall Of Fame induction. His performance at the 2007 Super Bowl is arguably the best Bowl half-time performance in history, and introduced him to a new generation of fans.
One of the greatest performing artists in music history, his only goal was to make good art. He was a bonafide crooner in the '60s soul tradition, and expertly integrated dance steps into his performance. He maintained a distinctive band sound and understood that mixing dissimilar genres could create a musical hybrid that brought people together.
When someone like Prince passes, we not only grieve for the person, but for that part of ourselves that will be lost forever. We grieve for the person we used to be, and the music that was playing at that point in our lives. He represented more than just music – he represented a culture. We're lucky to have had him as long as we did.

Diamonds and Pearls
Reflections On the Impact of the Purple One
"Of all the terrible losses of great and wonderful musicians, this tragedy will resonate and reverberate for me, personally, down the years, haunting us collectively. It is inconceivable that Prince Rogers Nelson will no longer be here to exhilarate and annoy us, exasperate and delight us, teach us, and freak us out with his extraordinary compositions and musicianship. Prince is a singularity – a star that became an all-too-human comet. As unheard and unimaginable music starts to flow from the vaults of Paisley Park, the true scale of what we lost will be massive. We will realize that we had no idea who or what we had for 57 incredible years." – Vernon Reid
"Of any musician who ever lived, Prince had the biggest inspirational influence on me, by far. I cannot name one single artist that had near the impact and influence Prince had on me as a young writer/musician/performer in the '80s and '90s. When I learned of his passing, my reaction was as if I lost a close family member. I cannot get my head around the fact that he is no longer breathing Earth's air. It simply does not compute in my brain." – Richie Kotzen
"He wasn't a Prince, he was a King. Deep sadness… Prince, you were extraordinary and we are grateful, but please hurry back so you can reinvent music once again." – Steve Vai
"Prince was a masterful genius on so many levels: composer, vocalist, multi-instrumentalist, producer, performer, lyricist, etc. When Sign O' The Times came out in '87, it instantly became my favorite Prince record. He was the bravest and coolest of his generation. He was the funkiest rock guitarist, with the deepest pocket and more swagger than all of his contemporaries. He blew me away. I will miss him." – Joe Satriani
"I was never what you'd call a Prince fan. He wasn't Phil Lynott or anything like that, but I understood the dedication, talent, and genius. He was once in a garage basement with nothing but dreams. I thought about that place we've all shared at one time. It sure meant a lot to me – maybe some of the best days playing music ever. I got a little choked up as I dedicated 'Motivational Speaker' to him. He was a true motivational speaker." – Alvin Youngblood Hart
"Prince was the Jimi Hendrix and Eddie Hazel of his generation, but I never thought he'd be joining them so soon. I thought he'd be here a lot longer." – Spacey T
"It's unimaginable that the most innovative and fearless artist of our generation has left us. His music inspired and transformed us all in a way that cannot be described in words. He was the absolute definition of cool. A huge hole is left in the heart of our generation. RIP Prince." – Tom Keifer
---
This article originally appeared in VG August 2016 issue. All copyrights are by the author and Vintage Guitar magazine. Unauthorized replication or use is strictly prohibited.
---