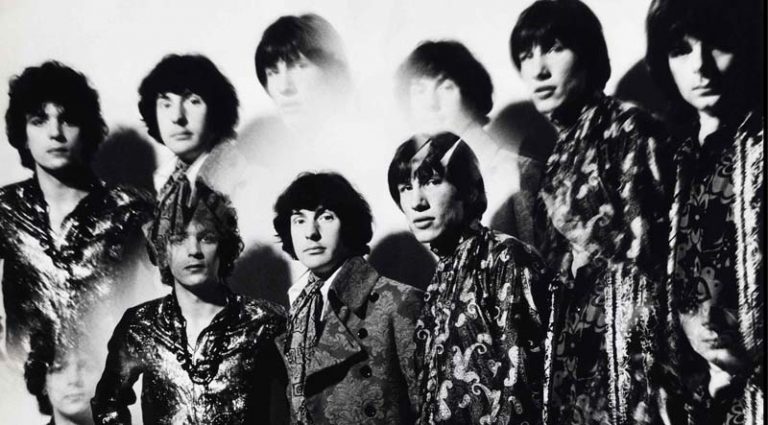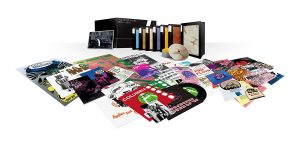 Priced at more than $500, this 27-disc set is a Floyd-freak's dream come true. It's a monster collection of early and unreleased music, track details, DVD and Blu-ray discs, and replicas of concert posters, all carefully detailing the band's transition from young R&B wannabes to England's best psychedelic band. By the time you get to the last disc, you'll see how Pink Floyd had turned into the FM institution that would conquer the world with Dark Side of the Moon.
The first six tracks are from '65, when they were still called the Pink Floyd and featured guitarists Syd Barrett and Rado Klose with bassist Roger Waters. These rave-ups are in the vein of the Animals and Yardbirds, notably on raunchy garage-rock tunes like "Lucy Leave" and "Double O Bo," a nod to Bo Diddley.
That all changed in 1966-1967 with their first masterpieces, "Arnold Layne" and "See Emily Play," both sublime examples of acid-dosed pop. Syd Barrett imbued each track with aggressive, Carnaby Street riffing in the manner of Pete Townshend, yet far more wild and experimental.
Disc 2 gives us a September '67 live concert from Stockholm. With Syd in the throes of drug meltdown – but still lucid enough to play – the recording is something of a holy grail for Floydians. Barrett was in full psychedelic fervor, violently thrashing on his guitar on the epic "Interstellar Overdrive." By early '68, however, Barrett's drug demons had consumed him and he was dealt out of the band.
In Syd's wake came 22-year-old David Gilmour. Check out the young guitarist's evolution into a post-psychedelic axe hero on the much-loved ballad "Cymbaline" (clearly revealing Floyd's growing space-rock stylings), and a live Dutch recording of "Careful With That Axe, Eugene" with furious power chords. A '69 BBC recording of "Grantchester Meadows" speaks to Floyd's mellower acoustic side, with Waters on nylon-string and Gilmour pickin' a Gibson J-45.
By 1972, Pink Floyd had honed their long acid-dosed jams into more-accessible songs and suites. DVD footage of the heralded Live at Pompeii performance shows the foursome getting ready to challenge the world with the proggy suite "Echoes" and Gilmour's echo-freaked lead work. "One Of These Days" is the crown jewel, deploying massively distorted Strat tones in open-E-minor tuning.
While pricey, The Early Years is one of the deepest dives into a single band ever released – and it's only the beginning of their story. If you're on a budget, there's a two-CD set of highlights called Cre/ation, providing a glimpse of Pink Floyd's thrilling birth.
This article originally appeared in VG's April '17 issue. All copyrights are by the author and Vintage Guitar magazine. Unauthorized replication or use is strictly prohibited.