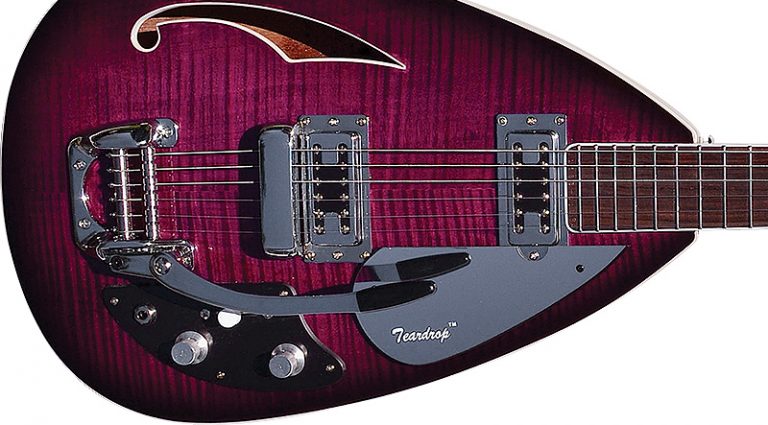 Phantom Guitarworks is dedicated to producing odd-shaped guitars based on designs introduced in the early 1960s like the Vox Mark VI "Teardrop," which helped the company make a name in guitars. While Jack Charles at Phantom is painstakingly true to the originals, this limited edition Teardrop hollowbody, in all of its purple-and-chrome glory, ups the ante.
The shoulder-less mahogany body with its flamed maple top really sings, and the bolt-on maple neck has a rosewood fingerboard with block inlays up to the 12th fret. The 22-fret neck is playable to about the 20th fret – north of there, we had to watch out for the mirrored pickguard. The neck has a flat profile and plays very comfortably at a 25.5″ scale length. Both body and neck are imported from India and assembled in Phantom's Oregon shop.
The hardware is outshined by that Fabergé egg of a body, but every component stands out, from the roller nut to the handsome humbucker seatings to the roller bridge, which sports a rounded cover similar to the wrist rest on a lapsteel. Its positioning imposes a higher wrist angle and can mess with single-note attacks and palm mutes, but resting a hand is also very trem-friendly, comfortable for cradling the arm in the pinky and ring finger. The spring-loaded PVT-6 tremolo matches the original Mark VI's trem, and if you thought this guitar was already kinda fun, the tremolo turns it into an amusement park (it's also available with stop tailpiece).
Being a hollowbody, the Phantom Teardrop is very resonant. The neck pickup has a woody fullness when played cleanly and gets nice and throaty when overdriven. In the middle position, clean, the Phantom offers Rickenbacker-worthy jangle, ringing and pleasantly bright. The bridge tone has teeth for leads or adds a good smack to chords. Several settings are well matched with a fuzz for a growly '60s overdrive – you can hear why the original was a favorite of Brian Jones.
Of course, you can't sit down with this guitar; it will slip even in classical position. Then again, if you're going to play a purple hollowbody teardrop-shaped guitar, you probably want to stand up and be noticed. For an upcharge, Phantom will include a back-pad kit, a detachable cushion to the guitar's flipside – yet another nod to the original.
---
This article originally appeared in VG March 2016 issue. All copyrights are by the author and Vintage Guitar magazine. Unauthorized replication or use is strictly prohibited.
---