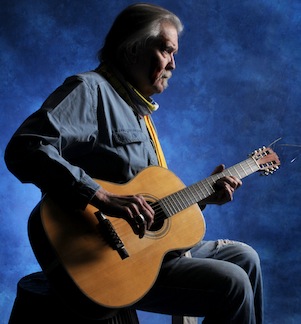 Guy Clark, a renowned singer/songwriter and member of the Nashville Songwriter Hall of Fame, died May 17. He was 74 and had battled cancer and other ailments.
Clark was born in Monahans, Texas, and the family moved to Rockport when he was a child. As a teen, he gained an appreciation for Mexican folk songs and Flamenco guitar. In the early 1960s, he opened a guitar-repair shop in Houston with friend Minor Wilson. He also played and sang in local bars and coffees shops, along with way forming friendships with local musicians including Townes Van Zandt, Jerry Jeff Walker, Kay Oslin, Frank Davis, Gary White, and Crow Johnson.
In '69, Clark split with his first wife and moved to San Francisco, where he again joined Wilson in a guitar-repair shop. He soon after moved to Los Angeles, where he built Dobros at the Dopyera Brothers facility, played with a bluegrass band on weekends, and pitched songs to publishers. After signing a publishing deal with Sunbury Dunbar, he moved to Nashville in the fall of '71. There, he penned songs such as "Desperados Waiting for a Train," "L.A. Freeway," and "That Old Time Feeling." In '75, he released his debut album, Old No. 1, on RCA, with those plus "She Ain't Going Nowhere," "Let Him Roll," "Rita Ballou," and "Texas 1947."
In '78, he signed with Warner Brothers and in '82 scored a #1 hit when Ricky Skaggs recorded his "Heartbroke." "She's Crazy For Leavin',' co-written with Rodney Crowell, was a #1 for Crowell in '88.
In '89, Clark signed with Sugar Hill Records and over the next two decades recorded nine albums including the 2013 Best Folk Album Grammy winner, My Favorite Picture of You.
Clark is credited with setting the path for artists including Crowell, Steve Earle, Emmylou Harris, Joe Ely, Lyle Lovett, Verlon Thompson, Shawn Camp, Vince Gill, and many others.
Health problems kept Clark from touring in his final years. He is survived by his son, Travis, two grandchildren, and was preceded in death by his wife, Susanna.