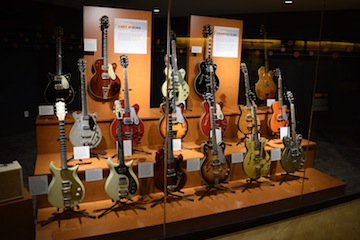 A collection of vintage and rare Gretsch guitars owned by Randy Bachman is on display until July 10 at The Country Music Hall of Fame and Museum in Nashville. Dubbed "American Sound and Beauty: Guitars from the Bachman-Gretsch Collection," the 75 instruments represent the largest collection of guitars ever displayed at the Museum and marks the first time the public has seen part of Bachman's extensive Gretsch collection. The Gretsch Foundation, the charitable arm of the Gretsch family, purchased the collection in 2008.
"The guitars are as American as it gets," said company president Fred Gretsch. "Most were built at the Gretsch Building, in Brooklyn, a building my grandfather, Fred Gretsch, Sr., constructed 100 years ago."
Gretsch guitars have been endorsed/played by Chet Atkins, Duane Eddy, Paul Yandell, George Harrison, Neil Young, Stephen Stills, Brian Setzer, Steve Wariner, Joe Robinson, Tommy Emmanuel, Bachman, and others.