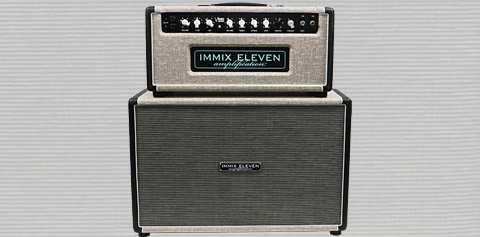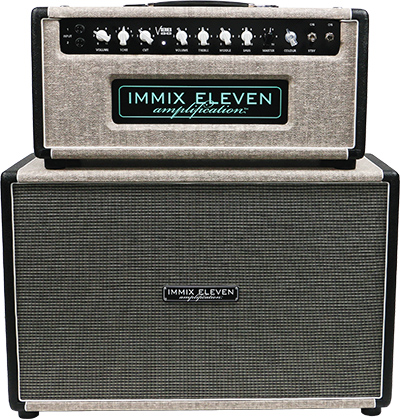 Immix Eleven V-Series 30 Amp/Cab
Price: Amp $1,995 (list); cabinet $895 (list)
Contact: www.immix11.com
Remember the first time you encountered the Rick 331LS Light Show guitar? You thought, wow, that's cool, but how does it sound? The Immix Eleven V-Series 30 is a head/speaker design with a little light show all its own, but with a sound that ought to fully satisfy vintage tone freaks.
Light show aside, the amp is 30 watts, Class A all the way: four EL84 power tubes, a special-label Mercury Magnetic hand-wound transformer, and two channels with a Master volume. Channel 1, with an EF86 pentode preamp tube, is distinguished by its nontraditional layout. There's a Volume knob, but Channel 1 has its own unique deal: a six-position Tone switch augmented by a Cut knob that reduces brightness. The Tone knob's six positions determine the amount of gain fed to the EF86, with the greatest gain at position 1, lending the amp the fullest possible low end. At 10, the Cut knob is at full treble; at 0 reduction is maxed. Channel 2 is more familiar, with its Volume-Treble-Middle-Bass layout and four triode 12AX7s.
The cabinet is loaded with Celestion Alnico Gold and G12H 70th Anniversary 12″ speakers; the Gold provides a hefty bass response, while the Anniversary's back-to-vintage specs balance low end with good breakup.
Then there's the design. A Colour knob (one of nine chickenheads) changes the color of the LED lighting the Immix logo (a $50 option). Both cab and head sport classic Brit looks replete with white piping. Twelve Tolex options range from British Black to Seafoam Green to Brown Croc.
We plugged a solidbody with two Armstrong stacked humbuckers into Channel 1. With the Master volume dimed, and playing Waters/Winter-inspired slide starting with the Tone switch's fat "1" position, we slowly added treble with the Cut knob – the lead pickup cut through like it was mowing hay. Nashville cats might appreciate the sparkling spank with both knobs set to full treble. With treble reduced, the solidbody sounded like a fat semi-hollow.
Switching through humbucking and single-coil combinations on a PRS P22, we found a more familiar vintage tone zone on channel 2, with enough clean headroom for almost any style, but classic breakup with the Master cranked.
Of course, the average buyer won't be after the V-Series 30 head and cab just for the "Colour" LED graphics (though they would look great onstage). No, the 30 earns its keep with kicking versatility that sounds great with humbuckers and single-coils.
---
This article originally appeared in VG February 2015 issue. All copyrights are by the author and Vintage Guitar magazine. Unauthorized replication or use is strictly prohibited.
---