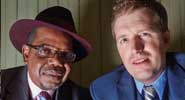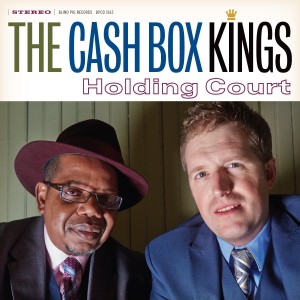 The Cash Box Kings are on a mission. This hard-working ensemble is committed to keeping the spirit of 1940s and '50s Chicago blues alive and well. Their style and sound is gloriously retro, with an inspiring eloquence and grace to their playing.
The band is fronted by Joe Nosek who writes, arranges, and sings the songs, channeling the spirit of Little Walter on his harp. Oscar Wilson also leads the show, a 6-foot-3, 300-pound Muddy Waters throwback, who sings with cool charisma. And the rhythm section is close to perfection.
It's the twin guitars of Joel Paterson and Billy Flynn that stand out, though. They play vintage gear that sounds oh-so right, whether its big, bad archtops lending a warm, woody sound to the proceedings or stinging lead lines on age-appropriate Goldtops.
On the band's latest, they remain true to their mission. The set opens with "I Ain't Gonna Be No Monkey Man," the Armand "Jump" Jackson-Sonny Thompson jump blues. The ensemble injects the song with pitch-perfect vintage vibes, from the bouncing bassline to the array of guitar tones from Paterson and Flynn.
They cover John Lee Hooker's "Hobo Blues," Honey Boy Allen's "I'm A Real Lover Baby," and the old '51 Trumpet Record's obscurity, "Everybody's Fishin'" by Willie Love and His Three Aces with Elmore James. On each, they dust off the old version, but add a sparkle of fine musicianship that makes you truly want to listen to both the original and the band's modern take – a rare occurrence.
Most of the setlist here are band originals, though, and they're some of the best songs on the disc. Nosek's "JuJu" summons forth Slim Harpo, complete with reverb-soaked harp and swampy guitar. "Cash Box Boogie" is a stunner, like an old John Brim romp.
Throughout, Paterson and Flynn are stellar. Quite simply, their playing is textbook Chitown blues performed with passion and pizzazz. It's not about flash, all about eloquence.
Part of the brilliance of the band's tone is thanks to Hi-Style Studios, one of the hottest vintage-sound recording shops anywhere. The sound on this disc is simply wondrous.
Holding Court is an old-time tour de force – and happily, you can witness the Cash Box Kings still unreeling their classic blues weekly in the Windy City.
This article originally appeared in VG's October '15 issue. All copyrights are by the author and Vintage Guitar magazine. Unauthorized replication or use is strictly prohibited.