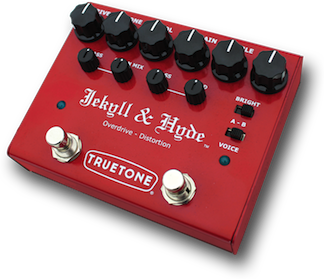 Visual Sound, the effects and accessories company based in Spring Hill, Tennessee, is changing its name to Truetone.
"The original name of the company was derived from the first product I invented – the Visual Volume pedal we launched at the beginning of 1995," said Bob Weil, president and founder. "It was the cornerstone of the company, but became a secondary product. Now, we are best known for our effects pedals, including Jekyll & Hyde, Route 66 and H2O. We began this process by acquiring the trademark for Truetone and, in 2008, we created the Truetone Clean Boost. At that time, we secured truetone.com and other related URLs, clearing the way for us to make this move. Besides its great fit, the name also has a rich history, going back to the 1920s with vacuum tubes and tube radios."
The first Truetone-branded products will be the new V3 version of the Jekyll & Hyde pedal, along with two new 1 Spot Pro power supplies. For more, go to www.Truetone.com.