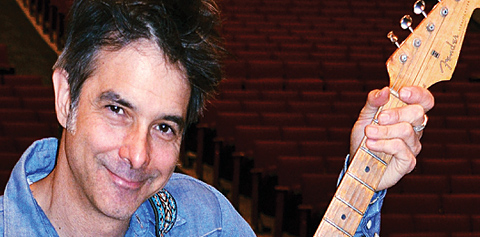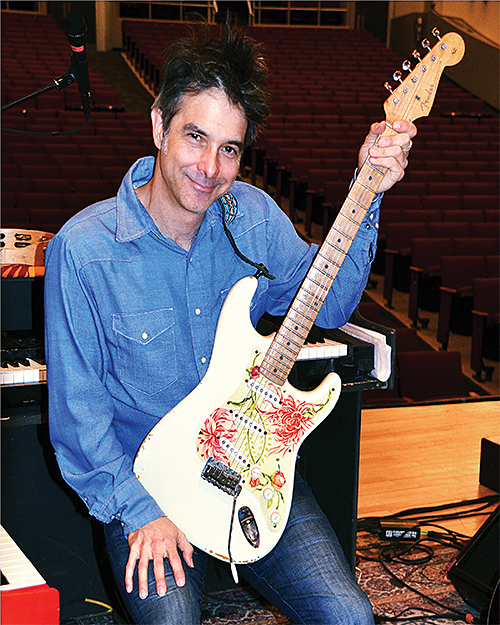 "The first time the Beatles were on Ed Sullivan, I was in my mother's womb," says Jack Petruzzelli. "That was February '64, but then when they appeared the second time I was out of the womb." What could be more appropriate for the guitarist/keyboardist of the Fab Faux, the spot-on Beatles tribute band featuring Jimmy Vivino (VG, July '13) and Will Lee (November '13) whose "Side 2 Medley" from Abbey Road has more than 100,000 hits on youtube?
In addition to studio and stage work with Ian Hunter, Patti Smith, Teddy Thompson, and others, Petruzzelli has worked extensively with Rufus Wainwright and Joan Osborne – so, versatility is obviously a strong suit. "I've always tried to pride myself in having a full background of different styles – certainly with Joan, but even more so with Rufus," he says. "That required everything from folk to rock to burlesque to a little bit of classical. I wouldn't say you'd call me for any gig that required a thorough knowledge of classical or jazz, but I'd like to think I'm not faking it and know enough and have the sensitivity and can play them to a certain degree."
As Osborne states, "Jack takes ingredients from various styles and fuses them into something that's very much his own. When I first met him, I noticed he was listening to the words and meaning of the song and letting that inform his playing, instead of just riffing and trying to show his virtuosity."
Petruzzelli took up guitar at seven, taking lessons at Highway Music in his hometown of East Brunswick, New Jersey. During his college years at Rutgers, he recalls, "I was in the jazz department, but also painting houses while doing several music jobs a week. I was also an apprentice at a recording studio in Manhattan called Secret Sound, where I met Howie Wyeth. I studied piano with him, and he was in a band called Barbecue Bob & The Spareribs, which I eventually played guitar with. Because Joan was doing the same circuit of blues bars in New York City, that led me into her band, and it was full steam ahead."
Major guitar influences include "George Harrison, obviously, as well as John Lennon and Paul McCartney, because I would consider them all great guitar players. Then Jimmy Page, Django Reinhardt, and Muddy Waters all blew me away. And hearing Adrian Belew with King Crimson, he straddled the line of such emotional playing but being so experimental. Vivino is one of my favorite players, along with David Rawlings and Tony Sherr."
Whether playing bass with Smith, ukulele with Wainwright, piano with the Fab Faux, not to mention mandolin, Melotron, B-3, vibraphone, and Omnichord, Petruzzelli feels his job is to complement. "I guess I help finish the painting, add certain colors."
Not surprisingly, his gear arsenal is formidable. Just in terms of guitars, he says, "I have an Epiphone Sorrento that I added a Bigsby to. I had an original '63 Strat that was stolen, and Jimmy Vivino felt sorry for me and sold me one with a '57 neck and '61 body – at a friend's price – that just plays like a dream. I've got a '68 Tele with a rosewood fingerboard, which I used on Joan's Bring It On Home, a '76 Firebird, and a bunch of old acoustics – a '58 Martin OO-18, a '59 Gibson J-50, a '43 Gibson L-2. But my main guitar is a Deusenburg Star that I love. It has a humbucker and a P-90, a Bigsby, and it always stays in tune. My amps include a Vox AC30, an Ampeg Reverb Rocket, a '63 brownface Deluxe, a Magnatone, and a Headstrong that I put a Master Volume on."
The Fab Faux started in '99. He laughs, "We were doing maybe six gigs a year, but now we do about 35. All five of us are vocalists, and there's no designated Paul, John, George, or Ringo."
He co-produced with Osborne her bluesy Bring It On Home and Love And Hate – the latter cut at his studio in the Poconos.
"He doesn't have a lot of ego in the studio, so it allows everybody to be as generous as they can," says Osborne. "The best idea generally rises to the top like cream, no matter who it's from."
The one thing Petruzzelli hasn't done is a solo album. "That'll be my New Year's resolution," he promises. "I've got to put myself in a room and see what happens."
---
This article originally appeared in VG September 2014 issue. All copyrights are by the author and Vintage Guitar magazine. Unauthorized replication or use is strictly prohibited.
---