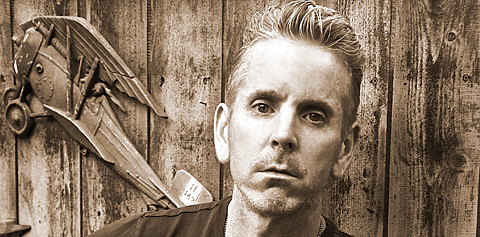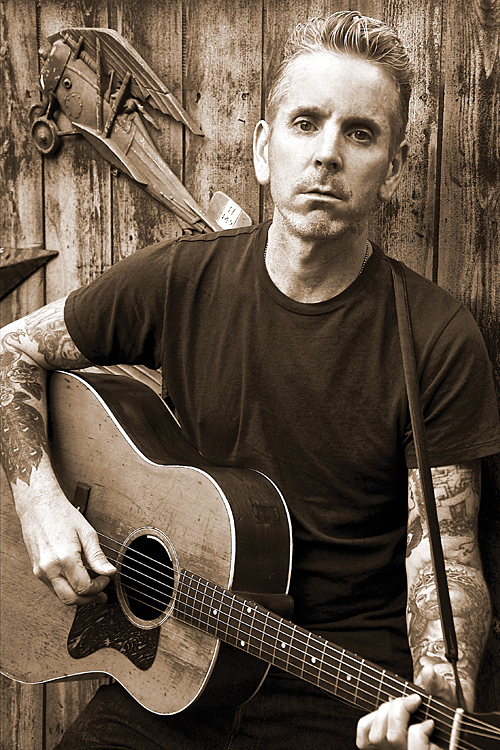 Best known as the Les Paul Junior-slinging guitarist stage left of Mike Ness in Social Distortion, Jonny "Two Bags" Wickersham speaks with a laid-back SoCal drawl and peppers his conversation with modest asides. The uninitiated would never suspect he has just dropped his first solo record, Salvation Town, gorgeously layered Americana abetted by California rock luminaries like David Hidalgo, David Lindley, and Jackson Browne, as well as longtime Elvis Costello drummer Pete Thomas (among others). When asked about the good fortune of having such stellar players on his first solo outing, he asks, rhetorically and somewhat incredulously, "What about having Jackson and Lindley together like on the old records?"
Salvation Town is definitely not a punk record. Did you expect something more stripped down?
Yeah, absolutely. I knew I didn't want to make a punk rock record. But I did think that maybe it might be a little more raggedy. Going into it with [producer] David [Kalish], I was like, "Look, it's got be loose, man." [laughs]
The record has some Stones-y riffage but also a tight '70s "California rock" sound.
You mention the Stones, and that's what I was fighting for. Like, "It's gotta be an Exile [on Main Street] vibe." It took me a while to understand that you can't create mistakes on purpose (laughs). One guy creates something a little differently, or his time's a little forward or behind, then that makes one player play his part a little differently, and it's all very subtle, but that's the kind of stuff that creates a record like Exile.
Your dad was a working musician in the '70s. What did you absorb from him?
The record definitely reflects the music that I heard growing up, that I heard my father playing. He was a huge fan of Jackson, Warren Zevon, Linda Ronstadt. Heart Like a Wheel… I hadn't listened to that record since I was just a small boy. I put it on the stereo myself when I was just a kid.
With Social D, you're known for playing Les Paul Juniors, but you were into P-90s before the Juniors.
I came to the P-90s through Ness. He's been buying Les Paul Deluxes from the '70s forever and replacing the mini humbuckers with a custom-wound P-90 that Seymour Duncan makes for him.
He learned that from Larry Cragg, right?
Possibly, yeah. It's a hot pickup… it's pretty gnarly. I bought a '69 Standard with the big headstock, right before it became a Deluxe, and that's when I went to P-90s. So I kinda had the same guitar as Mike and our tones were very similar.
Did that push you to look into Juniors?
I ended up finding a Junior in The Recycler. A '59, all stock. Because it had the stock pickup and it didn't have the output of the Les Paul I'd been playing, I just kinda figured that I'd see how it might work on a couple of songs. One night my girlfriend was filming the show from the front of the house, and when I watched the footage later on, I was blown away by how, when I picked up that Junior, how much bigger and spread out my sound was than with a guitar with the super-hot P-90s. It was a huge moment for me. I realized that output is not necessarily what creates a huge sound. Everything was opposite of everything I thought growing up playing in punk bands.
How did your Echopark signature model come about?
Gabe [Currie] and I were just kind of riffing on ideas back and forth, then one day I sent him pictures of Tony Gilkyson's [Kay Sizzler]. Bitchin' guitar, man. And of course when Gilkyson plays it, it's really bitchin'. A real Jetsons kinda vibe on the body shape. But the signature guitar turned out to be like a marriage between a Kay body shape and the neck angle and profile of a '50s Junior.
You've been using a Satellite Atom for years.
After going through, like, five different Marshalls in the course of three months, one day at sound check for a Social D show, our sound man, who had been mixing our sound for years at that point, came up and he goes, "Man, your amp is sounding weird." I totally fought him on it, like, "No it doesn't, man. I have great tone."
Anyway, Adam [Grimm] showed up at a sound check in San Diego and brought down an Atom. I threw it up on my cabs and in like 90 seconds, I go "This is it." It's like the perfect thing. I'm playing this 36-watt head with EL84s and a Volume and a Tone knob and nothing else… bring it down to about 105 [dB] and it kinda tightens up a little bit and it just gives you a workable stage volume. It's such a simple rig and it always delivers.
---
This article originally appeared in VG June 2014 issue. All copyrights are by the author and Vintage Guitar magazine. Unauthorized replication or use is strictly prohibited.
---