The non-profit Guitars for Vets (G4V) organization, which provides free guitars and lessons to veterans struggling with post-traumatic stress disorder (PTSD), has announced a "Buy One, Give One" partnership with Dean Zelinsky Private Label guitars. Zelinsky is producing an exclusive G4V-branded guitar. With every purchase of the guitar, an identical guitar will be donated to a veteran enrolled in G4V.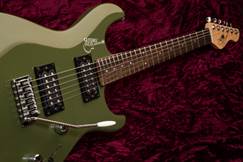 G4V offers 10 weeks of free guitar lessons designed to engage veterans suffering from PTSD. Those who complete the lessons receive a free guitar. To date, it has completed more than 20,000 guitar lessons and distributed more than 2,000 guitars.
The Dean G4V guitar is based on the company's Tagliare model and carries a retail price of $369. It is available online at www.deanzelinsky.com or at Zelinsky's Chicago-area showroom. To learn more, visit www.guitarsforvets.org.