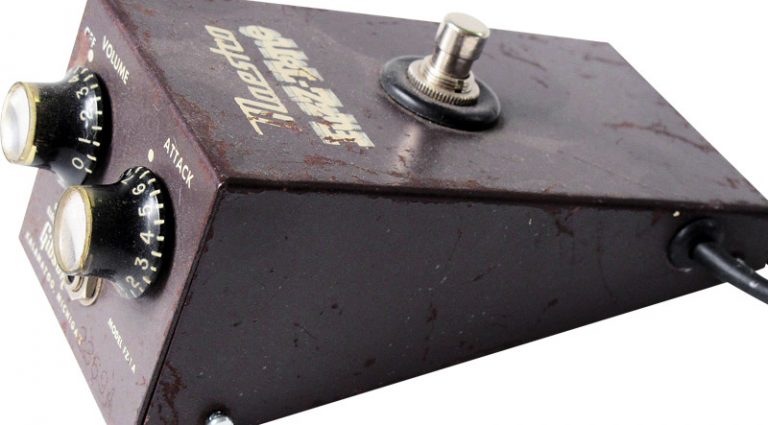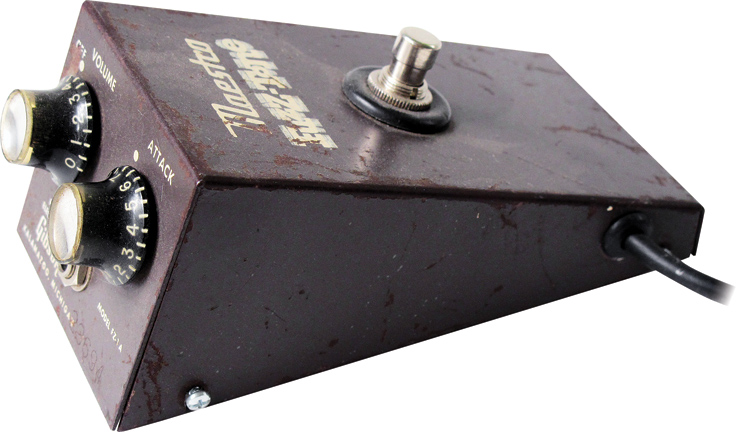 Fuzz. It's the sound of fury, aggravation, indignation, and – considering the history of the most famous fuzzbox of all time, Maestro's Fuzz-Tone – dissatisfaction. It's also fitting as some of the first recorded electric fuzz guitar was heard via Howlin' Wolf guitarist Willie Lee Johnson, who cut tracks like 1951's "How Many More Years" using a tone distorted by simply turning the Volume knob on his low-fidelity amp.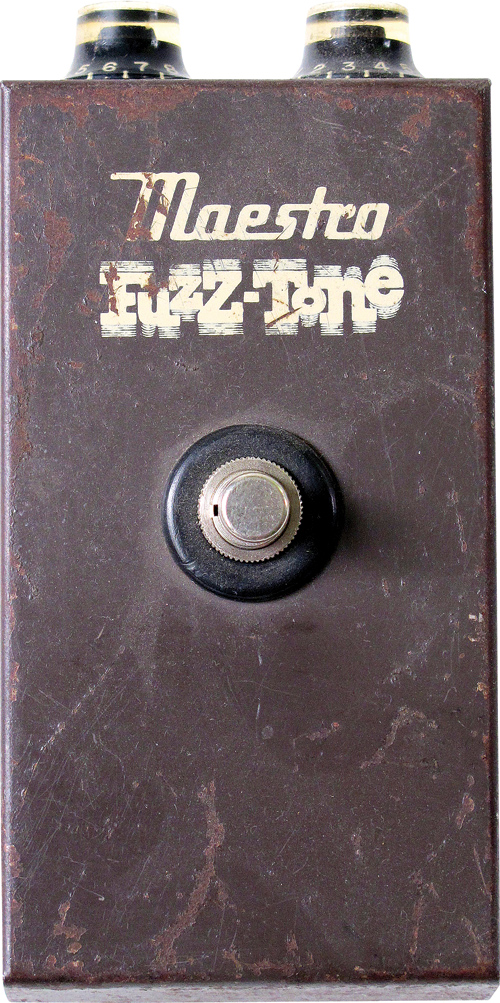 Like a dirty-toned saxophone or muted trumpet, it was a sound others sought to emulate.
Paul Burlison, who would go on to play in the iconic Rock and Roll Trio, traded slots with Wolf on radio KWEM in West Memphis, Arkansas, and picked up that tone; he later claimed he dropped his amp, causing a tube to spring loose and start that buzz. On the 1951 Jackie Brenston/Ike Turner proto-rock-and-roll hit "Rocket 88," guitarist Willie Kizart reportedly poked a hole in his amp speaker to make it fuzz out. The trick, though, was to get that sound reliably.
Enter the 1962 Maestro Fuzz-Tone, godfather of all fuzzboxes. And it, too, was created almost by accident.
In the summer of 1960, country troubadour Marty Robbins was in Bradley Film & Recording Studios, in Nashville – the peerless Quonset Hut – recording a ballad for Decca called "Don't Worry." Backing him was the A-Team including session ace Grady Martin.
Martin, of course, knew a thing or two about guitar distortion. Along with backing Red Foley and leading his own solo career, Martin's numerous credits included playing on Johnny Horton's 1956 hit "Honky Tonk Man" and other country and rockabilly tracks. He also picked guitar on the Rock and Roll Trio's classic 1956 sessions that included "Train Kept A-Rollin'," where he may have used Burlison's amp with that loosened tube. For the Robbins session, Martin was playing a muted "tic-tac" bass line on a '56 six-string Danelectro bass.
The Quonset Hut had just received a custom-built console with Langevin 116 tube amplifiers, recalls engineer Glenn Snoddy, now 91. "When the console was built, the Langevin company had moved to California and farmed out 50 sets of output transformers to another company. In the console bought for Bradley, I believe we got 35 of these transformers, and they started to go bad when Grady was playing.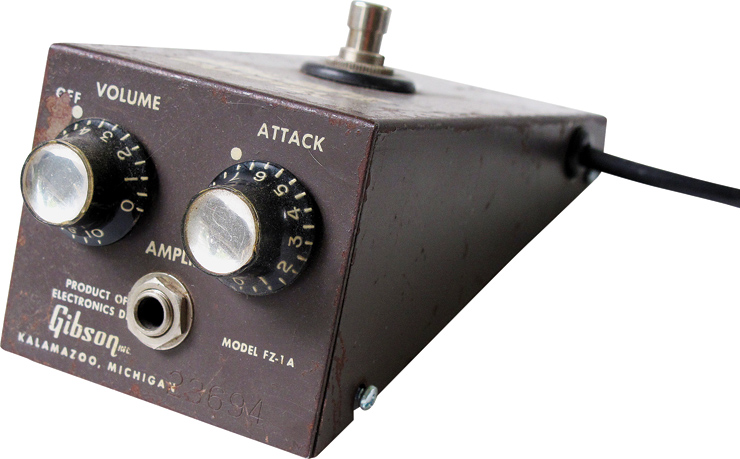 "Apparently, the transformer developed an open primary. Since approximately 250 volts DC was going through this winding, one would assume a tiny arc developed that caused this peculiar sound."
Martin's fuzzed-out bass, including a solo and outro, was kept on the single released in February, 1961. It was about the last thing you expected to hear in a soft, heartfelt, piano-led ballad. But Robbins' fans loved it, and the song went to No. 3 on Billboard's Hot Country & Western chart and No. 1 on Billboard's Hot 100.
Snoddy and Martin must have known they had a hot thing going as soon as they heard that fuzz. Snoddy didn't junk the "bad" transformer. Instead, he saved it, and Martin quickly cut an odd, noir-tinged single with his Slew Foot Five called "The Fuzz," which actually beat "Don't Worry" to market by a month or so.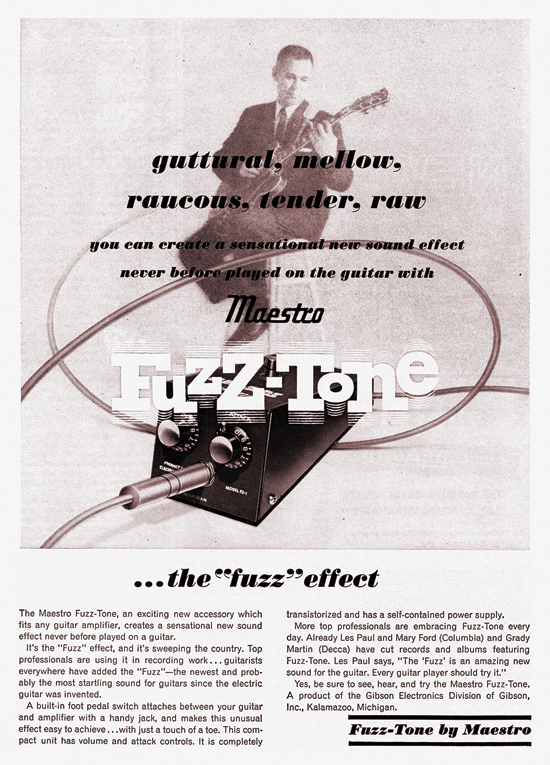 "No one else used [the fuzz-toned transformer] to my knowledge," Snoddy says; he saved it for Martin. But then, it died. "Nancy Sinatra came to town and wanted to use that sound, and I had to tell her people that we didn't have it anymore because the amplifier completely quit. So I had to get busy and conjure some other way to make it happen."
Snoddy enlisted the aid of Revis Hobbs, a fellow engineer at WSM radio and TV, where Snoddy worked prior to the Quonset Hut. "I invited him to come by the studio and bring some special transistors that I did not have, and together we worked out the details of the Fuzz-Tone." While the Langevin amp had been tube-driven, Snoddy and Hobbs tried to re-create that fuzz with transistors.
Snoddy and Hobbs' circuit worked by clipping the signal's sine wave to a square wave. They added an on/off switch to the top of the pedal so musicians could change the tone from clean to dirty. Snoddy then toted the newborn effect to Gibson, and president Maurice H. Berlin. The man who had earlier turned down Les Paul's solidbody guitar was by then more open to the brave new world of instruments.
"I don't play guitar, but they had a fellow there who did," Snoddy remembers. "I took the box, plugged it in, and Mr. Berlin said, 'Hey, we want that.'"
Gibson developed the effect into a prototype. Snoddy says no photos remain of his original. He kept the Gibson prototype and later donated it to guitarist Harold Bradley.
Beginning in '62, Gibson launched the Fuzz-Tone FZ-1 pedal under its Maestro brand name with a retail price of $40. The company also used the circuit in several basses including the EB-0F, EB-SF 1250 and Epiphone Newport EB-SF – the F suffix indicating "fuzz."
It's even possible Gibson saw this effect as primarily for bass use. Either way, the company soon released a 7″ 33-r.p.m. demonstration record in '62, promoting the FZ-1 for guitarists. Still, Gibson didn't quite know what they'd use it for. As noted in the May 3, 1962 patent application, the Fuzz-Tone was designed "to provide a tone modifying attachment and circuit for electrically produced signals which will permit stringed musical instruments such as guitars, banjos and string basses to produce electrically amplified and reproduced tones simulating other instruments such as trumpets, trombones and tubas."
Gibson expected huge sales from guitarists who wanted to sound like sousaphonists, and dealers responded by snapping up all 5,000 units produced in 1962. But players didn't buy. The story goes that Gibson shipped only three more Fuzz-Tones in '63 and none in '64.
That all changed come '65, when Keith Richards used an FZ-1 on the Rolling Stones' "(I Can't Get No) Satisfaction," and the Fuzz-Tone instantly became the "it" pedal. Ironically – or maybe not – Richards says he indeed used the Fuzz-Tone to emulate a horn.
As he wrote in his 2010 autobiography, Life, "It was down to one little foot pedal, the Gibson fuzz tone [sic]… I've only ever used foot pedals twice [the other being an XR delay on Some Girls]… effects are not my thing. I just go for quality of sound…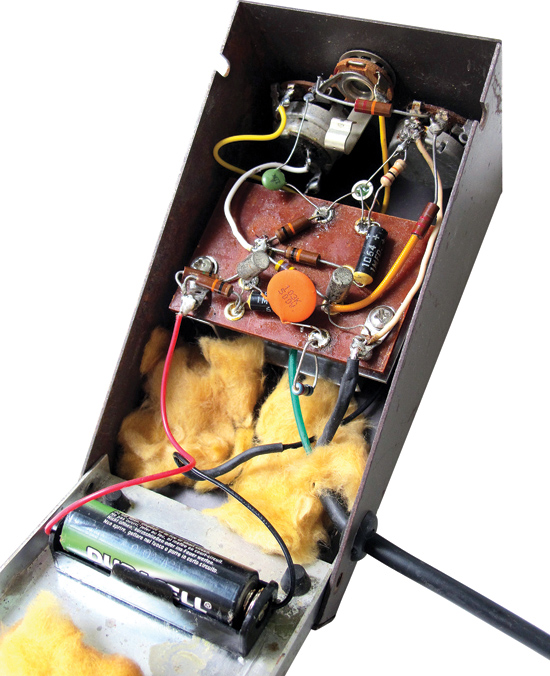 "I was imagining horns, trying to imitate their sound to put on the track later when we recorded. I'd already heard the riff in my head, the way Otis Redding did it later, thinking this is gonna be the horn line. But we didn't have any horns, and I was only going to lay down a dub. The fuzz tone came in handy so I could give a shape to what the horns were supposed to do. But the fuzz tone had never been heard before anywhere, and that's the sound that caught everybody's imagination."
The first time Richards heard the finished song, played over a radio station in Minnesota, he himself was shocked by the fuzz. "At first I was mortified," Richards says, "We didn't even know Andrew [Loog Oldham, the Stones' manager] had put the f**king thing out! [But it was] the record of the summer of '65, so I'm not arguing."
Gibson responded in late '65 by releasing the FZ-1A, and promptly sold some 40,000 pedals. The FZ-1 and FZ-1A used largely the same circuitry with three Germanium transistors, though the FZ-1 was powered by two 1.5-volt batteries whereas the FZ-1A relied on just one. The FZ-1 bore the manufacturing location of Kalamazoo, Michigan; the FZ-1A was built in Kalamazoo, then later in Lincolnwood, Illinois.
The Lincolnwood-built/9-volt/two-transistor FZ-1B followed with revised graphics. It's sound was more trebly, but with less gain. The FZ-1S Super-Fuzz arrived with the '70s offering more control and an even harsher attack. FZ-1A reissues bear the "Nashville, Tennessee" legend.
As a reprise to "Satisfaction," most every instrument maker – legit and otherwise – offered their own fuzz pedals. The effect was cloned, copied, or imitated by Macaris' 1965 Tone Bender, Burns' Buzz-Around, the Italian Fuzzy, Roger Mayer's custom Fuzz-Tones built for Jimi Hendrix and others, Mosrite's '66 FUZZrite, WEM's Rush, and many more.
---
This article originally appeared in VG December 2013 issue. All copyrights are by the author and Vintage Guitar magazine. Unauthorized replication or use is strictly prohibited.
---