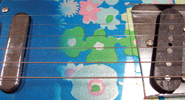 Bare Knuckle Pickups' PAT Pend, Flat '52, and Mule
Price: $125-$340
Info: www.bareknucklepickups.co.uk.
From the ever-expanding world of boutique pickups comes a builder out of southwest England who creates a handmade, hard-hitting alternative – Bare Knuckle Pickups.
We received three sets of pickups from Bare Knuckle; the Mule (humbuckers), Blackguard Flat '52 Series (for Teles), and the PAT Pend '63 Veneer Boards (for Strats). All were installed in suitably styled instruments and tested through a smallbox 1969 50-watt Marshall, a '66 Vibrolux Reverb, and '65 Vox AC-30TB.
The Mule humbuckers are based on Gibson's classic PAF design, meticulously copied down to the 42-gauge plain-enamel wire on each coil. The Mules have a medium output (neck is 7.04k, bridge 8.01k), perfect for blues, jazz, and classic rock-and-roll tones. Bass response is where it needs to be; mids are fat without being flatulent, the treble is prominent enough to give presence without screech. Not surprisingly, the Mules sounded best through the 50-watt Marshall, providing just the right amount of oomph to overdrive the preamp, conjuring classic crunch and clarity. A particular treat is using both pickups in the middle position, and rolling off both Volume controls slightly, which produced a full but clear tone perfect for both chordal work and cleaner leads. Through the Vibrolux Reverb channeled Mike Bloomfield tones.
For Telecaster tones, Bare Knuckle claims that before designing the Blackguard Series as a "vintage-accurate" collection, they conducted extensive research on early Tele pickups. Installed in our '50s-reissue Telecaster, the Flat '52s produced a very accurate twang with one nice surprise – the neck pickup is actually usable. Through all three amps, the guitar sounded very punchy and clear, and the neck pickup sounded very similar to the Strat neck pickup tone we all know and love, with a great bass response and deep tone. Coupled with the Vibrolux Reverb, the Tele simply sounded excellent, its bridge pickup sounding bright and full without the cloying icepick-to-your-ears effect. And while the output varied significantly (neck 5.13k, bridge 7.11), there was no significant volume difference when switching pickups.
Originally commissioned by Fender's U.K. Custom Shop a few years back, the PAT Pend series (called '59 Slab Boards and '63 Veneer Boards) have a slightly hotter wind, which adds fullness.
A/B'd with vintage Fender Stratocasters from '59 and '63, the PAT Pends were closer, tonally to the '59. In the pickup selector's second and fourth positions, the PAT Pends produced pure Strat quack through both the Vibrolux and AC30, though the PAT Pends also sounded beautiful through the Marshall. The PAT Pends measure 5.7k (neck), 5.74k (middle) and 6.18 (bridge)
One minor nit is that the mounting screws included with the PAT Pends have round heads versus the oval-head screws used on Strats until the early '70s. This is a non-factor, tonally, but something that might put off a true vintage nut.
---
This article originally appeared in VG September 2012 issue. All copyrights are by the author and Vintage Guitar magazine. Unauthorized replication or use is strictly prohibited.
---